It's a fabulous day in the neighborhood
Movie Rewind could not be more delighted to announce that inimitable star of stage and screen, Mrs. Norman Maine, has with her usual magnificence become part of the Movie Rewind team.  You may or may not know much about Mrs. Norman Maine, so I'd like to provide everyone with a brief introduction so that you can all better appreciate her unique perspective on film.  So everyone, please stand while we welcome…
Mrs. Norman Maine
Hello everybody, this is Mrs. Norman Maine!  Some of you may be more familiar with my work under my stage name of Vicki Lester, an American legend of the cinema, theater and concert hall.  I have been shocked in my recent forays through the great American public to find that there are those of you who are not as familiar with me as you should be.  A few of you know me slightly from that rather fanciful and hardly true to life motion picture from 1954 starring a Julie or Judy Garbo or Garden or some such person.  It's a lovely film, but makes my life seem dull and tragic.
Au contraire, my life has been nothing but one unsurpassed success after another including such major motion pictures as The King and Eye for an Eye (the sensational musical version of Titus Andronicus) and Stingin' and in Pain.  My stage roles have included Mary Magdalene in the Broadway production of Jesus Christ, Superstore: The Passion of the Wal-Mart.  In more recent years, I have had successful concert tours such as Sink For Your Supper: A tribute to the great shipwrecks and been the spokesperson for the American Dairy Council's unforgettable What A Friend We Have in Cheeses campaign.
I remain an ever youthful thirty-nine professionally (and have for some decades) and still reside in my opulent home, Chateau Maine high in the Hollywood Hills overlooking tinsel town along with my beloved Normy (who was not lost at sea, as that picture might lead some to believe), my talented cats and various members of my entourage.  I am always looking for new and exciting artistic challenges and my motto remains 'Have Taps, Will Travel'.
A number of years ago, I spent some time as a film critic and those old columns of mine have received renewed attention.  As I never want to disappoint my legions of fans, I am editing them and posting them at my glamorous new website mnmmoviereviews.blogspot.com.  The overwhelming response from the three people who have bothered to read them has made me pick up my trusty laptop again and I look forward to sharing stories from my fabulous life in the Hollywood dream factory and my personal thoughts on the cinema, both modern and classic.
Normy has made me a lovely white wine spritzer and found a film for us to watch in our sumptuous home theater on something called the Netflix so I am going to slip into a custom Chanel marabou wrapper with matching turban (in chartreuse and orchid – just stunning) and a lovely pair of Prada mules and run down the grand staircase to snuggle up with him so I must sign off.  I'll be sure to join you each week and it's so grand to be back with all of you lovely, lovely people.
We here at Movie Rewind will be publishing new Mrs. Norman Maine reviews weekly, and you can read her previously published reviews at mnmmoviereviews.blogspot.com.  We couldn't be more delighted to have her on board and hope you will revel in her adventures, and movie critiques, as much as we do.  Welcome to Movie Rewind, MNM!  You can find her first Movie Rewind review here:
The Hunger Games reviewed by Mrs. Norman Maine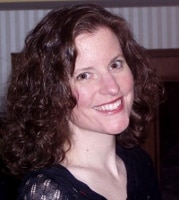 Sue reads a lot, writes a lot, edits a lot, and loves a good craft. She was deemed "too picky" to proofread her children's school papers and wears this as a badge of honor. She is also proud of her aggressively average knitting skills  She is the Editorial Manager at Silver Beacon Marketing and an aspiring Crazy Cat Lady.