SHINING STAR
Main Cast: Helen Mirren, Ryan Reynolds
Director: Simon Curtis
I cannot say that I recommend moving a production company across country in a fleet of aging school buses, but time has been of the essence and I am pleased to say that Star is Born productions is happily ensconced on the isle of Manhattan and feverishly working to get my revolutionary revival of Dames at Sea mounted and open before that other production company can beat me to the punch.  When the ticket buying public realizes that they can have such legendary stars as Vicki Lester and Vera Charles for only a slightly higher premium ticket price plus a fully environmental staging in a hastily converted parking garage, I know that we're going to be the toast of the town.
There have been a few hitches.  Even though we had slightly re-titled our production Dame at Sea to reflect that this is to be a Vicki Lester star vehicle, we still found a cease and desist letter from those other producers waiting for us when we arrived in New York suggesting that the similarity in the title might be confusing to the potential audience member.  Fajer and Hellmann, my attorneys, suggested that a more aggressive title change might be in order.  After considering Dame at Tea and focusing on the aristocratic origins of young Ruby and Dame at Glee where Normy would re-arrange the whole vocal score for show choir, we settled on Dame at Plea and Mr. Abrams is doing a quick rewrite to show that Ruby is a talented lady litigator as well as budding chorine and we're even adding in a dream sequence in which Vera Charles portrays a drunken Supreme Court Justice holding court on the deck of the battleship.
Having checked in with Jake, our masterful structural engineer from Jake Breaks Construction, to make sure all was on schedule to get the full battleship we ordered from Navy Surplus into the parking garage in time for the first technical rehearsal, Normy and I retired to our hotel suite at the Times Square Doubletree, ordered double cheeseburgers from room service, raided the minibar for Jack Daniels and looked through the pile of DVDs I had thrust into my travel handbag for something to unwind with.  Our choice was this past spring's release, Woman in Gold with Helen Mirren and Ryan Reynolds.  Having once done a lovely version of They're Playing Our Song with sets and costumes based on Klimt paintings, I took it as a good omen and so we popped it in for a look.
Woman in Gold is a rarity among American films these days, an intelligent literate modern story made for thinking adults  There are no superheroes or fantastical creatures, no dystopian futures (albeit glimpses of a dystopian past), and no exploding buildings or vehicles.  It's the true story of an elderly widow, Maria Altmann (Helen Mirren), who manages to triumph over injustice and adversity and set legal precedents which will help right one of the great wrongs of the 20th century.  The bare bones and ultimate outcome of the plot will surprise no one who reads the New York Times or otherwise keeps up with the American news cycle but the twists and turns of how the proceedings develop are entertaining and at times preposterous, even though we know they actually happened.
As the film opens, Maria, an expatriate Austrian from a wealthy family who was forced to flee Vienna after the Nazi Anschluss and annexation of 1938, is burying her sister and is the last of her family living.  While looking through family papers, she discovers letters related to paintings seized by the Nazis from her family including a portrait of her aunt, Adele Bloch Bauer, commissioned by her uncle and painted by Klimt and currently housed by the Austrian government at the Belvedere Palace in Vienna after supposedly being bequeathed to the government in Adele's will.  Maria knows that the paintings were taken, not given and happens to catch a piece on the news that the Austrian government is looking for more transparency in the Nazi seizure of art from Holocaust victims and is making its archives more open.  A meeting with an old friend from another Viennese expatriate family, the Schoenbergs (as in composer Arnold) leads to Randol Schoenberg (Ryan Reynolds), the composer's grandson and a none too successful lawyer, meeting with Maria.  He sees enormous dollar signs in the current market value of the Klimts and soon our two intrepid heroes are off to Vienna to take on the Austrian government with the help of an investigative journalist, Hubertus Czernin (Daniel Bruhl) who has some useful connections.  The Austrian government is none too keen on parting with a painting known as 'The Mona Lisa of Austria' and one of the most famous examples of Viennese Art Nouveau.  Let the games begin.
The film is much deeper than straightforward courtroom drama in that it flashes back to the story of young Maria, in the 1920s when her beloved aunt Adele was alive (she died young of meningitis) and the newlywed Maria put in mortal danger with the Nazi occupation and making a harrowing escape with her new husband, ultimately to America.  This gives the audience some emotional connection to Maria and what the painting truly means in her life and also gives us the historical background on what was done to the Jewish community of Europe and how their treasured possessions were appropriated and why restitution, even at this late date, is important.
I have never particularly cared for Mr. Reynolds in his action hero roles, always finding him pretty, but wooden, but here he finally gives a performance worth watching.  With his hair darkened and hiding behind wire rim glasses, his journey from simply seeing Maria's case as a quick paycheck to a full understanding of the enormity of the wrongs done to the Jews of Vienna is our journey and makes the final triumph actually mean something.  Being in Vienna and working with Maria and hearing her stories makes the great grandparents he never knew who died at Treblinka vivid and emotionally overwhelming.
Helen Mirren is one of the finest actresses of her generation.  She inhabits Maria's spiky personality completely.  She is not afraid to be unlikable in the early scenes but the more we learn of her story, the more we turn to her side and root for her despite her quirks, especially towards the end where the Rocky like meeting of underdog and Goliath happens not in a boxing ring, but in an arbitration hearing.  Normy wasn't fond of her wig but it didn't bother me and I especially liked some effecting scenes at the end where the modern Maria revisits memories of her childhood.
The film was directed by Simon Curtis, a well-known London stage director with lots of experience directing period pieces for the BBC and it has that expert sheen overlying it all.  The supporting cast are well chosen, although they don't have a lot to do as at heart, this is very much Maria and Randol's story and their victory has helped move the restitution of art to rightful owners and heirs forward in more ways than one.
Ethnic dancing.  Diamond necklace.  Boxes of documents.  Gold leaf applications.  Apothecary escape.  Gratuitous shots of the Ringstrasse.  Scrubbing doctor's wife.  Backyard barbecue.  Gratuitous Charles Dance.
To learn more about Mrs. Norman Maine, see our Movie Rewind introduction.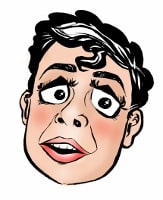 Originally from Seattle Washington, land of mist, coffee and flying salmon, Mrs. Norman Maine sprang to life, full grown like Athena, from Andy's head during a difficult period of life shortly after his relocation to Alabama.