Springtime for Hitler
Main Cast: Roman Griffin Davis, Thomasin McKenzie
Director: Taika Waititi
Hello, all my dear fans out there in the dark. It's been an absolutely exhausting few weeks getting all of the elements ready for the tour of my spectacular new family friendly show Chicken Strips and Ranch Dressing, a terribly modern updating of The Best Little Whorehouse in Texas with yours truly as Miss Mona.
The show was looking great in the rehearsal room and the technical elements were being assembled in various shops in Los Angeles when the Evenstar Baptist Tabernacle in Slick Lizard, Alabama, our opening venue, called and asked if we could perform a week earlier than scheduled. Apparently, the snake handlers had to change their dates due to some sort of accident involving a black mamba.
I sat down with Tom, my roadie and my free National Wildlife 2022 calendar and we determined that we could just make it if we loaded up the U-Hauls and got on the road right away. And it would allow us to have an additional week at our four week installation stop at Shining Love Church and Espresso Lounge (capacity 3,000) in Newnan Georgia. Condo Maine became a veritable hubbub of activity as we got the cast, crew, costumes, sets, and various other pieces of paraphernalia into thirty seven rented U-Hauls and out onto the I-10.
The trip across the Southwest was uneventful, although crossing Texas seemed to take the better part of a week and we all pulled up in the parking lot of the Evenstar on time and only slightly the worse for wear. We were all a bit punch drunk and road weary but we had an invited dress to put on for the staff and church elders in just a few hours' time so I retreated to my dressing room with a bottle of Jack Daniels with which to fortify myself and went over my lines and blocking so as to be letter perfect just in case any of the local press were in attendance.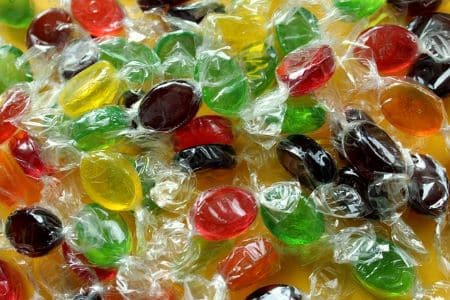 At 8:01 PM, the house lights went to half, the pre-show announcement reminded everyone to silence their cell phones and the band launched into the opening number. I prepared for my big first entrance, dressed in a décolleté red and green satin gown with white sequin lining and a 'Happy Holidays' headpiece made of feathers. (I have taken a few liberties with the material and moved 'Hard Candy Christmas' to early in the show to take advantage of the audience's familiarity with it from it's being played a dozen times a day on store muzak during the holiday season).
I stepped out on stage. I had launched into the opening notes when one of the stagehands cued the confetti guns too early. Someone must have miscalculated the charge because the seasonal hard candies inside became nasty shrapnel as they pelted the audience, bringing the performance to a screeching halt, and sending several of the church elders into the narthex for a first aid kit.
Fortunately, only one assistant pastor required hospitalization and he is supposed to be released the day after tomorrow. Tom says he can fix the issue before our next performance, so we'll get more than ten minutes into the show and there will be a little less blood on the pew upholstery.

As I unexpectedly got the night off, I retired to my hotel room at the local Super 8, the finest lodgings available locally, took a nice hot bath and then got into bed to find a film with which to divert myself. My choice was Jojo Rabbit, Taika Waititi's 2019 satirical take on the waning days of the Third Reich in Germany. I had heard from various sources that the film was good, if somewhat unusual but I wasn't exactly sure what to expect as I settled in. Mr. Waititi has, after all, been responsible for everything from several of the Thor sequels for Marvel, the pirate comedy Our Flag Means Death, and the original film version of What We Do in The Shadows. The man is obviously talented as he often writes, directs, and performs in his own projects (including this one).

Jojo Rabbit is the story of Johannes Betzler (Roman Griffin Davis), a ten year old in a provincial German town who is a member of the junior branch of the Hitler Youth (sort of a Nazi version of Cub Scouts) along with his friends. He has no real understanding of politics and propaganda and shares his observations on life with his imaginary friend, Adolf, a buffoonish version of Hitler (played by Mr. Waititi himself with grand comic panache). He is nicknamed Jojo Rabbit by the older boys after an unfortunate incident with a rabbit where his humanity overpowers group think and peer pressure.
His father is away at war and his mother (a well-coiffed Scarlett Johansson) loves him but is distracted by the pressures of a collapsing society and other decisions she's made. Jojo parrots the antisemitism he hears from his elders and his youth leaders (who include Sam Rockwell, Alfie Allen, and Rebel Wilson in various stages of dim wittedness) until life brings him face to face with a young Jewish girl (ThomasinMcKenzie) and he must confront the cognitive dissonance of the lies he has been fed and the truths he sees for himself, even as his society is collapsing in flames around him.

There's nothing new about stories of horror and war as seen through the eyes of a child but it takes a special talent to write something that plays as a satirical comedy on one level and a biting criticism on another and which does not come across as offensive in the least. The satirical points are occasionally slightly overblown but are balanced with moments of real tragedy and drama so that Jojo Rabbit never becomes smug or over the top. Mr. Waititi was honored with an Oscar for best adapted screenplay (from Christine Leunen's book Caging Skies which is much more serious in tone than the film turned out). It's a rare balancing act but Taika Waititi has pulled it off.

We are used to thinking of World War II in black and white due to old newsreels and photographs, but the society of Nazi Germany was actually bright and colorful in its look and its fashions and the design and cinematography highlight this. Homes are light and airy and full of bright wall papers. Ms. Johansson is immaculately and stylishly dressed with memorable red and white leather shoes. Even the buff colored Hitler Youth uniforms pop off the screen. It's all aided and abetted by very formally composed shots with none of the shakiness or blurriness of handheld camera we're used to in war films, even during the climactic battle scenes at the end of the film.

Jojo Rabbit is carried by the two young leads, Master Griffin Davis and Miss McKenzie. They are both naturals in their roles, giving nuanced and real readings to their character arcs and journeys. There's nothing particularly showy or show biz about them. They're just young people trying to make sense of the confusing world around them that's fraught with very real dangers.
The adults are all supporting players, mainly played for comic relief to lessen the tensions of the horrors in the background. The one exception being Ms. Johansson who balances resolve and vulnerability as she attempts to help her son fit in and protect him.
I'm not completely sure what to make of Mr. Waititi's Adolf.  We've seen Hitler played for laughs before (most notably in The Producers) but never as a construct of an immature mind.  It's an interesting take and there are scenes where I think the film pulls it off and there are scenes where I think it doesn't.  And if I were to watch it again, I don't know that I'd have the same opinion on which scenes were which.

All in all, Jojo Rabbit holds one's attention, has much more good than questionable, makes one think, and occasionally cringe, and is completely original.  It's worth a look.

Bouncing mortar.  Painful physical therapy. Gratuitous propaganda posters. Bad robot costume. Child seemingly based on Piggy from Lord of the Flies. Dangling feet. Notebook illustrations. Anachronistic American flag. Secret room.
To learn more about Mrs. Norman Maine, see our Movie Rewind introduction.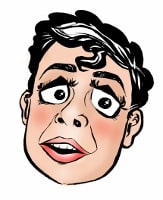 Originally from Seattle Washington, land of mist, coffee and flying salmon, Mrs. Norman Maine sprang to life, full grown like Athena, from Andy's head during a difficult period of life shortly after his relocation to Alabama.