PEEPING TOM
Main Cast: Amy Adams, Wyatt Russell
Director: Joe Wright
Joseph, my manager, had some bad news regarding getting Chip and Joanna to host my new boat renovation show for my VickiTube streaming service. Apparently, Chip Zien and Joanna Gleason were not available. He was able to get Chip Carter and Joanna Pacula for budget, but I thought they might be a hard sell to middle Americans wishing to redecorate their luxury yachts with style and panache. I then had the most brilliant brainstorm and got hold of my old friend Cherry Jones and asked her to step in. We're going to call the show 'Cherry Yachts of Fire' where we gut the old materials with flame throwers and then have a wonderful new blank canvas on which to install the latest and greatest in interior design. Captain Drew has brought my yacht into dry dock at Long Beach harbor so we can begin filming the first few episodes next week. I'm having Kim Dee and Mary Gee, my lovely costumiers, run up a red sequin sheath with a flame pattern and I'm going to do a cover of Disco Inferno on the poop deck as we clear out the dead wood, quite literally, in a spectacular burst of pyrotechnics. It's going to be totally original and I can just smell the Emmy nominations rolling in.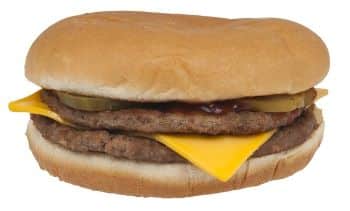 As for my other new show, Diners, Drive Ins and Divas, we filmed in the opening episode in that Scottish McDoggles place or whatever it was called. The entire restaurant seemed to be made of incredibly tacky plastic, including the food – not a tablecloth, set of decent china, or experienced waitstaff to be found. My entrée, something called a quarter pounder with cheese, arrived with a complete lack of presentation as if it had been assembled by a bored teenager in the kitchen rather than by a master chef. I really was not able to give them a terribly positive review. The meal was over so quickly that we weren't going to have enough footage for an entire episode so I had to make do with a little impromptu tap routine on the table tops to Volare, which one of my crew was kind enough to stream through their phone's Spotify app. We'll save it in post with some talking head inserts about the development of Scottish cuisine over the centuries. I was rather surprised not to have seen haggis on the menu.
It has been a busy week, so I didn't have the energy to leave Condo Maine this evening and decided instead to settle into the home theater for a film. It's gotten rather warm the last few weeks here in Southern California, so I made myself a small pitcher of rock shandy with extra ice as a cooling drink and settled into the dark to see what was new on the Netflix. I ran across a relatively new film entitled The Woman in the Window which at least had an interesting cast, so I put it on in order to while away a few hours. The hours passed, but not as pleasantly as I had hoped. Despite a significant amount of talent both in front of and behind the camera, the film is terrible and to be avoided.
The Woman in the Window belongs to the cycle of domestic noir films adapted from novels popular in airport bookstores such as Gone Girl and The Girl on the Train. This time, our setting is New York City. We meet an agoraphobic child psychologist, Anna (Amy Adams), who lives in a lovely old brownstone but who cannot pass her own front door without dizzying panic attacks. She lives a life of pills, alcohol, and spying out her windows at the neighbors across the street. Separated from her husband who has custody of their daughter, who only real human connection is her tenant, David (Wyatt Russell) who has an apartment in her basement and does odd jobs around the house.
One day, a new family, the Russells, move in across the street. The teenage son Ethan (Fred Hechinger) knocks on Anna's door one day and it doesn't take long for her (and us) to realize he's somewhere on the spectrum (of bad acting if not autism). They bond and then his mother Jane (Julianne Moore) comes to call and she and Anna hit it off. Daddy Alistair (Gary Oldman), who definitely has an anger management problem, does not approve of the growing friendships and, one night while she's watching the Russell house out of her windows, Anna sees a confrontation between Alistair and Jane in which Jane is apparently stabbed to death. Unnerved, Anna calls the police to investigate and they find nothing amiss, but when Jane Russell appears, she is not Julianne Moore, she is Jennifer Jason Leigh confusing both Anna and the audience no end.
Was there a murder or is Anna hallucinating? What secrets is each of the characters keeping from each other and the audience until the clockwork plot allows them to be revealed (by the end, we've lost all interest and really don't care)? Who are the first and second Jane Russells? When might The Woman in the Window be over so I can start something important like shampooing my rug?
I don't know how or why The Woman in the Window went so wrong. Perhaps it's the source material, a novel by A. J. Finn that I haven't read and, after sitting through this adaptation, never will. The screenplay is by Tracy Letts, the actor/playwright best known for August Osage County. The man has writing chops but here the dialogue dribbles from the characters mouths and down their chins as if surprised that they are making noise. Perhaps he's defeated by the various turns of plot he has to shoehorn in (almost none of which make any sense from a psychological point of view).
Director Joe Wright has made some very good films in his day, including Atonement, but here he seems to have been defeated by the close quarters. The entire film takes place within the confines of Anna's brownstone and his attempts to open things up with various cinematic tricks are just hokey. Hitchcock was able to get away with a similar conceit in Rear Window, but he was a cinema genius who had ample help from James Stewart, Grace Kelly, and Thelma Ritter.
Of the cast, Amy Adams comes off best. She at least seems to be playing a real woman, flaws and all. Her major problem is that while Anna should start at A and build to Z over the course of the story, Ms. Adams starts at W or X so there's nowhere to go. Neither Julianne Moore nor Jennifer Jason Leigh, excellent in other roles, is given enough to do to make an impact other than convince the audience that they aren't the same person (which even the most moronic audience member will figure out in about fifteen seconds).
Gary Oldman is completely unhinged. He's playing Alistair as a riff on Hitler in the bunker and he takes you completely out of what little reality is conveyed by The Woman in the Window every time he shows up. He's such a fine actor it's unclear who didn't bring him back down to earth – weak direction or an overinflated ego. Wyatt Russell is easy on the eyes (no surprise when his parents are Kurt Russell and Goldie Hawn) but makes little impression other than as a himbo in need of a haircut. Young Fred Hechinger, who in many ways has the most pivotal role, will hopefully move on to better projects and be able to leave this one off his resume.
There is plenty of talent here but it all goes wrong in big and small ways so I cannot recommend The Woman in the Window other than to insomniacs who have already finished all the Schopenhauer and Hegel on their bookshelves.
Tough love psychiatrist. Swirling snow patterns. Cultivator to face. Ornate staircase. Crashing skylight. Parole violations. Dead secretary. Multiple counts of ham acting.
To learn more about Mrs. Norman Maine, see our Movie Rewind introduction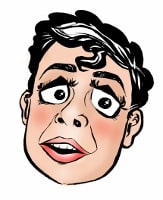 Originally from Seattle Washington, land of mist, coffee and flying salmon, Mrs. Norman Maine sprang to life, full grown like Athena, from Andy's head during a difficult period of life shortly after his relocation to Alabama.