GRAPE NUTS
Main Cast: Johnny Depp, Leonardo Di Caprio
Director: Lasse Hallstrom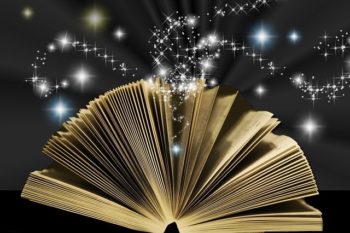 The rough draft of my new memoir, Veni, Vidi, Vicki! is now something over 3700 pages in length. My life and brilliant career simply cannot be covered in a shorter work so I'm thinking a six volume box set with commemorative covers. Mayhew Blumengroh, my editor, is advising that we begin work on a one volume highlights or condensation of the material for the mass market as a better business strategy. I'm loathe to cut even a word of my masterpiece, but I do understand the financial wisdom of his suggestion as the market for the full version might be a bit limited. I suppose we could put a sort of glass case on top of every box set with a Mrs. Norman Maine collector doll in one of a dozen different designer outfits enclosed to give it more visual interest and to stand out with any other multi-volume celebrity biographies that might be hitting Barnes and Noble at the same time.
The current public health emergency which is making all of our lives into Pandemic 2: Electric Deltaloo continues to rage on which is a bit of a problem. It's making returning to the boards a bit problematic, although I have booked an outdoor gig with the San Diego symphony at the bandshell in Balboa Park. It's a one night salute to American Tap Dance which includes orchestral arrangements of famous numbers such as Top Hat and Tea for Two. I am the star attraction for the second act in which I recreate my famous stair tap number You're the Tap from Pipe Fitters Dream. I'm also doing Ann Miller's famous Campbell's Soup commercial as an encore but that's supposed to be a secret, so you didn't hear it from me. My in house productions for VickiTube, my streaming service are continuing apace, and I have an absolutely divine line up for the morning show, The View with Vicki this next week including Charro, Barbara Eden, and Magdalena Montezuma.
I haven't had a lot of energy to go out in the evenings and the social scene around LA has been quiet in recent months, so I've taken to spending most of my evenings curled up in the home theater with Netflix.  My choice for a film this evening was the 1993 movie, What's Eating Gilbert Grape with the young Johnny Depp and Leonardo DiCaprio early in their careers.  I had seen the film in the theater when it was first released but hadn't had a chance to catch it since and was interested to return to it nearly a quarter century later.  The first thing that surprised me about it was that it was in color.  In my mind, it remained in black and white, like those other films of small town anomie such as The Last Picture Show and Hud.  It's a very good film but might have been even better had the makers trusted an audience to show up for one that used black and white photography to comment on the emptiness of middle America and the lives of its characters.
What's Eating Gilbert Grape takes place in the small Iowa town of Endora.  The Grape family, resident in a collapsing house on the outskirts of town built by their now deceased father, is headed by a mother (Darlene Cates) who is so unhappy that she has eaten herself into morbid obesity and can no longer care for herself, depending on her young adult children. Her son Gilbert (Depp), a clerk at the local mom and pop grocery being throttled by the competition of a modern supermarket just off the interstate, tries to keep the house intact, the family intact, and nurtures his younger brother Arnie (DiCaprio) who is mentally challenged.  His sister Amy (Laura Harrington) keeps the food coming and youngest sibling Ellen (Mary Kate Schelhardt) tries to cope with high school with what she regards as an embarrassment of a family.  Gilbert is trapped by his responsibilities and tries to cope with a desultory affair with the wife (Mary Steenburgen) of the local insurance agent (Kevin Tighe). 
Into this forlorn existence comes an annual convoy of Airstream trailers, headed for a local recreation area.  Gilbert takes Arnie to watch them pass by and one of the towing vehicles blows a gasket stranding free spirited Becky (Juliette Lewis) and her grandmother (Penelope Branning) until the correct part can be ordered and their truck repaired.  The local boys including Gilbert and his pals (John C. Reilly and Crispin Glover) notice the new girl who in turn understands Gilbert's deep unhappiness and responsibilities.  Not much actually happens as we follow these people in their quietly desperate lives – Arnie has a habit of climbing the local water tower causing problems, there's a milestone birthday party, several significant deaths change everyone's outlooks – and, as we leave Endora, we have hope that these people we've gotten to know, and love, will have a better tomorrow.
What's Eating Gilbert Grape is a character study, both of the individuals and a society.  It is as acute as it is as the film was made by an outsider, Swedish director Lasse Hallstrom (My Life as A Dog) who has a natural way of letting characters breathe and grow on screen in scenes that appear more improvised than scripted (although the script is there and very tight – by Peter Hedges working from his novel of the same name).  Hallstrom's use of wide open sky outdoor scenes punctuated by slightly quirky visuals (the parade of the Airstreams, a lobster tank, a fast food outlet being delivered intact on the back of a flatbed trailer) give the film a feeling of slightly magic realism, as if there were something slightly supernatural playing just off the edges of the screen. The cinematography by the great Sven Nykvist is gorgeous.
What's Eating Gilbert Grape is very much an actor's movie, contributing greatly to Depp's and DiCaprio's reputations as emerging stars.  DiCaprio nabbed an Oscar nomination for his raw performance as the troubled Arnie, unafraid to embody all of his tics and mannerisms keeping the audience both slightly appalled at and falling in love with the teen.  It's a difficult job to keep that balance right and he does it beautifully. Depp is just starting to transition from the beautiful teen he was in his earliest roles such as A Nightmare on Elm Street and into the harder edge of maturity.  He's allowed to be introspective and keep most of what makes Gilbert work on the inside, showing only occasional flashes of emotion and that make the film stronger.  Most of his later work, especially with Tim Burton, is marred by excess surface mannerisms.  Darlene Cates, as the obese mother, is also splendid.  She never made another film.  The supporting cast are all quite strong and even Juliette Lewis is at her least annoying.
If you have not seen What's Eating Gilbert Grape, I strongly recommend it. It slowly draws you into the characters and their world and you will never forget them when you leave two hours later. It also allows you to see what made Johnny Depp and Leonardo DiCaprio so special that they were able to achieve stardom.
Grasshopper decapitation. Ice cream treats. Ruined birthday cake. Overnight bath sitting. Gratuitous Crispin Glover. Aquaphobia. House fire. Kitchen table sex. Symbolic wading pool. 
To learn more about Mrs. Norman Maine, see our Movie Rewind introduction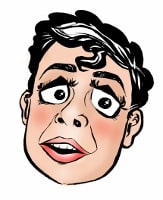 Originally from Seattle Washington, land of mist, coffee and flying salmon, Mrs. Norman Maine sprang to life, full grown like Athena, from Andy's head during a difficult period of life shortly after his relocation to Alabama.