SONG OF THE SEA
Main Voice Cast: Jodi Benson, Samuel E. Wright
Directors: Ron Clements and John Musker
We have bids out to several contractors in regards to expanding Casa Maine so that all of our various businesses and projects will fit comfortably within its walls. A new wing with three floors at five thousand square feet apiece should cover it without too much difficulty. I paid a little visit to Atascadero last week to inquire of dear Norma Desmond, the previous owner of the house, what the story was behind all the miniature grave stones out back which will have to be removed before we can have the foundation poured. She stared blankly at me between spoonfuls of tapioca and made some sort of very odd monkey noises. Or perhaps she was aspirating; it was difficult to tell. I didn't feel that our visit was overly helpful, so I left early, but not before making sure to have a couple of cases of Yoplait in various flavors delivered along with a few jars of Lesterene shrimp and avocado facial scrub which makes a marvelous food thickener. The poor dear needs some better choices in diet.
On the way back to the city, I decided we would just have all those head stones removed and the ground paved over. They may have had meaning to dear Norma once upon a time but now they're just tchotchkes from another era. Perhaps I can have then broken up and made into attractive paperweights as part of the MNM business lady office accessory collection. There are some old roofing nails around that we can make into letter openers and I'm sure we can come up with some sort of inexpensive desk tray to complete the set. I'll put Leah on it.
When I got back to Casa Maine, I found that Normy was hard at work on getting his studio up and running. He had a number of IKEA cabinets delivered and was busy putting his collection of instruments away including his set of titanium boom whackers. He has so many important commissions coming in for compositions and he needs to have all of the possible instrumentation at his disposal. He just finished a particularly thrilling concerto for French, English and Flugel horn which is having its grand premiere later this month in Montreal. I left him to it and headed to my new tap studio to make sure the Marley floor was being properly installed. I took a few inaugural time steps on it, made sure the cameras were in place to catch all the action and decided that was enough activity for one day.
I therefore decided it was time for a film. The room we have selected for our new home theater is not yet finished. It's to have a Chinoiserie theme with the television hidden behind a lovely painted screen covered with cranes and trailing willows and the player is cunningly hidden within a large waving happy cat. I'm still in somewhat of a nautical frame of mind following our little interlude on the yacht under the care of Captain Drew so I went looking for a film that truly catches life on the rolling waves. A quick look through the streaming offerings and I found The Little Mermaid, the Disney animated tale from 1989 which brought together the musical team of Alan Menken and Howard Ashman with the Disney animation department and helped launch a new golden age for the studio. I had not seen it since its premiere (I had modeled for the character of Ursula early in development but my svelte figure was felt to be far too heroic for a villainess) so I settled in for a viewing.
The Little Mermaid is based on the tragic fairy tale by Hans Christian Andersen. The original story has some of the same characters but, like many of his stories, is full of anguish and has no happy ending, anathema to Disney, who completely changed it up to make it palatable to the youth of America, and more importantly, their parents who buy the movie tickets, plush toys and boxed DVD sets. In this version, Ariel the mermaid, youngest daughter of King Triton who reigns under the sea, has a lovely voice and is enamored of all things human. She floats around her watery kingdom with a blue and yellow guppy thing named Flounder and a calypso crab named Sebastian. One day, there is a storm and a shipwreck and the handsome Prince Eric is cast into the sea and Ariel saves him from certain death. She of course falls for him and he for her voice. In a desperate attempt to win his affection, Ariel trades her voice to Ursula, the evil sea witch in exchange for human form; there's a catch though, she must, in her mute state, convince the Prince to fall in love with her within three days or she will return to the sea as Ursula's prisoner. Needless to say, as it is a Disney film, after many perils, all comes right in the end.
The film is in classic Disney animation style, a throwback to the lush fairy tales of the 40s and 50s like Cinderella and Sleeping Beauty, eschewing the looser look that had taken over in the 70s and 80s with films like The Jungle Book and Oliver and Company. The color palette is more vibrant than the classic style, with Ariel's lush red tresses making henna look dull and lifeless, and with vibrant blues and greens dominating the undersea scenes. Writer/directors Ron Clements and John Musker obviously story boarded the film carefully with the advent of computer assisted animation allowing them to compose shots that could never have been attempted in an earlier era and allowing a whole new filmic language to enter the realm of animation. The shot of Ariel breaking the waves on a rock with the spray behind her is emblematic and became iconic.
What makes the film a success, however, isn't the plot or the pretty pictures, it's the score by Menken and Ashman. At that time, the duo was best known for their off-Broadway doo wop spoof Little Shop of Horrors which had also become a successful film. Disney had become interested on the basis of that success and gave them the The Little Mermaid assignment and the rest is history. Menken, in particular, is a gifted pastiche artist and the songs they came up with for the film were easy to learn, memorable, and jubilant. No one left the theater during the original run without singing the calypso fantasia Under the Sea to themselves. Their big want song for Ariel, Part of Your World (originally sung by Jodi Benson), has become a standard for singers and is heard in all sorts of contexts. Even the comic turn for a minor chef character, Les Poissons, had style and wit (although the Maurice Chevalier styling would be topped by Be Our Guest in their next project, Beauty and the Beast.)
The film holds up nicely and will continue to enchant new generations of children for decades to come. It loses something in poignancy by leaving out the grimmer aspects of the original story (and I would encourage parents to seek out the original and read it to their children – tragic endings help children process the bad things in life). There are some scary moments in the final showdown with Ursula (a black and purple octopus whose look was allegedly based on the legendary drag queen Divine) but most of it is perfectly fine for kids. The romance is chaste, the violence minimal and cartoonish, and the humor refreshingly free from gags about bodily functions.
Missing diva. Shark attack. Fork in the hair. Gratuitous Buddy Hackett. Evil eels. Dancing fish. Angry father. Exploding statue. Seasick aristocrat. Stuffed crab.
To learn more about Mrs. Norman Maine, see our Movie Rewind introduction, visit her entire back catalog and follow her on Twitter at https://twitter.com/missvickilester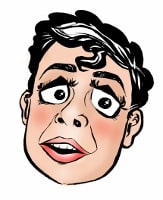 Originally from Seattle Washington, land of mist, coffee and flying salmon, Mrs. Norman Maine sprang to life, full grown like Athena, from Andy's head during a difficult period of life shortly after his relocation to Alabama.