BOMBS AWAY
Main Cast: Andrew Garfield, Alexandra Shipp
Director: Lin-Manuel Miranda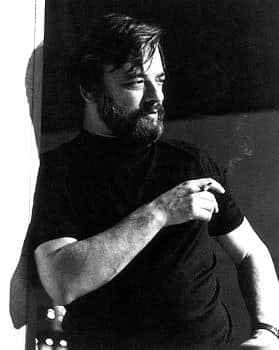 I was absolutely devastated by the news of Stephen Sondheim's passing this week. Not many people know this, but we were secretly engaged for a time a few years ago back when he was the toast of Broadway for that little show he did about Roman clowns and I was starring one block over in my sensational one woman musical adaptation of Measure for Measure entitled Nun of Your Business!
The two of us had a gay old time that season but alas, my career called me back to Hollywood and our romance soured with distance. He did write a couple of stellar parts for me later in his career, Mrs. Lovett and Dot/Marie in particular, but things didn't work out for me to do the Broadway productions – scheduling and a definite lack of tap numbers and dream ballets. Still, life goes on and I will always treasure the portable escritoire he gave me, which even now holds my trusty laptop as I write these words.
Filming continues to go well on Donna Quixote: Woman of La Mancha, my new epic musical costume drama about a famous fashion designer who takes Europe by storm in the halcyon days following World War II. We were filming in Ronda, a town in central Spain today. It has the most marvelous bull ring which served as the background for Donna's famous clash with Coco Chanel over who was actually responsible for the little black dress.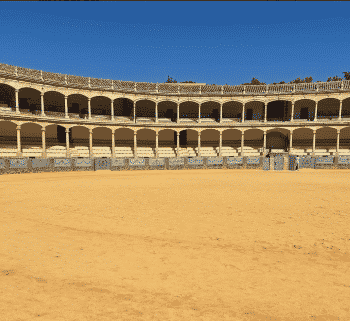 My old friend Eve Harrington is playing Coco and she's simply giving it her all. It's going to be a really exciting sequence with a number of extras dressed as lady matadors filling the stands as we throw withering put downs at each other before finally agreeing to a spear battle, armed as picadors. The bulls will be added later through CGI. The insurance company would not allow the bulls to be in the ring with us. I think they thought they might get hurt. Tomorrow, we film a sequence on the Ronda bridge where a lesser designer tries to copy Donna's famous wrap evening gown, but because the cut is wrong, the capelet is caught by an errant gust of wind and the model wearing the garment is hurled off the bridge into the gorge. I'm not looking forward to it. I'll have to sit around for hours watching some stunt woman tumble off the bridge on a bungee cord several dozen times until they get the shot just right.
As I am mourning for all things Sondheim, I fired up my trusty tablet, loaded up the Netflix and brought up Lin-Manuel Miranda's new film adaptation of Jonathan Larson's Tick, Tick… BOOM to revel in all things Broadway and creative. Larson, best known as the composer, lyricist, and book writer of the mega hit Rent in the 1990s, was (like all musical theater types who came of age after 1970) an acolyte of Sondheim's and received mentoring and guidance from the man during the early stages of his career.
When Larson died unexpectedly on the day before the first public performance of Rent, a theater legend was born and the show went on to become an enormous success, sweeping the Tonys and winning the Pulitzer Prize for Drama. Tick, Tick… BOOM is an earlier work and an autobiographical show/song cycle about Larson and his attempts to establish himself in the theater world of New York in the late 1980s/early 1990s. It has long been a favorite of theater students due to its subject matter and I have sat through a number of college productions over the years. Some good, some less than.
Lin-Manuel Miranda, of Hamilton fame, also a Sondheim disciple, decided to take this small and introspective stage work and adapt it for the screen as his directorial debut as a film maker. It's obvious that the man has been studying the art and craft of film during his Hollywood adventures as an actor and composer as this first film of his is inventive, assured, and engrossing. He walks the very fine line between schmaltzy self-indulgence and clinical objectivism that's so hard to do when dealing with biographical musical properties. The film is also loaded with nods to Broadway, the creative process, and various references showing how the young Larson, as he exists in a New York decimated by the AIDS crisis, absorbs the cultural moments that will eventually become Rent.
Tick, Tick… BOOM as a title refers to young Larson's feeling that time is running out. Andrew Garfield, as Larson, is better looking that Larson ever was and nowhere quite as awkward physically as the original, but still captures the young man's physicality and angst. Larson is approaching his 30th birthday. He still hasn't had any significant success as a creative artist. His friend (Robin De Jesus) is selling out for a corporate job with guaranteed income. He's at an impasse with his girlfriend (Alexandra Shipp).
He finally lands a deal for a workshop/reading of the musical he's been laboring over for years (entitled Superbia and concerned with a dystopian science-fiction future) but he continues to have trouble attracting interest, even from his own agent (Judith Light).  He works as a waiter in a diner to try and make enough money to cover the rent and he is worried about the toll that HIV is taking on his friends and community. 
There's not a lot of plot, but that's okay.  The film is much more about the artistic process of inspiration and creation than it is about the results. Along the way, Stephen Sondheim appears as mentor and benevolent presence, encouraging and helping Larson continue to aspire.  Bradley Whitford embodies the younger Sondheim of 1990 and while in make-up he looks convincingly like the man, absolutely nailing Sondheim's voice and physicality.
From early in the film, I was captivated – by the ambiance of a now vanished New York and Broadway ecosystem captured in loving detail.  By richly defined characters performed with expert precision by the young and vibrantly talented cast.  By Larson's varied score ranging from Hip Hop to Country Western.  By Lin-Manuel Miranda's assured direction and vision. 
The defining moment of Tick, Tick… BOOM comes about forty minutes in with a song about Sunday brunch at the diner. Larson, in an homage to Sondheim, deftly parodies the famous first act finale of Sunday in the Park with George musically.  It's an amusing moment in the stage version but Miranda's decision to fill the diner with patrons played by legendary Broadway stars, especially a moment with Bernadette Peters and a hat, lifts the film to an exalted plane and leaves the audience ready to follow it anywhere.  It's a sequence that will be analyzed and discussed in both film and theater circles forever.
By all means, fire up your Netflix and pull up Tick, Tick… BOOM. You won't be sorry.
Synthesizer playing. Underused drummer. T cell count discussions. Finished hat. Gratuitous Luis Miranda. Room full of Broadway creatives. Inspiring answering machine. Modern dance performance.
To learn more about Mrs. Norman Maine, see our Movie Rewind introduction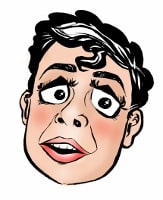 Originally from Seattle Washington, land of mist, coffee and flying salmon, Mrs. Norman Maine sprang to life, full grown like Athena, from Andy's head during a difficult period of life shortly after his relocation to Alabama.