FOOLS ON THE HILL
Main Cast: Daniel Craig, Janelle Monae
Director: Rian Johnson
I'm still having difficulty with this thing called Fibs of TikTok which has been broadcasting clips from my storied film career out of context. So far I have seen things labeled 'dangerous drag queen corrupts innocent youth for decades' and 'Hollywood groomer coming for your children'. It's all such nonsense and I have instructed my attorneys, Fajer and Hellmann, to take them firmly to task.
I haven't made a film for children since my Warner Brothers contract days when I essayed the title role in their big budget musical Rumpelstiltskin opposite Magdalena Montezuma. I had heard that all the prints were destroyed in a fire some years ago. No big loss as my costumes and makeup were definitely of the unglamorous variety. I let Jack Warner know exactly what I thought of him for doing such damage to my image as a model of femininity.
Things have been relatively quiet around Condo Maine these last few weeks. The streaming service continues to grow and we're now up to quadruple digits in terms of the number of customers. Our big special this week is a revamping of the Lon Chaney The Phantom of the Opera. We're using digital technology to insert me as Christine and we've added a simply splendid tap number just before the chandelier falls.
I do so love breathing new life into old classics. We've also had me record some new lyrics to Bach's Toccata and Fugue in D Minor to help clarify the title cards. Silent films are just so… so… silent sometimes and a little cheery music helps bring everything up to a new level for a new generation.
I have had a little time to begin working my way through some of the film titles that have been on my list and which I have not yet had a chance to see. The first up on the queue in my lavish home theater was the new Rian Johnson film, Glass Onion: A Knives Out Mystery starring Daniel Craig, a sequel to the surprise hit whodunnit of a few years ago. I had read that it takes place on a private Greek island so I sent out to the local spirit emporium for a large bottle of retsina and settled in to enjoy myself with a bevy of movie stars under suspicion of murder.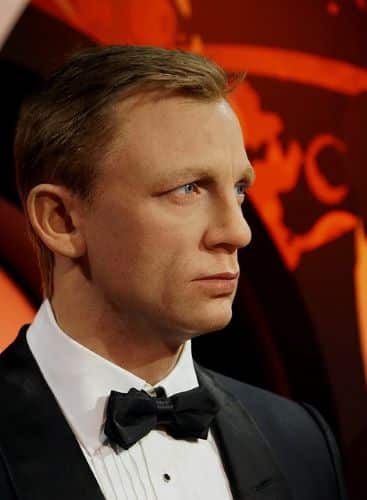 The original Knives Out (you can read my review here) introduced us to Benoit Blanc (Daniel Craig), a quirky private detective in the Agatha Christie/Dorothy L. Sayers mold, who joined the police in solving the murder of a famous writer of detective novels in his over the top gothic manse amongst his family of ne'er do wells. Writer/director/producer Rian Johnson was able to put a modern spin on the usual whodunnit tropes and Craig created an affably daffy detective (a far cry from James Bond) to make the film great fun and to set it up for a franchise, of which this is the next installment.
While the first film owes much to Agatha Christie (especially to the 1970s-80s film versions of Murder on the Orient Express, Death on the Nile, and Evil Under the Sun), Glass Onion owes its inspiration to a 1970s puzzle mystery by Anthony Perkins and Stephen Sondheim entitled The Last of Sheila. Both The Last of Sheila and Glass Onion involve the gathering of a group of rich and connected friends by a wealthy protagonist with ulterior motives. They both center around a vacation getaway and a murder game which ultimately becomes all too real. I have no real difficulties with this wholesale borrowing. Most filmgoers under seventy while neither have heard of nor seen The Last of Sheila unless they are Sondheim groupies.
In Glass Onion, we meet Miles Bron (Edward Norton), a tech billionaire owing more than a few traits to Elon Musk, who has built a fabulous house on a private Greek island. The house is topped with a large glass geodesic dome, known as the glass onion. Bron sends an elaborate invitation to old friends to join him there. It's the spring of the pandemic shutdown (and masks and lack thereof are used initially for comic effect) and his old friends are only too happy to get away from the issues of the world for Bron's murder mystery getaway.
They include his old business partner Andi (Janelle Monae), his head scientist Lionel (Leslie Odom Jr.), politician Claire (Kathryn Hahn), fashion designer Birdie (Kate Hudson), and influencer/streamer/men's rights activist Duke (Dave Bautista). Somehow, detective Benoit Blanc has received an invitation as well despite not being on the guest list. Miles welcomes him thinking it might be fun to have 'the world's greatest detective' join in on the sleuthing. When Miles' planned murder game is thwarted, things turn to real life murder and soon secrets are exposed, impersonations uncovered, and various people are crossed and double crossed while Benoit uncovers the solution to the mystery.
Johnson's screenplay is, in general, rollicking good fun but makes the Vertigo mistake of revealing too much about a double identity too soon in the game. He also directs with a certain panache and keeps things moving, even though Glass Onion is about twenty minutes too long. The biggest fault is that most of the actors try to keep their characters too grounded in reality. They really need to head off into high camp territory as the point of the film is to keep the audience engaged in the games, not the drama.
Kate Hudson does the best at catching the brio the proceedings require and Daniel Craig isn't bad but a few of the others seem stuck in a glum reality that has no place in this unreal luxurious mansion. (I'm looking at you Leslie Odom Jr. and Kathryn Hahn.) Norton does pretty well but he has to form a balance point for all of the other characters and that's tricky to pull off. Ultimately, there's a huge explosive ending (which I found unnecessary) and Miles gets his dearest wish, but not in the way he had assumed.
Johnson's penchant for easter eggs and nods to other projects in the genre is given wide range in Glass Onion. There's a take off on a famous shot from The Last of Sheila. Early in the film, Benoit is playing a mystery game (very badly) on zoom with friends who include Sondheim and Angela Lansbury. There's a prop or two out of Sleuth. Serena Williams has a great little cameo reading a book written by the victim from Knives Out. Even Yo Yo Ma turns up at one point in a great little comic bit.
I caught a good many of them during my first viewing but I'm sure there are others there and a second viewing may be in order to see if I can find the rest of them. I'm sure there will be a third, if not a fourth entry in the series in a few years. Benoit, with his Foghorn Leghorn accent, his dubious sexuality, and his smarmy sense of his own intellect is a great creation and I hope that Rian Johnson can come up with interesting stories and characters for him to play off and won't be afraid to go towards a more heightened reality to match the operatic size of his characters and plots.
Glass Onion is streaming on Netflix.
Antiviral sprays. Gratuitous Ethan Hawke. Baby blue sportscar. Pineapple plot device. Nat King Cole soundtrack. Twin girls. Complicated puzzle box. Kareem Abdul Jabbar cameo. Glass smashing.
To learn more about Mrs. Norman Maine, see our Movie Rewind introduction.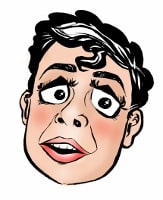 Originally from Seattle Washington, land of mist, coffee and flying salmon, Mrs. Norman Maine sprang to life, full grown like Athena, from Andy's head during a difficult period of life shortly after his relocation to Alabama.