SLEEPING BEAUTY
Main Cast: Sandra Bullock, Bill Pullman
Director: Jon Turteltaub
I showed the producers of Dancing with the Stars a thing or two about true star quality today.  They may think they can keep me off the airwaves of America and out of their cheap little talent competition but they had forgotten that I spent my early days with the Public Theater.  I took a page out of the John Houseman playbook and huddled together with Miss Mimi, my vocal coach and arranger, and Lulu Pigg my tap therapist and we came up with a brilliant plan designed to get me on the six o clock news and a network holiday special. 
I called up Dr. Paul, the brilliant director of the Lena Lamont singers with a special request and they agreed to meet me at the studio where that trashy little dance show is taped. Dr. Paul has a rare gift for getting the most out of every little syllable of his choral ensemble and I have been smitten since I first heard them in their concert salute to Florence Foster Jenkins.   I also got hold of every tap school from Reseda to Pacoima and had all their students taught a basic combination of time steps and Maxie Fords with the promise of a free performance opportunity with the biggest tap star of them all.
This morning, everyone showed up at the studio in a fleet of rental buses disguised as a tour group of senior citizens from Happy Acres retirement village in Laguna Beach.  I didn't want to have problems with the security arms being left down again.   When the odious Mr. Hopkiss saw us coming for his doors, he had them quickly locked against us.  This played very neatly into my hands.  Ben, my technical wizard, quickly had a sound system up and going and soon I and ten dozen tap dancers were merrily tapping away up and down the stairs to the main doors while the Lena Lamont singers sang a simply stunning eight part choral rendition of Hava Nagila.    
I had a camera crew catch the whole thing on tape and it was only partly interrupted by the sound of the news helicopters coming in for a closer shot.  We can easily remove those sounds in post.  I'm tentatively entitling the whole production The Dreidel Will Rock and will be shopping the footage around to the various networks next week for a simply stunning holiday special.
Normy came and picked me up after the fun was over as the buses had to go back to ABC rentals.  I was unwilling to pay for more than the six hour minimum and off we headed for a light snack at Pink's before returning to Chateau Maine for a celebratory cocktail and a film.  We were both in a jovial mood and decided on a romantic comedy.  Turning on the Netflix, we stumbled across While You Were Sleeping, a Sandra Bullock vehicle from 1995 that we both remembered liking so we decided to give it a whirl.
Sandy plays a forlorn cashier for the Chicago Transit Authority named Lucy. Lucy, who has no family, sits day after day, holidays included, in her ticket booth selling tickets to the El dreaming of a more adventurous life and the dreamy yuppie, Peter, who commutes from her station every day (Peter Gallagher). Then, one Christmas morning, the man of her dreams is mugged while waiting for his train and falls to the tracks losing consciousness. Plucky Lucy heroically drags him out of the path of an oncoming train and accompanies the now comatose man to the hospital where, through a rather outlandish set of circumstances, she is mistaken for his fiancée. Soon she is in the bosom of Peter's family including his strong willed father (Peter Boyle), histrionic mother (Micole Mercurio) and tart tongued grandmother (Glynis Johns, stealing every scene she's in). Soon Lucy meets his brother Jack (Bill Pullman), who is suspicious of this fiancée that has never been heard of before and Lucy finds herself falling for Jack. Ninety minutes of complications ensue including Peter's awakening and amnesia, Peter's real fiancée (Ally Walker) and Lucy's loutish neighbor who figures himself the lothario of her dreams (Michael Rispoli). Will Lucy and Jack end up together? I don't think I'll be spoiling things by pointing out that this is a Hollywood romantic comedy and anyone who has seen more than one or two can see the ending coming four reels away.
Director Jon Turteltaub, working from a script credited to Daniel Sullivan and Frederic LeBow, has created a sweet souled movie that makes you feel warm and fuzzy all over. It's rather amazing as the film went through the usual Hollywood development hell. The original script had a woman in a coma with a man pretending to be her fiancé (to make the Sleeping Beauty parallels more clear). Everyone from Julia Roberts to Demi Moore to Nicole Kidman was considered for the lead and the studio was pushing Russell Crowe for the Bill Pullman role. Fortunately, it all sorted itself out correctly. Sandra Bullock and Bill Pullman have great chemistry and are a pleasure to watch together as they awkwardly take their first steps towards romance. No one does gawky everywoman better than Sandra Bullock and she knows how to carry the audience with her to the inevitable denouement. The scene where the two of them walk along the Chicago River at night and end up sliding on the ice is a classic of romantic comedy charm. Michael Rispoli and Glynis Johns duke it out for comic relief honors. (Fortunately, they have no scenes together or we might totally forget about the leads.) There is also nice work from old pro Jack Warden as a family friend.
While You Were Sleeping is the cinematic equivalent of a favorite old pair of loafers or a dinner of macaroni and cheese. It's warm, comfortable, makes us feel safe and requires no complex thought. It's one of the better examples of the genre and well worth a look if you haven't seen it or a revisit if you caught it back in the 90s when it was first released.
Light up globe.  ICU monitors.  Fluffy the cat.  Couch moving.  Gratuitous Ice Capades reference.  Hot glue gun gifting. Abandonment at the altar.  Gratuitous marijuana joke. Token engagement ring.
To learn more about Mrs. Norman Maine, see our Movie Rewind introduction.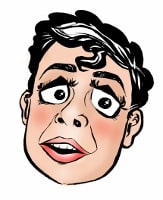 Originally from Seattle Washington, land of mist, coffee and flying salmon, Mrs. Norman Maine sprang to life, full grown like Athena, from Andy's head during a difficult period of life shortly after his relocation to Alabama.