DEAD AGAIN
Main Cast: Daniel Craig, Ana de Armas
Director: Cary Joji Fukunaga
Sometimes things move just a little bit faster here in tinsel town than I might ever have expected. The production company behind Woman of La Mancha: The Story of Donna Quixote no sooner received my carefully thought out notes on their script when they immediately sent over a contract by courier offering me the starring role. I ran it past Fajer and Hellmann, my attorneys, who thought that it was all quite in order. I was a little underwhelmed by the salary, so I fixed the problem by adding a zero on the end.
Shooting was due to start on the Iberian Peninsula immediately so within a week, I had packed all thirty seven pieces of my Louis Vuitton with the bare essentials for a six week shooting schedule and, before I knew it, I found myself on a flight to Lisbon. Although the film is set in Spain, the first few locations are apparently in Portugal. I'm not quite sure of the difference between the two countries. I hear they speak different languages, but I've always found that English works wherever you go as long as you speak it loudly, slowly and with impeccable diction. Using my upper register and throwing in a thrilling high C or two has also been helpful.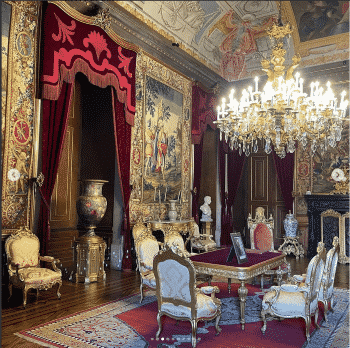 The first sequence we're shooting is Donna's arrival up the Tagus river by Royal Barge as she is being feted by the government of Portugal for her services to culture for her invention of the wrap evening gown. It's a triumphant moment – a culmination of earlier scenes in which we learn how the leading fashion houses of Europe have sent her packing, saying that a wrap evening gown was a physical impossibility. But Donna solves the problem of the sleeves and drape with a daring new bias cut on a synthetic fabric she cooks up herself on her side gig as a research chemist at the University of Seville.
It's daring, it's au courant, it's thoroughly Vicki Lester and I can't wait for the publicity campaign and I smell a possible second Oscar for moi if we approach the material in just the right way. Especially as the title, which translates as Woman of the Stain, shows how Donna manages to fight her way out of the back alleys of Madrid where her mother is a fille de joie and her father is a traveling man to the highest pinnacles of the haut couture world. They're casting a younger actress for the slum sequences early in the film although I think this is a bit silly as I, at my ever youthful thirty-nine, can still play fifteen on screen as long as there's a teensy bit of CGI around the eyes.
It's been several years since I've been over to Europe to shoot on location so, the night before leaving, I decided to take in a new film with a European flair to remind me of the joys of peregrinating down streets that have been trod by generations over a millennium or more. I had hoped there might be a costume epic of some sort at the local megaplex but that was not to be, and I had to settle for No Time to Die, the most recent entry in the James Bond franchise and the twenty-fifth film in the canon.
Daniel Craig returns for his last outing in the role and there is widespread speculation as to whom might step into the tuxedo and Aston Martin in the next film due out in a few years. This particular film, the fifth with Craig, was completed in the fall of 2019 and was due out then but a combination of studio politics, a last minute change in directors, and a pandemic caused a significant delay in the release. The Craig Bond films have plumbed the characters psychological depths and backstory in ways that had not been done before and No Time to Die acts as a culmination and elegy of various themes and plot lines developed over the years since Casino Royale was released in 2006. It falls short of the brilliant Skyfall, perhaps the best Bond movie of them all, but still has much in it to be admired.
We start in Italy. Bond is on a holiday with Madeline (Lea Seydoux), the psychologist who figured prominently as his love interest in Spectre, the last Bond film. Before long, their relationship is blown apart, quite literally, as Bond tries to mourn at the grave of Vesper Lynd (his love interest in Casino Royale), but not before we learn a thing or two about Madeleine's Norwegian childhood and her encounter with a mysterious assassin in a Noh mask.
Fast forward five years and Bond is retired in Jamaica. When a terrorist attack on a secret London laboratory leads to the capture of a bioweapon named Project Heracles – a virus using nanobot technology to target individuals by their genetics, American agents Felix Leiter (Jeffrey Wright), Logan Ash (Billy Magnussen) and British agent Nomi, (Lashana Lynch) the new 007 at MI6 reel Bond back into the game. There's a brief detour to Cuba where Bond teams up with Paloma (Ana de Armas) at a cocktail party that turns into a major demonstration of Project Heracles.
Eventually, Bond and Madeline are reunited in London together with M (Ralph Fiennes), Q (Ben Whishaw), and Moneypenny (Naomie Harris). There's a confrontation with archenemy Blofeld (Christoph Waltz) and then they're on the trail of the mysterious assassin Safin (Rami Malek) who is trying to turn his arch villain's lair into a Project Heracles factory. When Safin snatches Madeline and her five year old daughter Mathilde (you do the math), it's Bond to the rescue.
There's much to like in No Time to Die. It's much more complex than the standard stunts and chases one usually gets. At the same time, this means that the nearly three hour running time is overstuffed with plot and incident and to keep the film from an even more epic length, it's obvious that certain characters and scenes were trimmed and that key transitions are likely left on the cutting room floor. Rami Malek's villain, for instance, barely appears prior to the last hour and his origins and motivations are glossed over in an overly simplistic way.
I get the feeling that the producers realized that this was the last time they would have Daniel Craig as Bond and were determined to shove every story idea they had about him as a character into one last film, wrapped up with a bow. Much has been made in some quarters about the ending (which I shall not divulge here but it's possible to see it coming miles away given the structure and emphases of the film). It's elegiac, fits the Craig characterization of Bond and, I am sure, will be explained away in some form when the series is rebooted with a new actor in film number 26 a few years from now. The Bond franchise is now sixty years old and has gone through six leading men. I have a feeling that it will be forever, like diamonds – only adjusting itself to the looks and mores of new generations and new audiences.
Craig is a soulful Bond in No Time to Die and always gives the impression of a rich interior emotional life when on screen. He's not the cardboard cutout dribbling quips down the front of his tuxedo that we've too often seen in the past. The recurring supporting cast are also quite good, making the most out of what could be nothing roles. I'm particularly partial to Ben Whishaw's Q who is finally revealed to be gay in a matter of fact way after much speculation in previous films. Malek doesn't get enough to do to make a terribly memorable villain. Christoph Waltz, who has minimal screen time, makes more of an impression. Of the various Bond girls, Ana de Armas as the ditzy Paloma comes off the best, having a bubbly good time in an evening gown while delivering the occasional roundhouse kick.
The action sequences are as expected. There's a lovely auto chase through the streets of Matera, Italy, a huge brawl at a black tie event in Havana, a break in and narrow escape in London, an atmospheric chase in the Norwegian woods, and a death defying escape from a burning boat. The only part of No Time to Die that I didn't care for stunt wise was the third act where we're trapped in the villain's lair somewhere off Sakhalin. While they've tried to give it some realism as an abandoned Communist Era missile silo, it feels like a throwback to You Only Live Twice and out of step with the more modern sensibilities in the rest of the film. Even with the minor quibbles, No Time to Die remains an enjoyable film and a worthy addition to the Bond series. If you enjoy action films and Bond in particular, you won't be disappointed.
Symbolic Dou. Falling through ice. Train farewell. Gratuitous 007 on 007 seduction. Pompous political American agent. Genetic code switching. Psychiatric therapy session. Poison garden. Missile strike.
To learn more about Mrs. Norman Maine, see our Movie Rewind introduction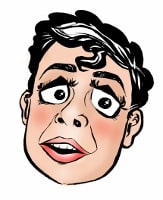 Originally from Seattle Washington, land of mist, coffee and flying salmon, Mrs. Norman Maine sprang to life, full grown like Athena, from Andy's head during a difficult period of life shortly after his relocation to Alabama.