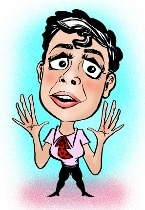 Hello everybody, this is Mrs. Norman Maine. Of course many of you know me as Vicki Lester, star of stage and screen who has been Hollywood royalty for more decades than I care to count, which is amazing as I am perpetually 39 years of age.
While some of my more recent film projects have not been as high profile as I would like, I am still very much a part of the Hollywood scene and working with my production company, Star Is Born Pictures, to present quality musical entertainment to the world.
Savvy shoppers among you may also be familiar with my many fine consumer products including my Lesterene beauty care line and VickiWear clothes, with designs based on costumes from classic musicals.
I have, in recent years, employed my vast knowledge of film in order to help superior movie watchers such as yourselves make more informed choices in their viewing. Be sure and watch this space and catch all of my columns and let a little of my glamour rub off on your humdrum existence.
Kisses, MNM