DANCE, FOOLS, DANCE!
Main Cast: Meryl Streep, Jo Ellen Pellmann
Director: Ryan Murphy
Now that VickiTube, my new streaming service, is up and running with a couple of signature series, A View with Vicki, my morning chat show where I and three other famous Hollywood actresses address the pressing issues of our time and Virtually Vicki, where I take classic films and improve them by compositing myself in through green screen technology, enlivening even the dreariest classic with a little Vicki Lester pizzazz. The latest of these, my version of the holiday classic It's a Wonderful Life, features the bridge before Jimmy Stewart fishes him out of the water.
I have been looking for just the right property for us to broadcast on Christmas Eve, the sort of thing that can become a perennial favorite. I've been poking through a number of scripts that have been submitted to see if we can find just the right property. I'm rather partial to And Then There Were Nuns, a musical sequel to The Sound of Music which follows the sisters of Nonneberg Abbey under the Nazi occupation – it's all music and prayer until a killer begins to stalk the cloisters killing the nuns one by one. It just doesn't seem quite right for Christmas though, perhaps we'll save it for Easter. That will give enough time for rewrites so that I can change the protagonist from mother superior to a young postulant, so better to fit my always youthful age of 39. Then there was the idea for a Star Wars holiday special, but apparently that's already been done.
Wanting to come up with inspiration, I had cook make up a large pitcher of sangria and I repaired with it to the home theater to see if there were anything new on the Netflix that might give me a stroke of genius. In looking at the new releases, I saw that Ryan Murphy's film version of the recent musical The Prom had dropped so I decided to settle in for a few hours of singing, dancing, and LGBTQ activism. I had missed the original stage show as it hadn't run long enough for me to catch it in New York, but I had heard from friends that it was a good old-fashioned musical comedy, albeit with modern subject matter. I am a sucker for production numbers, heartfelt monologues in song, emotional communication in dance, and sequins for days and I was pretty sure Mr. Murphy, given his previous oeuvre, would not disappoint.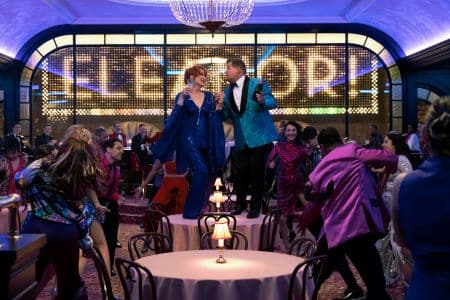 The Prom is a clever amalgam of fish out of water story mixed with coming of age story mixed with social issue story. It may sound dire, but the elements are relatively well balanced and make for an entertaining blend. The two worlds that collide are the worlds of modern Broadway (pre Covid shutdown) and the small town of Edgewater, Indiana. In Edgewater, Emma (Jo Ellen Pellman) is a young out lesbian (denoted by her toboggan hat and clunky boots) who wants to take her girlfriend to the prom. The PTA, denoted by Kerry Washington as a tough as nails mom to the attractive cheerleader (Ariana DeBose) with whom young Emma is in love, unbeknownst to her mother, is determined not to host a 'homosexual prom' despite running afoul of civil rights legislation and well meaning principal Hawkins (Keegan-Michael Key). Meanwhile, on Broadway, Diva Dee Dee Allen (Meryl Streep) and her costar, preening Barry Glickman (James Corden) are opening their new musical about Eleanor Roosevelt which quickly bombs. Dee Dee and Barry, commiserating at Sardi's with their friends, perennial chorus girl Angie (Nicole Kidman) and out of work actor turned bartender Trent (Andrew Rannells) and are determined to prove they are not fatuous narcissists by turning themselves into activists on the right side of a social issue. They read about Emma on Twitter and off the quartet heads to Indiana to put things right in the Hoosier state. In the spirit of all good musical comedies, there are unexpected twists and turns, everyone learns a bit about themselves, and by the time of the big finale, everyone is a better person and gets what they want, even if it isn't what they thought they were looking for.
Ryan Murphy is usually a meticulous visual director and he doesn't disappoint. The Prom is drenched in neon pinks and greens with impeccably realized fantasy sets (production design by Jamie Walker McCall). The opening number, set on a impossibly clean 44th Street just off of Times Square with multiple Broadway houses moved from their actual locations for visual effect, is delightful, moves into a spacious fantastical Sardi's and, like all good musical openings, sets up the tone and rules – both musical and logistical – for the next few hours. We know we're in a world where song and dance have meaning, where people where more lame and sequins then the Rockettes, and where everything will always be OK, no matter what hokey contrivances. It's a lovely escape from the world of Covid-19.
The major strength comes from the performances, both from the old pros and from the new faces. Meryl Streep brings her patented timing and her best imperiousness to Dee Dee. In a short red wig and impeccable makeup, she dominates every scene she's in and is obviously enjoying sending up divatude in general with her line readings and flamboyant gestures. There have been some complaints about James Corden from certain quarters as he is a straight actor playing a very gay role and, as the character is very much of the sissy variety, this is the equivalent of minstrelsy. I don't agree with this because, if only gay actors can play gay roles, then conversely only straight actors should play straight roles and that would lock gay actors out of many parts. Let the best actor available play the part, no matter their real sexuality, ethnicity, political belief or otherwise. It's called acting. Personally, I've never ruled over a kingdom but that hasn't kept me from playing six princesses, three queens, and an empress over my career. I've met plenty of gay men over the years just like the character Barry and Corden brings a certain amount of sympathy to the part. He's not quite up to Streep's level, but then who is? Nicole Kidman has legs for days and her big second act number, Zazz, is a highlight. Andrew Rannells isn't given that much to do but he does get a big revival number in a shopping mall food court which ends up with a mighty Esther Williams moment.
Jo Ellen Pellmann, in the central role of young Emma, is obviously a good deal older than 17 and seems a bit too conventionally attractive for the role, which I think calls for someone a little more real and quirky. She has a lovely voice, appears to be a decent actress, and makes you care about what's going to happen, especially when she's set up for a major humiliation (the first act finale in the stage version). The Prom doesn't completely do away with its stage origins. The script beats feel very stage bound, even if the story has been opened up onto expansive sets. The original creators, Matthew Sklar (music), Chad Beguelin (lyrics) and Bob Martin (book) are behind the camera and reshaped the material. The problem is that the material isn't the best. The music is bland modern Broadway pop with almost no memorable melody and the lyrics are pedestrian and eminently forgettable. The book, which was goofy good fun on Broadway, retains its charms as long as you're willing to suspend your disbelief and just go with it.
The Prom is good fun, has a sweet, if somewhat heavy-handed message about tolerance, and boasts some greatish performances and a visual style full of pizzazz. What's not to enjoy?
Bad reviews. Vanishing hangers on. Gratuitous tambourines. Apples and bees. Song about the magic of theater. Song about self-realization. Gratuitous makeover sequence. Tumbling in the halls. Mother and child reunion. Big dance finale.
To learn more about Mrs. Norman Maine, see our Movie Rewind introduction, visit her entire back catalog and follow her on Twitter at https://twitter.com/missvickilester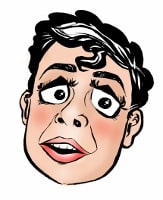 Originally from Seattle Washington, land of mist, coffee and flying salmon, Mrs. Norman Maine sprang to life, full grown like Athena, from Andy's head during a difficult period of life shortly after his relocation to Alabama.