BLOOD WEDDING
Main Cast: Tom Hiddleston, Mia Wasikowska
Director: Guillermo Del Toro
The live broadcast of my new musical version of Event Horizon could have gone a bit better. Cues were dropped; a camera crew, doing a reverse dolly shot, backed into the powder room and became entrapped in the bidet; DeeDee Pfeiffer, in the midst of the big gravity drive tap number, completely lost count and was doing double time steps when she should have been doing triple time steps throwing the line completely off. Our biggest cock up was in the zero gravity ballet. While I was swinging in perfect arabesque from an invisible flying trapeze, Don Swayze and Frank Stallone were supposed to be bouncing in synchrony with my arc on a set of cunningly hidden trampolines, letting our palms touch briefly as I swung past. Due to someone's miscalculation, I headbutted Don right between the shoulder blades and caught Frank with my left foot as I went past knocking him over the side of the building. Fortunately, his safety harness held but it did take a few minutes for the crew to haul him back up to the roof of the Nakatomi Tower where we were filming causing him to miss several important entrances. I was able to cover by improvising with a riff on Fly Me to the Moon.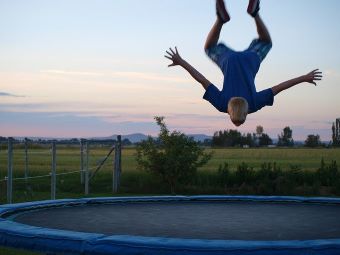 But, minor issues or not, the project is completed and in the can. Following the live stream, I will be selling souvenir Blu-Ray sets of the production including the disc, an autographed photo, and a Funko Pop of me in costume that is sure to be a major collector's item in years to come. Now it's time to strike the sets and return Condo Maine to a semblance of normalcy. I think I'll use this as an excuse to do some redecoration. I'll have to call the executives at HGTV about a special – The Maine Event – converting a working film studio back to a decorator living space. I wonder if Chip and Joanna would be available? I could probably get Funko Pops made of them as well to sweeten the deal. Perhaps a whole line of HGTV personalities could be developed, complete with VickiWear wardrobes. I think Carter Oosterhouse would look divine in one of my GlamourPuss gown creations.
I had Leah, head of my consumer products division place calls to HGTV and to Funko Pops for a quote while I decided to treat myself to an afternoon off. As I was a bit sleepy, I made a large pot of Irish Coffee and headed into the home theater to enjoy a film. My choice lighted upon Crimson Peak, Guillermo Del Toro's gothic ghost story from 2015. It's a film I had heard of repeatedly but had never had a chance to view. I cued it up, snuggled under a paisley throw with my steaming drink and prepared to be amazed by Del Toro's vivid imagination.
Crimson Peak is a classic Edwardian ghost story in the vein of Henry James' The Turn of the Screw, which has been filtered through Del Toro's unique sensibility as a tribute to the Italian giallo masters such as Fulci and Argento. It's a somewhat uneasy marriage, but for the most part it works due to the absolutely gorgeous visual sense courtesy of Dan Laustsen's cinematography and Tom Sanders' production design. Shot after shot of sensuous beauty full of luxurious color and texture carries the viewer along and tends to paper over weaknesses in the plot (basically borrowed from the Bluebeard legend).
The time is the turn of the last century. Young Edith Cushing (Mia Wasikowska) has long believed in ghosts, having been visited as a child by the ghost of her recently deceased mother telling her to beware of Crimson Peak. Fast forward a few years to Edith now being a young woman at the tail end of the Gilded Age, living with her beloved father (Jim Beaver) amongst the society of Buffalo, NY (back when Buffalo was one of the most important cities in the country). She yearns to write and has written a ghost story but has little success getting people to take her seriously as she's a woman. The dashing young ophthalmologist, Dr. McMichael (Charlie Hunnam), a long time friend, is sweet on her but she longs for something more adventurous.
Into her closed world come the Sharpe siblings, British aristocrats. Thomas (Tom Hiddleston), a baronet trying to restore the family fortunes by raising capital to improve his red clay mining business, and Lucille (Jessica Chastain), temperamental and musical. When Edith's father unexpectedly dies in mysterious circumstances, Thomas marries Edith and carries her back to England and Allerdale Hall, a huge Victorian Gothic pile of a house in poor repair and sitting atop the family red clay mines which stain the ground red, leading to the locals calling the estate Crimson Peak (a fact Edith discovers rather late in the proceedings). All three Sharpes restlessly settle down together in the decrepit pile but who are the ghosts that stalk Edith and what sinister secrets are the siblings keeping from her? The plot isn't hard to unravel but that's not the point of the film.
Del Toro wrote the script for Crimson Peak shortly after completing his minor masterpiece Pan's Labyrinth, but the project was shelved for a decade while he worked on other films. Eventually, the script, which had been bought and greenlit for some time, was filmed when Del Toro had an opening in his schedule, coming out in 2015. But it's the picture and not the words that make this film worth watching.
We begin with Edwardian high society in America, with lush scenes and a ball that's straight out The Age of Innocence. As the plot progresses and we switch to England for the second act, we arrive at the haunted house to end all haunted houses. Allerdale Hall, with its peaks and gables and mansard roofs and turrets is a menace from our first glimpse of it.
And then we get to explore the inside. The vast reception hall, roofless due to lack of repair which autumn leaves or winter snows fall into gently. The dim corridors with finials and decorations looking like rows of teeth. The rattletrap elevator that rises to an attic workshop and descends into the mines where huge vats of liquid red clay look like so much blood. The color red and blood is a huge visual leitmotif throughout with the house and grounds literally bleeding due to the clay leaching through the soil and rotting rooms, constantly being contrasted with the blood of wounds as the characters proceed from psychological to physical harm against each other.
I quite liked Crimson Peak but would have liked it a great deal more if the script had been more intelligent. There's nothing wrong with the underlying ghost story but it's pretty simplistic and none of the central characters is psychologically complex enough to truly hold our interest. Maybe that's due at least in part to the casting. All the leads are serviceable but none of them creates a person that we're likely to remember after the end of the film. A more nuanced script (with a bit less of a hackneyed central plot) and more skilled actors might have been able to lift the film, with it's sumptuous visual look, into a whole other level of quality. Crimson Peak is worth seeing but you'll leave it thinking it should have been more.
Candle flame waltz. Imposing tombstone. Gratuitous cross dressing Doug Jones. Murder by locker room sink. Milanese letter. Clay mining machine. Thrown breakfast. Gratuitous dead baby. Heroic snowstorm rescue.
To learn more about Mrs. Norman Maine, see our Movie Rewind introduction.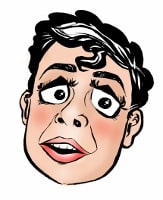 Originally from Seattle Washington, land of mist, coffee and flying salmon, Mrs. Norman Maine sprang to life, full grown like Athena, from Andy's head during a difficult period of life shortly after his relocation to Alabama.