Netflix YA Series Captures Grown-Up Attention
Main Cast: Jenna Ortega, Hunter Doohan
Creators: Alfred Gough, Miles Millar
I am susceptible to the powers of YA television. That is no secret. But I also recognize that some young adult TV is exactly that – for young adults and teenagers. Quite a bit of it doesn't aim outside its target demographic and adults lose interest.
Netflix struck YA gold with its series Wednesday. Should you, a grown person, give it a shot?
Spinning off from the Addams Family world, the show features Jenna Ortega as the young titular character. She has been sent to a boarding school after being expelled for protecting her brother, Pugsley (Isaac Ordonez).
You see, Wednesday's methods are…unique. And potentially lethal. Wednesday Addams, in all her incarnations, is an unusual child. In this series, she is dark, brooding, and cynical, as is befitting a young Addams. She is also prone to violence and is severely lacking social skills.
Wednesday finds a mystery afoot at her new school and the game is on. Will she figure out who is behind a spate of local murders?
The question here is not whether Wednesday is a good series (it is), or a popular series (it definitely is), or one that should be renewed (it already has been). The question is whether adult viewers will find enough here to be entertained.
Wednesday is aimed directly at a teen and young adult audience. Nevermore Academy, the boarding school, is filled with teenagers and their problems, large and small. These teens happen to be all sorts of supernatural, increasing the YA draw considerably.
But the showrunners didn't forget about a potential adult audience. They had Catherine Zeta-Jones and Luis Guzman guest star in a couple of episodes as Morticia and Gomez. They brought Gwendoline Christie (of Game of Thrones fame) aboard as the principal at Nevermore.
Going further, a la Harry Potter, they cast Christina Ricci (a past Wednesday) as a teacher and Fred Armisen as Uncle Fester. Jamie McShane plays the sheriff of the small town in which Nevermore is an unwelcome resident.
All of these familiar adult faces pique the interest of grown-up viewers. As one of those viewers, I can say that I came for the adults and stayed for the whole package.
Wednesday (the series and the character) is sly and dryly witty. The scripts are smart and the teenagers are endearing in their own, unusual ways. We get some normal teen angst, but we also get a decent mystery and excellent performances.
There is a lightness to Wednesday that belies its young heroine's desire to be dour. It's fun and farcical and a little scary. The clever and wonderful addition of Thing as Wednesday's babysitter/partner in crime is a master stroke.
I believe that most adults will find that Wednesday is far more than they expect. I certainly did. There's a level of self-awareness that elevates the material and helps the audience lean into the characters and dynamics.
If you've avoided Wednesday because it's for kids, think again. There's plenty here to entertain teens and adults.
More YA TV for Grown-Ups
Locke & Key ~ Never Have I Ever ~ Sex Education ~ The Sex Lives of College Girls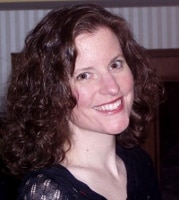 Sue reads a lot, writes a lot, edits a lot, and loves a good craft. She was deemed "too picky" to proofread her children's school papers and wears this as a badge of honor. She is also proud of her aggressively average knitting skills  She is the Editorial Manager at Silver Beacon Marketing and an aspiring Crazy Cat Lady.