Main Cast: Maitreyi Ramakrishnan, Poorna Jagannathan
Creators: Mindy Kaling, Lang Fisher
Adolescence is never a smooth ride, but sometimes (on TV) it is a funny one. Never Have I Ever is a fictionalized version of co-creator Mindy Kaling's childhood, a coming of age series with the poignancy of truth and the comedic deftness of Kaling. A pretty great combination, but it needed more than just that to succeed.
The premise of Never Have I Ever is both simple and complex. Devi (Maitreyi Ramakrishnan) is an Indian American high school sophomore looking to put her disastrous freshman year behind her and become popular, interesting, and happy. She figures numbers two and three will flow directly from number one. She has two best friends with whom she shares a propensity towards nerd-dom, a mom (Poorna Jagannathan) who pushes her to be her best and holds onto Indian traditions that make Devi cringe, and a beautiful live-in cousin who seemingly embodies physical, moral, and intellectual perfection. The show is about how Devi pursues her goal.
But…it's also about love and loss and pain and grief. Devi's family is mourning the death of her father just eight months prior. Her parents were born in India and her mother holds very traditional values that affect every part of Devi's life. She feels weird and out of place but also has strong opinions and is not timid. This whirlwind of circumstance, expectations, culture, and puberty drive the show in different directions than an average coming of age sitcom. Also, John McEnroe narrates. As John McEnroe.
I really enjoyed this first season of Never Have I Ever (it has been renewed for a second). The young actors are outstanding – especially newcomer Maitreyi Ramakrishnan, who was chosen out of 15,000 candidates based on an audition tape she made at the library. She is a fantastic balance of confident and horrified – sort of the essence of adolescence in every culture. Her friends (and nemeses) are pretty well developed for sitcom supporting players, and even the most heartfelt scenes do not have the feel of a very special episode or an After School Special.
I also love how much attention is paid to Devi's family's Indian culture. It is (whether she likes it or not) a big part of her identity and it isn't glossed over or used only for jokes about arranged marriage. The audience gets to see the challenges of merging cultures not only for Devi but for her mother as well. Overall, Never Have I Ever is a home run of a coming of age sitcom. Mindy Kaling (whose brilliance was just beginning to show on The Office) and Lang Fisher have put together a stellar cast and hit a really nice balance with their story. I look forward to the second season.
Never Have I Ever is streaming on Netflix.
More Coming of Age on Netflix
I Am Not Okay With This ~ Derry Girls ~ The Society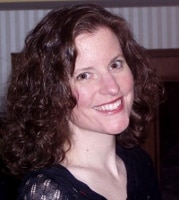 Sue reads a lot, writes a lot, edits a lot, and loves a good craft. She was deemed "too picky" to proofread her children's school papers and wears this as a badge of honor. She is also proud of her aggressively average knitting skills  She is the Editorial Manager at Silver Beacon Marketing and an aspiring Crazy Cat Lady.