"Hand jobs is sex. Virginity is a construct."
Main Cast: Asa Butterfield, Gillian Anderson
Creator: Laurie Nunn
I bailed on Sex Education the first time I tried watching it. I had my reasons, and all of them were lame. When I gave it a second shot I was amply rewarded with an awkward, gross, wonderful series about a group of British teenagers and their many, many sexual foibles.
First, be warned, there is sex in Sex Education. A lot of sex, most of it involving characters who are teenagers. Also sex between adults, masturbation, and just generally a lot of sex, discussions about sex, and sexual dilemmas. It is, after all, a series about sex education.
So why would you want to watch a series about teenagers' sex lives? Because it's filled with great characters, writing, and performances, that's why. Asa Butterfield is Otis. You may recognize Butterfield from The Boy in Striped Pajamas, or Hugo. Or not, he's grown up quite a bit.
Otis is 16 years old and his best friend is Eric (Ncuti Gatwa). Eric gets bullied daily by official bully Adam (Connor Swindells). Otis and Eric are not among the popular kids (though Eric would love to be) and we enter their world in season one at the beginning of a school term.
Otis's mother, Jean (Gillian Anderson) is a sex and relationships therapist. Otis hates that, naturally, and she's exceedingly open about everything. To Otis she is endlessly embarrassing. But…it seems he has inadvertently absorbed not only her desire to help people, but also quite a bit of information about sexual health. When gorgeous bad girl classmate Maeve suggests they start a sex clinic for their school's woefully uneducated students, he reluctantly agrees.
So that is the basic plot of Sex Education. Each episode of the first season has Otis and Maeve helping a teenager figure out their bodies or relationships. And it's very, very good – both funny and charming. It sounds creepy – they are teenagers – but it isn't. They're young people with questions and problems that nobody wants to talk to them about.
It would have been easy for the series to simply continue on like this for many more seasons. The writing is sharp, the characters and situations are funny and sweet, and the performances are fantastic. But show creator Laurie Nunn was having none of that stagnation. Through the following two seasons she allows her characters, young and old, to develop and change. It's absolutely delightful.
We get to know a good number of students quite well as they interact with our main characters. Otis and Eric and Maeve have a lot of growing up to do and they get to it throughout each season. In what is perhaps the finest character arc in the series to date, Gillian Anderson's Jean goes from inaccessible sex guru to a parent just trying to connect with her teenager. Despite her impressive academic credentials, she struggles.
Every performance in Sex Education is brave in some way. The young actors bring issues of teenage sexuality to the fore every week and every single one manages it with good humor, weirdness, and a great deal of trust in their writers and directors. They tackle all variety of sexual issues and a steady drip of social issues as well.
All of the performances are wonderful, but my personal favorites are Gatwa as Eric and Aimee Lou Wood as Aimee. The more time we spend with them, the more complicated and fabulous they become, and the more we love them.
Don't be chased away from Sex Education by the awkward sex scenes. They're the skeleton of the show but the meat is in the beautifully written and developed characters. There is a fourth season coming up, and I'm looking forward to spending more time with this thoughtful, funny, and surprisingly socially relevant series.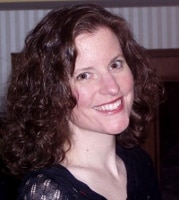 Sue reads a lot, writes a lot, edits a lot, and loves a good craft. She was deemed "too picky" to proofread her children's school papers and wears this as a badge of honor. She is also proud of her aggressively average knitting skills  She is the Editorial Manager at Silver Beacon Marketing and an aspiring Crazy Cat Lady.