"I'm not off the rails. I am the rails."
Main Cast: Aidy Bryant, Lolly Adefope
Creators: Aidy Bryant, Alexandra Rushfield, Lindy West
Shrill it the brainchild of comedian Aidy Bryant. In its three seasons you will experience all sorts of feelings toward the show and its main character, Annie Easton. Most of them will be uncomfortable. But not in a bad way! Well, sometimes in a bad way.
Annie (Bryant) is a writer for a Portland newspaper called The Thorn. It's an alternative weekly sort of paper with both a physical and online presence. As the series begins, Annie does the calendar but is hoping to climb the ladder.
Annie lives with Fran (Lolly Adefope), who is wonderful, and has a boyfriend, Ryan (Luka Jones), who is absolutely awful. Shrill tells the very honest story of a fat woman who has no interest in being thin, yet suffers the same self-loathing as every woman who is told over and over that her body is not good enough.
Shrill is filled with awkward experiences. It is, in fact, a master class in awkward experiences. This is what makes it both really good and really uncomfortable. Annie is not shy, and she is not inclined to be insulted by strangers without responding. So she writes. About being fat, about being a woman, about the things that happen to her as a fat woman.
Her writing begins to gain traction but cannot erase the society that produced it. We see Annie try and navigate her world without changing herself and it's hard. It's also clever and funny and timely. People have sex, they get angry, they get sad, and make terrible mistakes.
They also love and laugh and talk about their lives in a meaningful way. There is no slapstick here; it's all a combination of awkwardness and gentle, witty banter.
Shrill lives or dies on Bryant's Annie. Sometimes she's wonderful, other times she's awful. Most of the time, on some level, she's extremely relatable. You don't have to be fat, or a woman, to understand her character. You just need to be human.
Bryant surrounds herself with a terrific supporting cast. My favorite is Adefope as Fran. The two have a rapport that feels incredibly genuine. Also great are Ian Owens as work friend Amadi and John Cameron Mitchell as Gabe, the boss. As the series moves along we meet a lot of people and each performance adds a little something to the texture of the stories.
Shrill is a gutsy series. Not because it's about a fat woman, but because it's about a real person. Sometimes unlikable, sometimes woefully misguided, but always trying. It isn't laugh-out-loud funny, but Bryant is a funny woman and that shines through every weird incident and workplace faux pas.
Shrill won't be for everyone. But give it a chance to win you over and in the end you won't be sorry you joined Aidy Bryant for the ride. All three seasons of Shrill are streaming on Hulu.
More TV Comedy
Superstore ~ The Chair ~ Hacks ~ Home Economics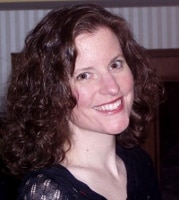 Sue enjoys over-mothering her adult children, riding her bicycle, and procrastinating. She is the Editorial Manager at Silver Beacon Marketing and an aspiring Crazy Cat Lady.