For love or money
Main Cast: Topher Grace, Caitlin McGee
Creator: John Aboud, Michael Colton
I really enjoy a good ensemble sitcom. Lots of characters, lots of stories, all weaving together a la Modern Family or Life in Pieces. Home Economics has some potential to join those great shows, but it has some work to do.
Home Economics is the story of three siblings. Tom (Topher grace) is a novelist with three kids whose latest book was not a hit. Sarah (Caitlyn McGee) is a counselor with two kids who recently lost her job. Connor (Jimmy Tatro) is the youngest and has one child and makes a fortune as an investor.
As we enter their lives, Connor has recently moved to San Francisco, where his siblings live. He bought a mansion and really wants the family to get together. He wants the kids to grow up together and all sorts of family closeness that has not historically been the style of this bunch.
As they embark on this new closeness we learn about their various financial and familial crises and triumphs. We also meet their parents (played by Nora Dunn and Phil Reeves) and learn a lot about their childhoods. The narrative devise used for background is the book Tom is secretly writing about the family.
What makes ensemble sitcoms work is the chemistry between the characters, great writing, and usually broad comedy mixed with relatable moments. There are hints of all three in the first season of Home Economics, but none is quite fully realized.
The characters and situations are written well, but the dialogue is not as sharp as it needs to be to carry some of the situations. Banter that needs to be quick and witty sometimes gets bogged down. That may well be an artifact of the show's newness and something that will improve when we no longer need explanations for their eccentricities.
I like all of the siblings some of the time, but none of them all of the time. Of the three, Tom is supposed to be the stable, consistent one. Sarah is the hippy. Connor is the rich idiot. Yes, they are overly broad, but it's okay for now. We narrow in on them by the end of the season and they feel a little less like stereotypes, but there's quite a bit of work to be done there.
There are some relatable moments. I don't count those too much in a first season since we're establishing the basics at this point, but there are enough to show that the showrunners are following the basic formula.
The characters and storylines I enjoyed the most were those of the in-laws. Tom's wife Marina (Karla Souza) and Sarah's wife Denise (Sasheer Zamata) are oases of calm in the family storm. The two of them also have a great relationship, drawing the audience into their place as grateful to be out of the fray. These characters I liked all of the time.
Overall Home Economics had a decent first season and I'm looking forward to seeing where ABC takes it when it returns on September 22, 2021. You can watch the first season streaming on Hulu.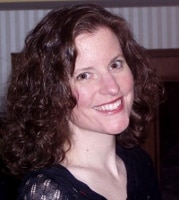 Sue enjoys over-mothering her adult children, riding her bicycle, and procrastinating. She is the Editorial Manager at Silver Beacon Marketing and an aspiring Crazy Cat Lady.