Every step you take, every move you make…
Main Cast: Bobby Cannavale, Naomi Watts
Creators: Ryan Murphy, Ian Brennan
Ryan Murphy's first TV series aired in 1999. In the years since, he's brought us everything from Glee to American Horror Story to Pose and 9-1-1. The master of many genres, it's exciting when he's involved in something new. With his decades in the business he put together an incredible cast for Netflix's The Watcher.
Based loosely on a true story, The Watcher stars Bobby Cannavale and Naomi Watts as Dean and Nora Brannock. The couple has two kids and wants to move out of New York City. They're looking for somewhere safer.
The think they've found the perfect house in the perfect neighborhood in Westfield, New Jersey. It's a stretch financially, but they love this place. Sadly, this place does not seem to love them in return.
They begin to receive strange and increasingly threatening letters shortly after leveraging every asset and moving in. To say that this causes stress is a serious understatement. The series follows the family as they try to figure out who is responsible and why. Just who is The Watcher?
Remember, I said that The Watcher is loosely based on a true story. This gives Murphy and Brennan all sorts of leeway – and they take it. They've got Margo Martindale and Richard Kind as nosy neighbors without proper boundaries. They have Mia Farrow and Terry Kinney as more neighbors without boundaries but with an extra dollop of eccentricity.
There's Jennifer Coolidge as the Brannock's realtor. Christopher McDonald as the lead police detective. Noma Dumezweni as a private detective.
All of these familiar faces have one thing in common: they don't seem to be entirely on the level. Some clearly don't like this new family. Others have dubious motivation or a difficult relationship with the truth. All appear to be portrayed by actors enjoying themselves immensely.
It is those performances that make The Watcher worth…watching. The tension throughout the seven episodes changes and builds. It grows without being entirely overwhelming. It's the moments of normalcy that make the weirdness that much weirder.
The Watcher isn't horror, it's suspense. There are a few jump scares, but mostly it's a slow burn as the family tries to withstand the pressure of uncertainty and suspicion.
I really enjoyed the series, from beginning to end. It's got just enough of an edge to make you question everyone and everything, while allowing the cast to chew a little scenery.
The production values are fantastic, with a nice contrast between sunny wealth and gritty paranoia. The Brannock parents are always clad in tan or white, somehow making their plight seem unreal. How can they look so fresh while they're being psychologically tormented?
Remember that The Watcher is not a documentary. Let the inconsistencies go and just enjoy the ride. The actors are great, the story is twisty in all the right places, and every character has more than one face. It's a good tale of the dark side of the perfect suburb.
More Limited Series
Stay Close ~ Nine Perfect Strangers ~ Mare of Easttown ~ Behind Her Eyes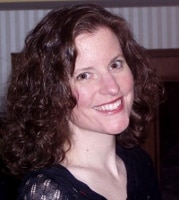 Sue reads a lot, writes a lot, edits a lot, and loves a good craft. She was deemed "too picky" to proofread her children's school papers and wears this as a badge of honor. She is also proud of her aggressively average knitting skills  She is the Editorial Manager at Silver Beacon Marketing and an aspiring Crazy Cat Lady.