Everyone Knows Everyone in Easttown, PA
Main Cast: Kate Winslet, Julianne Nicholson
Creator: Brad Ingelsby
The character of a small town depends on many factors. Industry, history, and geography are just a few. Local culture ebbs and flows on generations of citizens, bound together by circumstance and entropy.
In Easttown, Pennsylvania, Mare Sheehan is captive to all the attributes of small town life that keep its denizens unflinchingly loyal. She is a detective, and a very good one, on the local police force. She knows everyone and everyone knows her.
For all the bad aspects of this lack of anonymity and privacy, there is also a tightly knit community looking out for one another. When bad things happen, they stick together. And bad things are happening.
We enter Mare of Easttown, a limited series from HBO Max, near the one year anniversary of a local teenager's disappearance. Kate Winslet is Mare, and she has been working this case for twelve long months. She also takes the blame for the child not being found.
As we get to know Mare and her family, including Jean Smart as her mother, Angourie Rice as her daughter, and David Denham as her ex-husband, it's clear that their recent history is painful and troubled. Mare throws herself into her work, joylessly and doggedly, and leaves little of herself for anything else.
When another major crime occurs, Mare finds herself drowning in personal and professional overload. The series follows her through this turbulent period.
I don't want to give anything else away. Mare of Easttown is a series best seen with new eyes and no expectations. Its tapestry of stories about crime, family, trauma, grief, and redemption are carefully and artfully drawn and meticulously acted. It's one of the best dramatic series I've seen in a long time.
The dual focus of the series, on crime solving and family dysfunction, relies heavily on supporting characters being more than cutouts to be discarded when their few lines have passed. Each little element is given its due and we come away feeling the realness of Easttown and the joy and sadness of its history.
The performances are phenomenal. Kate Winslet inhabits Mare completely, making us forget her real-life glamour and pulling us relentlessly into the drama onscreen. Jean Smart, not surprisingly, provides the much needed and impeccably timed comic relief. Evan Peters makes an appearance as a young detective assisting with the latest crime. I don't think I've ever seen a more entertaining or real portrayal of a very drunk young man as he provides.
Julianne Nicholson absolutely nails her role as Mare's best friend. She is the embodiment of this town, its loyalties and legacies. Angourie Rice does a nice job with the always thankless role of The Teenager. Sosie Bacon (daughter of Kyra Sedgwick and Kevin Bacon) is heartbreaking as the mother of Mare's grandson.
The series was filmed in Pennsylvania and the actors all mastered the particular dialect of Delaware County, PA. It's both an amazing feat of determination and a very effective way of grounding every local character as belonging to this place and this place only.
Mare of Easttown is a superb police procedural wrapped in an intricate family drama and permeated with the essence of its small town setting. It excels on every level and I highly recommend it.
More HBO Max
Hacks ~ The Nevers ~ The Flight Attendant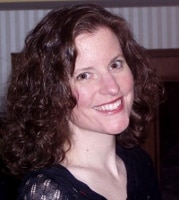 Sue reads a lot, writes a lot, edits a lot, and loves a good craft. She was deemed "too picky" to proofread her children's school papers and wears this as a badge of honor. She is also proud of her aggressively average knitting skills  She is the Editorial Manager at Silver Beacon Marketing and an aspiring Crazy Cat Lady.