It's Dark Back There
Main Cast: Simona Brown, Eve Hewson
Creator: Steve Lightfoot
I have come to love the limited series. Or as we called it back in the day, the mini-series. Like all TV, this format has come a long way. Not as tight and restrictive as a movie or as annoyingly open-ended as a traditional series, these multi-episode gems have the time to tell a more expansive story without worrying about what to do with the characters when it's over.
Behind Her Eyes is another British entry into the limited series thriller genre, and it's a good one. We enter the story as Louise (Simona Brown) gets ready for a rare night out with a friend. Louise is divorced with a young son and is excited to do something outside of her usual routine.
What she does not expect is to meet a man at the bar, someone she feels a real connection with. To her dismay he turns out to be her (married) new boss. What started as a fairly innocent flirtation becomes a triangle of lies and secrets between Louise, David (Tom Bateman) and David's wife, Adele (Eve Hewson).
Based on the novel by Sarah Pinborough, Behind Her Eyes is a twisty little series with a lot of moving parts. There's David and Louise. Then Adele befriends Louise. Then there's Adele's past. And we can't leave out Louise's sleepwalking and night terrors. Despite the plot, subplots, and sub-sub-plots it manages to come together in a pretty neat little package.
The series makes liberal use of flashback to tell the story of Adele's past. This can be tricky, but it works fairly well here. My only complaint is that the first flashback sequences are not well introduced and it isn't clear where or when they take place. While that could help add another element of mystery it throws in a bit of unnecessary confusion instead.
What really make Behind Her Eyes work are the performances from Simona Brown and Eve Hewson. Brown is relatable in her desire to break out of a box she feels has been forced on her and do something for herself. Hewson is a constant riddle. Her past is sad and mysterious and her present is a puzzle with several pieces missing. She does a great job making Adele the real mystery of the series.
I really enjoyed Behind Her Eyes for the performances and the attention to detail in the plotting. There is tension for days between the three characters and just enough comic relief from Louise's coworker to keep it from being too much. It's visually interesting, particularly in Louise's dream sequences, as well. Overall it's a good mystery with a lot of surprises.
Behind Her Eyes is streaming on Netflix.
More Limited Series:
Good Omens ~ The Queen's Gambit ~ Unorthodox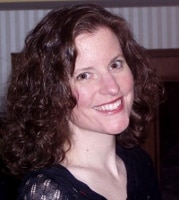 Sue reads a lot, writes a lot, edits a lot, and loves a good craft. She was deemed "too picky" to proofread her children's school papers and wears this as a badge of honor. She is also proud of her aggressively average knitting skills  She is the Editorial Manager at Silver Beacon Marketing and an aspiring Crazy Cat Lady.