Main Cast: Rhianne Barreto, Gamba Cole
Created By: Elgin James, Stephen Merchant
I absolutely love stumbling across a series. One I didn't know existed, didn't get a lot of hype, and turns out to be really fun. And so it came to be that I gobbled up both seasons of The Outlaws.
An Amazon Prime Video Original, The Outlaws is about a group of people doing court-mandated community service in England. Bristol, to be precise. They are a motley crew, with different backgrounds, personalities, and infractions. As a group, they are refurbishing a filthy, beat-up Bristol building.
Rather than allow the entire series to rest on the backstories and interactions of the group, creators Stephen Merchant and Elgin James give it some action. One member of the group steals and hides some money. Several others discover it. Mayhem ensues.
I love the ensemble cast brought together for The Outlaws. As you would expect, there's both conflict and camaraderie in the group. But there's a slapstick element that's missing from most dramedies. Merchant and Walken are the kings here. The showrunners exercised remarkable restraint in using their talents.
A little bit of either actor at full power goes a long way. The Outlaws gives them just enough room to play without getting tiresome. Their shenanigans are balanced out by the drama, action, and less overt comedy coming from the other characters and storylines.
We have plenty of subplots to keep us entertained while the main story plays out. We get to know the characters and see behind their facades. All are fairly well developed— certainly enough for the series to have the depth it needs to keep us interested. The performances are great. Every actor can switch from subtle to over-the-top on a dime.
I like these people. They have substance but the scripts are written in a way that keeps even the drama from feeling heavy. I'm very impressed by Stephen Merchant. He and Ricky Gervais were the minds behind the original version of The Office. He has grown far beyond that with The Outlaws. As a creator, director, writer, and actor, he wears many hats extremely well.
I don't know if there will be a third season of The Outlaws. I'm fine either way. I would love to spend more time with the characters, but the second season has a satisfying finale.
The Outlaws is streaming on Amazon Prime Video. It's funny and chaotic and has a few things to say about the world. Highly, highly recommended.
More Amazon Prime Video Originals
Goliath ~ The Boys ~ Jack Ryan ~ Mad Dogs ~ Tales from the Loop ~ Modern Love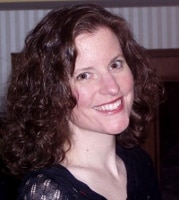 Sue reads a lot, writes a lot, edits a lot, and loves a good craft. She was deemed "too picky" to proofread her children's school papers and wears this as a badge of honor. She is also proud of her aggressively average knitting skills  She is the Editorial Manager at Silver Beacon Marketing and an aspiring Crazy Cat Lady.