Billy Bob vs The World
Main Cast: Billy Bob Thornton, William Hurt
Directors: Lawrence Trilling, Alik Sakharov
Let's have a show of hands from everyone who thinks that the TV legal drama has jumped the shark.  So, everyone?   I was one of you, once.  But then came Better Call Saul
.  Was it a resurrection or a fluke?  I would have said fluke…until Goliath.  Thank you Amazon Prime (and creator David E. Kelley), for helping my cynical, doubting soul re-embrace the power of the courtroom.
So, what is Goliath?  A lot of you probably haven't heard of it since Amazon Prime's original series haven't yet achieved the same reputation for quality as the Netflix Original.  But if this one is any indication, they will.  Goliath stars Billy Bob Thornton as alcoholic lawyer Billy McBride, who once was a big shot but is now really just a washed up loser.   No longer employed by the prestigious firm he started, divorced from his beautiful wife (Maria Bello), semi-estranged from his teenage daughter (Diana Hopper) – things are not exactly going his way.  When we meet him he spends his time drinking and forgetting things.
All of that changes when an attorney approaches him to ask for help with a case.  She doesn't think much of him, but the case is against his old firm and she wants some help reaching a settlement.  It turns out that the case is much more complicated, and dangerous, than expected, and Billy has to get himself together if he wants to help.  Or survive.
That's just bare bones plot.  I'm not telling you more because why would I?  That would spoil it for you.  And the basic plot isn't what sells the series – it's the performances.  Thornton won a Golden Globe for his portrayal of the down and out McBride, a brilliant lawyer whose fall from grace was bruising and public.  He is excellent, giving that character some much needed nuance to offset the cliché of the washed up underdog saving the day.
Adding to the list of stellar performances is William Hurt as Senior Partner in Billy's old firm and one seriously weird, twisted guy.  Hurt is so creepy and malicious; it's a joy to watch him chew scenery.  Maria Bello isn't given enough to do in this first season, but when she's onscreen she's solid.  The character is well written and there's a lot of room for her to grow in future seasons.  Olivia Thirlby and Molly Parker both do well with their competitive, not-so-nice characters (they work with the William Hurt character – that's enough to make anyone ornery and mean).
Rounding out the cast on Billy's side of the table are Nina Arianda as Patty Solis-Papagian, the original attorney on the case, who brings with her a lot of comic relief – just hearing her say her full name is funny; and Tania Raymonde as Brittany Gold, a high priced hooker that serves as Billy's legal staff.  She is terrific, flawed and fragile underneath her very polished façade.
The case is interesting enough, but the cast makes it all click into place as a fast paced, entertaining, smart drama with enough eccentricity and Thornton-style goofiness to make it quite addicting and thoroughly binge-worthy.  It has been renewed for a second season and I'm looking forward to it.  Right now the only way to see it is via Amazon streaming, but I assume it will come out on DVD and other platforms at some point.  If you're like us, you have Prime for the free shipping and have never fully explored or taken advantage of the entertainment options available.  If that's the case, Goliath is as good an introduction to what they have to offer as anything out there.
More Goliath
Season 3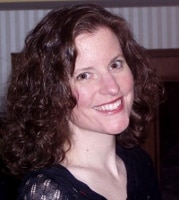 Sue enjoys over-mothering her adult children, riding her bicycle, and procrastinating. She is the Editorial Manager at Silver Beacon Marketing and an aspiring Crazy Cat Lady.