SOMETHING'S COMING
Main Cast: Rachel Zegler, Ansel Elgort
Director: Stephen Spielberg
We're about halfway through the shooting schedule for my new film Donna Quixote: Woman of La Mancha, a brilliant costume epic about intrigue in the world of European haute couture between the wars. As the weather was getting colder, we shot most of the interiors on sound stages in Madrid, with just a little location work at the Reina Sofia Art Museum so we could use Picasso's Guernica as a backdrop for a cocktail party scene where Donna declares scorched earth war against the cabal of French designers determined to steal her brilliant designs for chic evening wear and pass them off as their own and a fun little sequence in the gardens of the Royal Palace where I did a fabulous little dream ballet about the 1937 fall collection along with several dozen five to seven year olds from a local school of the dance which will totally captivate the kiddies and help us bring in the all important family audience. It's never too early to get the young'uns introduced to the concept that high fashion is one of the most important items in life.
We're back out on location this week, this time on the rock of Gibraltar where we are shooting a most exciting sequence in one of the caves. In it, Donna is busy hiding the contents of her atelier, so they won't be discovered by the advancing German army, rolling the racks into a mountain cave and then creating a number of protective machine gun nests. We've had to cut the battle sequence where Donna and her assistants take out a whole division of advancing Germans for budgetary reasons, but we've replaced it with one where she captures a lost patrol and questions them on the basic uses of chiffon and organdy until they give her a brilliant idea for a new line based on military uniform cuts.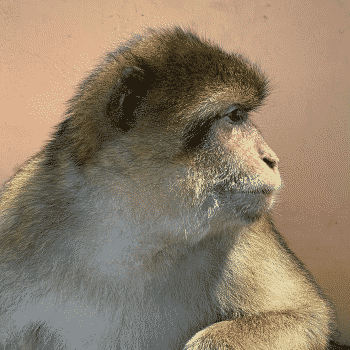 We're a day behind because the Barbary macaques that inhabit this area keep wandering into the shot or stealing the food from the craft services table. Fawn and Flapjack, my fabulous makeup artistes for this shoot, have been having quite the time with the macaques getting into their brushes and cosmetics. After the third time of finding one of the monkeys using lipstick as an eyeliner, I had the brilliant idea of taking those products from the Lesterene brand that they were most drawn to and repackaging them as a veterinary product. Leah, head of my consumer products division is getting some new labels made and Vicki Vision – Primate Paints, makeup for the monkeys in your life will soon be available at Super Pets nationwide.
I had the evening off yesterday and so, after viewing the rushes, I took myself to see the recent remake of West Side Story created by Steven Spielberg. Spielberg, one of the cinematic geniuses of our time, has triumphed over the years in almost every genre of film. The one he had never attempted was a musical. He has created some brilliant musical sequences over the years: the credits sequence of Indiana Jones and the Temple of Doom and the USO dance sequence in 1941 come to mind, but never a full-fledged musical movie.
When I heard that he was going to take on West Side Story, one of the masterpieces of the Broadway stage and whose previous film version won all the Oscars in 1961, I was both excited and scared. Could he live up to the reputation of the source material? I do wonder why he didn't pick something more contemporary that hadn't already been done but my guess is, given his age, that the original film likely had a profound effect on his childhood understanding of what a musical film could be and the visual and aural languages and alternate realities necessary to make them work.
I am pleased to say, that he mostly succeeds in creating a film that honors the source material, both stage and film, and expands upon it. It's not flawless, but it's an excellent effort which, in some ways, far surpasses that which came before. He has made some smart decisions; the screenplay (by Tony Kushner, playwright of Angels in America) sketches in some back story which both grounds the story in late 1950s Manhattan (the neighborhood is under the wrecking ball to be replaced by Lincoln Center) and raises the stakes for various characters.
My only objection to this is, at times, West Side Story becomes overly talky. Arthur Laurents' original book for the musical is one of the shortest in the Broadway canon as so much of the story is told through dance. The additions stretch some moments which would be better served by showing rather than talking. The major structural change is to replace the character of Doc with his widow, Valentina (Rita Moreno who won an Oscar for Anita in the original film). This didn't bother me but the change in gender (and ethnicity) changes the balance somewhat and having her sing 'Somewhere' comes a bit out of left field.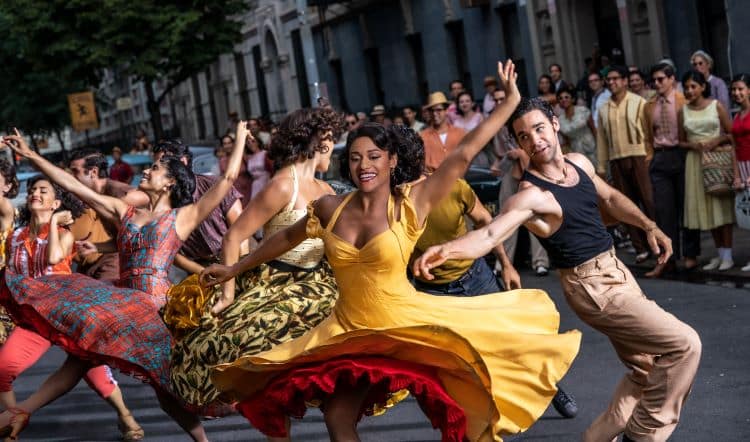 Spielberg, the master director, is fully in his element. The choice of shots to tell the story and to build the sense of enclosed place trapping these warring characters together is masterful. He and production designer Adam Stockhausen and cinematographer Janusz Kaminski use color throughout the film to help tell the story, differentiate character, and heighten theme. The repetitive use of teal and maroon in particular is striking.
In terms of staging the all-important music/dance numbers, choreographer Justin Peck pays homage to Jerome Robbins' indelible original while creating new pieces which can take full advantage of advances in camera technology over the last fifty years, letting the big numbers open up and breathe in new ways, especially 'America' and 'The Dance at the Gym'. A new location for 'The Rumble' gives it a new visual fascination.
The film constrains itself mainly to the neighborhood with two exceptions; one works, the other doesn't. The one that works is a sequence in Gimbel's department store where Maria (Rachel Zegler) works as a cleaner – 'I Feel Pretty' becomes her ode to herself among the displays of period consumer excess with her fellow cleaners providing the counterpoint. The one that doesn't is Tony and Maria's trip to The Cloisters for 'One Hand, One Heart'. I get what they were trying to do but these characters as they've established them need to be trapped in their twenty square block area and wouldn't be heading off to the far end of Manhattan, or even likely know that it exists.
Rachel Zegler is a find as Maria. She's sassy, vulnerable, young, and lights up the screen every time she comes on. Ansel Elgort is a mistake. I have seen many productions of West Side Story over the years and Tony is usually the weak link. It's a difficult role to cast – how do you find a street tough who is also a vulnerable romantic hero and who can sing and dance? Some piece is usually missing.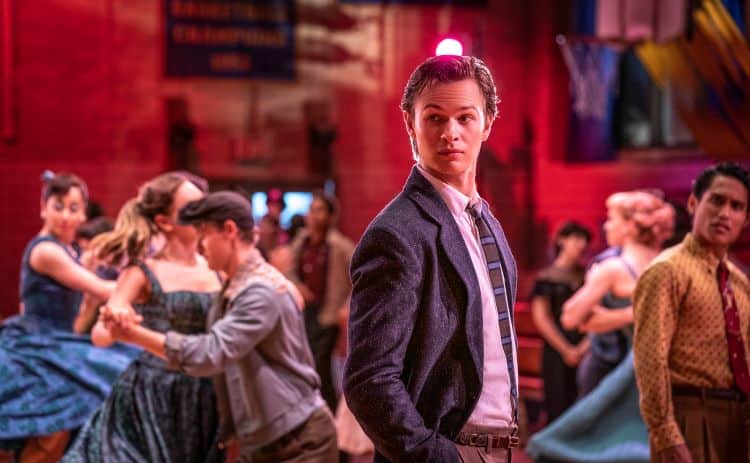 I've seen Mr. Elgort in a number of films. He's tall, handsome, and a complete charisma vortex. Not only does he leach the life out of scene after scene, but he also leaches it out of his costars. There's just something about him that is anti-movie star. His voice is pleasant. He isn't asked to dance much. And you end up just not caring. The supporting cast, who have the meatier roles, are excellent, especially Ariana DuBose as Anita and David Alvarez as Bernardo (both roles won Oscars in the original). I also was very impressed with Josh Andreas Rivera's Chino, a part that's usually just a plot device, but here given enough backstory and life to become an integral part of the piece.
The Jets and the Sharks aren't given as much screentime as in the original to really establish themselves as individuals and the color palette at times makes them seem somewhat interchangeable. Mike Faist (the original Connor in the Broadway production of Dear Evan Hansen) is a serviceable Riff and having Anybodys (Iris Means) as a full trans character rather than just a tomboy is an interesting idea and one more true to the psychology of the character who always feels a little inauthentic in the original.
There are a number of minor changes with Anybodys and with the Jet girls to help give the women a bit more agency and a sharper point of view which I think are quite helpful. One thing that was not changed and probably should have been, was the moving of 'Gee, Officer Krupke' from near the end of the piece to the middle. This change was made in the original film version (which swapped the positions of this number and 'Cool'). When Krupke is performed before the rumble and the deaths involved, it's just a piece of comic relief. When it's performed after, there are undertones of misery and being trapped by the system that come through.
There are complaints that West Side Story is inauthentic as it is a story about the Puerto Rican experience in New York that was created by four gay/bi Jewish men (Leonard Bernstein, Stephen Sondheim, Arthur Laurents and Jerome Robbins). I think that's too simplistic. No, they weren't Latin but Jews in the 1950s were just beginning to be accepted and no longer considered outsiders in America. The show was written only ten years after Gentleman's Agreement so all four brought the perspective of outsider to the mainstream, both religious and via their mainly closeted sexualities. I have always read the show as a parable about the destructiveness of the in group closing their ranks to the out group and, in this age of Trump, understanding how that corrodes society and destroys young lives is more important than ever.
By all means, see West Side Story. It's good. Even if you think you don't like musicals.
Wrecking balls. Basement bedroom. Lincoln Center Billboard. Gun back story. Quintet singing. Street dancing. Kiss under the bleachers. Ugly sun hats. Attempted rape. Teal morgue.
Catch Up with Mrs. Norman Maine
tick, tick…BOOM! ~ No Time to Die ~ Dune ~ House of Wax
To learn more about Mrs. Norman Maine, see our Movie Rewind introduction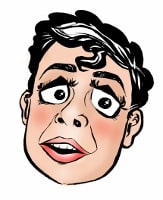 Originally from Seattle Washington, land of mist, coffee and flying salmon, Mrs. Norman Maine sprang to life, full grown like Athena, from Andy's head during a difficult period of life shortly after his relocation to Alabama.