"I am brilliant, which is often misconstrued as mad."
Main Cast: Elle Fanning, Nicholas Hoult
Creator: Tony McNamara
It seems that I need to be persuaded to watch historical drama. Yet once I start, I'm usually hooked. That's what I anticipated when I started The Great, but it wasn't what I expected at all. How delightful!
The Great is indeed historical. And it has quite a bit of drama in the form of random executions and the like. But it's far more than that. It's an absurd, funny, satirical look at the life of Catherine the Great and her rise to the throne in 18th century Russia. Huzzah!
Catherine the Great is an amazing historical figure. She ruled the Russian Empire for more than three decades and her reign brought remarkable progress to Russia. The Great takes that frame and drapes it with layer upon layer of silliness, social commentary, love story, gluttony, and lots and lots of sex.
The story, while based on a real person, is not biographical fiction. I'm sure there are some true tidbits here and there, but mostly it's just fiction. Catherine (Elle Fanning) is brought from Austria to marry Peter (Nicholas Hoult). In this world Peter is the son of Peter the Great, and is definitely not following in his father's footsteps.
Peter is an immature man-child, whose every whim is satisfied. He is thoroughly unaccustomed to exposure to a person who expresses thoughts. Catherine has a lot of thoughts. Most of them about how much she hates Peter.
The series follows the politics of the Russian court and the personal lives of those who live in its gilded cage.
The Great is fantastic. It is frivolous and brutal, silly and devastating, cunning and stupid. Held together by the beautifully written and portrayed Catherine and Peter, it's a romp through the height of haughty royal disdain and petty intrigue. Catherine wants to change the world. Peter wants breakfast.
Elle Fanning is wonderful. Her Catherine is young and idealistic, unswayed in her determination that she can make things better. Fanning, with her porcelain complexion, blond hair, and ability to look fragile, makes the perky Catherine feel both heroic and delusional.
Nicholas Hoult, who was so cute in About a Boy, and so sweet in Warm Bodies, does an excellent job of making Peter a complete a-hole. Charming, but an a-hole. Their polar opposite personalities draw various court personalities to their sides, bringing in fantastic supporting characters.
Of the many members of this dysfunctional court, my favorites are Marial (Phoebe Fox) as former noble woman turned servant to Catherine, Peter's eccentric Aunt Elizabeth (Belinda Bromilow) who trains butterflies, and Archie (Adam Godley), Peter's Archbishop. They form a core of weirdness that is complex and wonderful.
The Great is a marvelous satire of wealth and privilege with an occasionally real historical setting. The costumes and set direction are bright and over-the-top, very fitting for the overall tone of the series. The performances are terrific and the premise and writing are brilliant. Be warned that there is A LOT of sex and casual violence. It isn't terribly graphic, but moaning and stabbing abound.
I highly recommend The Great to pretty much anyone, but you probably don't want to watch it with your grandparents. The series is a Hulu original and you'll find it streaming on that platform. You can also rent or buy season one on Amazon.
More Hulu Original TV
Only Murders in the Building ~ Shrill ~ Into the Dark 2: Flesh and Blood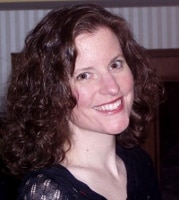 Sue reads a lot, writes a lot, edits a lot, and loves a good craft. She was deemed "too picky" to proofread her children's school papers and wears this as a badge of honor. She is also proud of her aggressively average knitting skills  She is the Editorial Manager at Silver Beacon Marketing and an aspiring Crazy Cat Lady.