Main Cast: Charlotte Ritchie, Kiell Smith-Bynoe
Creators: Mathew Baynton, Simon Farnaby, Martha Howe-Douglas, Jim Howick, Laurence Rickard, Ben Willbond
I like to watch an episode of some fairly tame sitcom before bed. I'm aware that it's a lame habit and I don't care. I enjoy it and have found some pretty good shows. My latest is the British original version of the series Ghosts.
There are three full seasons of Ghosts airing on HBO Max (the American CBS version is in its first season). The two shows are very similar, but the British version is far more…British.
Ghosts is the story of Allison and Mike, a young couple who inherit an enormous house from an aunt Allison did not know she had. The house is very haunted with an array of ghosts from an array of historical eras. Only Allison can see them
Yes, the premise is old and worn and has been done many times before. But I'm a sucker for friendly ghosts. The series follows Allison and Mike as they attempt to renovate the house and stay afloat, as well as the developing relationship between Allison and all the ghosts who call her new house home.
I had a lot of fun with Ghosts. The creators make up many of the ghost cast members and have been together as an ensemble for some time on other programs. It shows in their ability to banter and bicker. While Allison is unquestionably the main character, the ghosts add all of the flavor to this stew.
My personal favorites are Jim Howick as the Pat, the scout leader who was killed by an arrow through the throat at an archery lesson, and Katy Wix as Mary, who was burned at the stake for witchcraft during the 1600s. Many of the ghosts bear the marks of how they died, but these are among the more obvious.
Though reluctant and hostile at first, the ghosts are very excited when they discover that Allison can see them. She is less so. Some of the best scenes come as they are making an absolute racket around her as she attempts to communicate with another person.
Mike (played by Kiell Smith-Bynoe) is an excellent foil for the otherworldly shenanigans, as he cannot see the spirits. They have some limited ability to interact with their environment, which they enjoy using on Allison's helpless husband.
Overall, Ghosts (the British version) is quite sweet and funny when you least expect it. The writers do a good job of playing with the things centuries old spirits would and would not know about the modern world and how they learn from the more recently arrived among them. There is a fourth season coming and I look forward to more of their haunted hijinks.
More British TV
Agatha Raisin ~ Catastrophe ~ Crashing ~ Derry Girls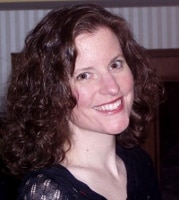 Sue reads a lot, writes a lot, edits a lot, and loves a good craft. She was deemed "too picky" to proofread her children's school papers and wears this as a badge of honor. She is also proud of her aggressively average knitting skills  She is the Editorial Manager at Silver Beacon Marketing and an aspiring Crazy Cat Lady.