It's a Cozy Day for a Mystery
Main Cast: Ashley Jensen, Matthew Horne
Based on Characters Created by M.C. Beaton
Are you a fan of cozy mysteries? You know the ones, they follow the same amateur sleuth from story to story in crime ridden small towns filled with eccentric citizens and visitors. The genre is incredibly popular in books, and translates quite well to the small screen.
Agatha Raisin is based on the series of novels (currently there are 32) by author M.C. Beaton and the TV show is, in a word, delightful. Ashley Jensen (from Extras and After Life) stars as Agatha. Agatha is a former PR executive who is living her dream of retiring to the small village of Carsley.
It's hard to be an outsider in this quiet little town and Agatha has a rather outsized presence. She tries her best to fit in, but can't help but stand out. As she endeavors to be part of village life she stumbles on mystery after mystery, making good use of her PR skills to solve some clever crimes. Soon she gains quite a reputation as a detective.
The series goes from there, introducing Agatha's assemblage of quirky compatriots. We have Roy Silver (Matthew Horne), Agatha's former assistant who has both connections in the city and a lot of free time. We have Gemma (Katy Wix), who technically cleans Agatha's house, but also helps her solve mysteries. And we have James (Jamie Glover), who lives next door and adds a touch of romance to the proceedings.
Also appearing regularly are Sarah Bloxby (Lucy Liemann), wife of the town reverend, and DC Bill Wong (Matt McCooey), the local detective who is not immune to the mighty pull of Agatha.
This first season of Agatha Raisin consists of hour long episodes, each based on one of Beaton's novels. Later seasons have 90 minute episodes. We get to see Agatha slowly becoming accustomed to her new life while she solves mysteries. She's like a very, very flamboyant Jessica Fletcher from Murder She Wrote. Also much younger—she would be very insulted if I didn't point that out.
The tone of the series is very light, despite it being filled with murders. Agatha Raisin is definitely a dramedy series with Ashley Jensen's significant comedic talents put to good use. The mysteries are completely episodic, rarely spilling from one episode to the next. Series continuity relies on Agatha's personal life.
Ashley Jensen, as mentioned, is wonderful as Agatha Raisin. She's confident and loud, independent and bold. She dresses how she likes and though she wants to fit in, she isn't going to make any concessions to do so. Her costume designers capture her brave individuality in every blinding print and neon jacket she wears.
The rest of the cast is rather bland in comparison, as it should be. Their color palettes are far more muted and they form a collective voice of reason. Well, usually. Only Roy is as outgoing as Agatha and even he pales in comparison. Every actor is solid and fun, embracing the cozy mystery conventions and larger-than-life Agatha.
The village of Carsley is in the Cotswolds and we get a glimpse into an idealized version of living in the English countryside. Everything is very quaint and traditional and the set designs are lovely. My only caution is to pace yourself. Agatha is best watched a single episode at a time lest her charming quirks become annoying.
I thoroughly enjoy Agatha Raisin. I like the setting, the characters, and the eccentric whimsy of each episode. If you've ever enjoyed a cozy mystery book series, give Agatha Raisin a try. Even if you haven't, give it a try. It's fun, light, and entertaining. There are currently three seasons of Agatha Raisin, with a fourth coming soon.
The show originally aired on Sky 1 in the UK and moved to Acorn TV after the first season. That's the only place it's available streaming (you can get Acorn as an add-on to your Amazon Prime), I watched it on disc through my Netflix DVD subscription.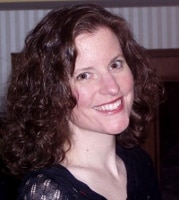 Sue reads a lot, writes a lot, edits a lot, and loves a good craft. She was deemed "too picky" to proofread her children's school papers and wears this as a badge of honor. She is also proud of her aggressively average knitting skills  She is the Editorial Manager at Silver Beacon Marketing and an aspiring Crazy Cat Lady.