There are no boy's toilets!
Main Cast: Saoirse-Monica Jackson, Nicola Coughlin
Creator: Lisa McGee
How do you feel about Closed Captioning? Chances are you have no feelings one way or the other unless you need them, but you might want to make them your friend for Derry Girls.
Derry Girls is a Northern Irish comedy series about a group of Catholic school girls in the 1990s. Set against the backdrop of military conflict in the region, the show is a mash-up of over-the-top characters and hilarious dialogue. Coming of age in a "troubled country" is no picnic – but it does make for some interesting situations for our merry band of (occasional) delinquents.
Most of the Derry Girls are nice girls with good intentions and poor execution. Erin (Saoirse-Monica Jackson) is the lead character in the ensemble cast, as something of a leader to the group of girls. It is her home and family that are featured along with the teenagers. Erin probably means well, but she is VERY dramatic. Her ideas are not at all good. Erin's mother, Mary (Tara Lynne O'Neill), is not fooled by Erin, ever. She also has no tolerance for foolishness from others, yet does spend a decent amount of time producing foolishness of her own. She is married to Erin's father, the extraordinarily long suffering Gerry (Tommy Tiernan). Gerry loves his wife and dramatic daughter (as well as her baby sister) and puts up with his sister-in-law (Kathy Kiera Clarke), niece, and his father-in-law (Ian McElhinney) all living in his house. All of them. And the father-in-law is just plain mean to Gerry. I'm not sure how Gerry survives all this domestic bliss.
Rounding out the group of teens are Michelle (Jamie-Lee O'Donnell), the boy-crazy one who day drinks; Orla (Louisa Hartland), Clare's odd cousin; Clare (Nicola Coughlin), who is the only member of the group more dramatic than Erin; and James (Dylan Llewellyn), the cousin of Michelle and the only boy attending their Catholic girl's school.
For good measure we also have the long suffering but not at all kindly Sister Michael (Siobhán McSweeney), headmistress of the school and Dennis (Paul Mallon), the proprietor of the local shop.
Each member of this cast has managed to dig into their character and pull out something quirky and strange and wonderful. I love them all.
Derry Girls is delightful. The girls are filled with gleeful angst, James spends his time just trying to convince everyone that he isn't gay (he's enrolled at a girl's school because he's English, so is supposedly in danger from Irish boys), and the parents are not distant or uninvolved. They form a wonderfully chaotic and ridiculous little cluster of mayhem and one or more of them are always, always doing something awkward or inappropriate. Yet they still care for each other and accept the foibles and follies that come with their collective dysfunction. The only one I find inordinately irritating is the father-in-law, who needs to lighten up on Gerry. His scenes are actively frustrating. The civil unrest in the background provide a layer of harsh reality over which the other shenanigans lay, adding to their ridiculousness and proving that even in times of trouble, people will still be lovably stupid.
Now what about those Closed Captions? If you're going to enjoy Derry Girls, you may well want to make use of them (unless you're Irish). The accents are thick and the banter is rapid fire, including some vocabulary that will not be familiar to most Americans. Don't suffer, use the captions. Also, I find that this is a series best enjoyed one episode at a time. It's a little exhausting because the teenagers are so…teenaged. And the rapid-fire dialogue and abundant silliness can get to be a bit much if you binge watch. I prefer one episode a night – a slow binge, if you will. Season 1 is filled with fun and is streaming on Netflix along with Season 2 (which I'll be starting today). There is a third season coming.
Looking for more great TV? Here are some binge worthy comedies: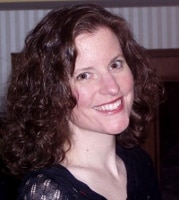 Sue reads a lot, writes a lot, edits a lot, and loves a good craft. She was deemed "too picky" to proofread her children's school papers and wears this as a badge of honor. She is also proud of her aggressively average knitting skills  She is the Editorial Manager at Silver Beacon Marketing and an aspiring Crazy Cat Lady.