Bloomin' Amazing!
Judge: Kristen Griffith-VanderYacht (and various guest judges)
Hosts: Natasia Demetriou, Vic Reeves
I will be 100% honest – I had no intention of ever watching this show. But times are tough and I prefer my entertainment easy. Reality TV show easy! So I gave The Big Flower Fight a try and I was pleasantly surprised! What I know about floral sculpture would fit comfortably in half a thimble and I was still quite entertained.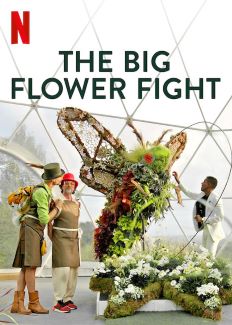 The premise of The Big Flower Fight is simple. There are teams of two and each round they are presented with a challenge to make a themed floral sculpture. Most of the contestants and cast are British or European, with only Griffith-VanderYacht and a few sculptors being American. That should tell you that this is not about clashing personalities or scheming or alliances (I'm looking at you, Ink Master) – it's straight up about the most fabulous sculptures. Very much like British Baking, but with plants! One team gets Best in Bloom for the challenge and one goes home each episode.
And wow, they are seriously fabulous! With themes like creating wearable couture designs using cut flowers and making eight foot high sea creatures out of sea trash and plants, these people are insanely inventive. Some are florists, others landscape designers, one team even has very little gardening experience and work as artists. Each team has a comfort zone and not a single one gets to stay in it for long (if at all).
The "fight" portion of The Big Flower Fight shows itself when it comes time for the teams to select the plants they want to use for each challenge from the massive nursery. There is not an endless supply and it is first come, first serve. There is a little squabbling here and there, but it's mostly very civilized and without much real rancor.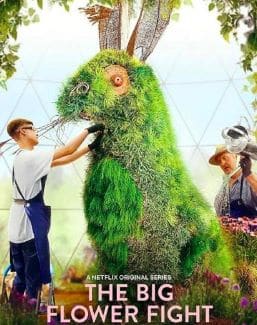 American floral designer Kristen Griffith-VanderYacht serves as the only permanent judge and he's pretty fun. He fashions something for each challenge so the contestants (and the audience) know what he and the guest judges are expecting and has a good rapport with the contestants while maintaining a critical eye. Hosts Demetriou and Reeves provide a smidge of comic relief (once again in the tradition of British Baking) and are there as non-flower people to help the rest of us understand the plants and structures. They are pleasant and helpful
The greatest thing about The Big Flower Fight is the absolutely stellar cast of characters that are the contestants. They are a diverse and extremely eclectic group with all sorts of artistic tricks up their sleeves. I loved nearly every one of them.
If you're in the mood for some very light, very entertaining, and very civilized reality television, I definitely recommend The Big Flower Fight.
The Big Flower Fight is streaming on Netflix.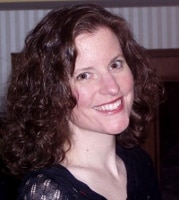 Sue reads a lot, writes a lot, edits a lot, and loves a good craft. She was deemed "too picky" to proofread her children's school papers and wears this as a badge of honor. She is also proud of her aggressively average knitting skills  She is the Editorial Manager at Silver Beacon Marketing and an aspiring Crazy Cat Lady.