New Judge, New Hosts, Did They Ruin Everything?
Hosts: Sandi Toksvig, Noel Fielding
Judges: Paul Hollywood, Prue Leith
I was nervous. How was it going to be, was it going to be all Americanized and aggressive? Cutthroat and antagonistic? Were there going to be literal food fights? There was no way to know, not for a non-British amateur baking contest fan like me. I was just going to have to watch the revamped 2017 Great British Baking Show for myself and see if the move from BBC to Channel 4 (whatever that is – remember, me = not British) had ruined one of the last pure things left in this hellscape timeline.
And WHEW! I am so relieved! Yes, it's a little different, but it still packs the same sweet punch as the original. Cakes, cookies, soft ball comedy, lovely amateur bakers, and the searing blue eyes of Paul Hollywood, all present and accounted for. You can all relax; they didn't ruin our beloved bakes.
What is this show, you ask? Why it's the Great British Baking Show, also known as the Great British Bake Off. It's a reality contest show featuring amateur British bakers cooking up a variety of delicious and complicated challenges each week. One gets star baker each week, and one is eliminated. The entire enterprise is delightfully polite and good natured, with the contestants seeming to actually be fond of one another and the judges critiquing rather than abusing.
So here's what's new. Mary Berry has retired and been replaced by South African born cook, restaurateur, and all-around U.K. foodie Prue Leith. Prue has a harder edge than Mary, but it works out okay because it gives Paul the chance to be the softie once in a while. We are also, sadly, without Mel and Sue, our beloved hosts from seasons past. In their place are Noel and Sandi, who were both completely unknown to me. They engage in similar banter with both contestants and judges as did Mel and Sue and though it took me some time, I've come to accept them as adequate replacements.
I was most concerned that the essential goodness of the show was going to be lost in some horrible pursuit of a more American type of reality show. I can gleefully report that this is not the case. Though there is one baker this season that is a little more intense than usual, the overall congeniality in the tent remains.
One difference that I noticed other than the occasional letting down of Paul's figurative hair is that some of the challenges were devilishly difficult, more so than on past seasons. And I enjoyed this change – there were new types of dishes introduced and the bakers got to show off some skills they haven't been encouraged to in the past. It was very fun to watch and I can only imagine absolutely divine to eat. The one thing I really do not understand is how the hosts and judges do not gain 20 pounds each during the 10 weekends of filming.
So for those of you who, like me, adore The Great British Baking Show and were worried that it was going to be a ruinous disaster at a new network and with only one original remaining judge, you can rest easy. The show has the same goodness and heart that we love, with new faces that we can easily get used to. Plus, it really is fun to see Paul actually enjoy himself. Netflix now has exclusive rights to the program in the U.S. and we can look forward to the next season showing up on the streaming service at the end of 2018.
Note: I'm not sure what to call this season. It's the fifth one to stream on Netflix, but in reality the eighth one to air in the U.K.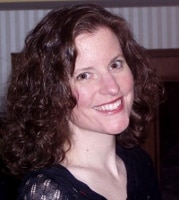 Sue reads a lot, writes a lot, edits a lot, and loves a good craft. She was deemed "too picky" to proofread her children's school papers and wears this as a badge of honor. She is also proud of her aggressively average knitting skills  She is the Editorial Manager at Silver Beacon Marketing and an aspiring Crazy Cat Lady.