[wptabs]
[wptabtitle]Biography[/wptabtitle]
[wptabcontent]
Born in 1976, Irish actor Colin Farrell studied acting in Dublin and was already making waves in his home country before his US breakthrough performance in the 2000 Joel Schumacher film Tigerland.  Impressive onscreen, he was soon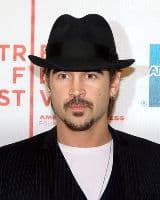 appearing with the likes of Bruce Willis in Hart's War and Tom Cruise in Minority Report.
Handsome and prone to brash behavior he quickly became tabloid fodder and acquired a bad-boy reputation including an alleged sex tape and co-star allegations of being propositioned by the man who was named one of People's 50 Most Beautiful People in 2003.
Farrell has acted steadily since 2000, building an impressive portfolio and largely putting his bad-boy days behind him in recent years.  A steady run of solid performances including a Golden Globe winning turn in the film In Bruges have made Farrell an A-List leading man.
Though not currently married, Farrell is the father of two young sons.
photo by David Shankbone
[/wptabcontent]
[wptabtitle]Posts[/wptabtitle]
[wptabcontent]
[associated_posts]
[/wptabcontent]
[wptabtitle]Reviews[/wptabtitle]
[wptabcontent]
[/wptabcontent]
[wptabtitle]Poll[/wptabtitle]
[wptabcontent]
[poll id="20″]
[/wptabcontent]
[/wptabs]