"You ever feel like your humanity holds you back?"
Main Cast: Melanie Lynskey, Sophie Nelisse
Creators: Ashley Lyle, Bart Nickerson
Things are getting real in both the Canadian Rockies and in New Jersey. Yellowjackets Season 2 barrels forward from Season 1. Winter brings a whole new set of challenges for the teenagers in 1996. The adults are both coming together and falling apart in 2021.
If you're new to Yellowjackets, I beg you not to start at Season 2. Start at the beginning or you'll be hopelessly lost. The basic premise involves two groups of (mainly) women. The first, a high school soccer team stranded by a plane crash in the mountain. The second, those who survived the ordeal yet continue to bear its weight 25 years later back in their home town.
Season 2 doesn't miss a step or leap forward. It takes up exactly where we left off. The teens continue to struggle just to survive. Food becomes scarce as the weather turns, and their little community is warping dramatically as they try to adapt.
The adults are becoming more and more aware of how much their experience as teenagers continues to affect their lives. After 25 years of denial, things are happening that force those who made it out to interact. Their pact to never discuss the events of their time in the wilderness is fraying as they meet their demons.
If you've seen season 1, you know that things were getting weird in both time periods. You can expect much, much more of the same. I'm not going to spoil it, but suffice to say that all of these women have a lot to work through.
The scripts remain tight and tense, with a lot of emotional trauma playing out between the lines. The wilderness setting is magnificent, the winter adding a beautiful stillness and intensifying the vast loneliness of the stranded team.
The adults begin venturing beyond their comfort zones. Not that they have ever been truly comfortable. But now they're forced by circumstance to both relive their past and move into new territory together. This is a seriously reluctant group of "friends".
The actors remain outstanding. Melanie Lynskey again leads the way as adult Shauna. Hers is by far the most nuanced of the performances. She manages to combine the trials of raising a teenager, a mid-life crisis, and the re-emergence of childhood experiences into one explosive character.
Adult Taissa (Tawny Cypress) is also on a roll. Her life is changing dramatically, and this is not a woman who is comfortable with things being out of her control.
Teen Lottie (played by Courtney Eaton) comes into her own, so to speak, in the wilderness. Eaton is fantastic in this challenging role, particularly in her interactions with teen Nat (Sophie Thatcher) and Shauna (Sophie Nelisse).
We meet some new characters, both teens (I know – just go with it) and adults. The adult additions, in particular, add a whole new wrinkle to life in 2021 New Jersey.
Season 2 of Yellowjackets is an entirely worthy continuation of this excellent series. It's scary, suspenseful, dramatic, insightful, and just funny enough to keep it from being too weird or heavy. Season 3 is likely to be delayed by the writer's strike, but the showrunners are planning a five season run to tell the whole story.
Yellowjackets is streaming on Paramount+ (with the Showtime addition) or you can buy it on Amazon.
More Yellowjackets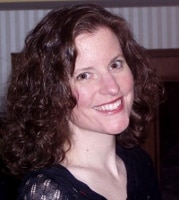 Sue reads a lot, writes a lot, edits a lot, and loves a good craft. She was deemed "too picky" to proofread her children's school papers and wears this as a badge of honor. She is also proud of her aggressively average knitting skills  She is the Editorial Manager at Silver Beacon Marketing and an aspiring Crazy Cat Lady.