"It's me and you against the world, kid."
Main Cast: Brianne Howey, Antonia Gentry
Creator: Sarah Lampert
I really enjoyed the first season of Ginny & Georgia. In this second season, any similarities it bears to Gilmore Girls fade into the background. This mother/daughter duo is tackling a hard past in a present that's far from perfect.
As we enter season two, Ginny (Antonia Gentry) is very angry at her mother. She has made some discoveries about Georgia (Brianne Howey) that are hard to accept. Ginny and her brother Austin (Diesel La Toracca) are staying with Ginny's father, Zion (Nathan Mitchell).
As the women in the family quietly feud, we continue our journey with the Miller family. Georgia is newly engaged to Wellsbury's mayor, Paul Randolph (Scott Porter). Ginny's relationship with her friends is strained and uncomfortable. Austin is still trying to make friends.
The core of Ginny & Georgia has never been about the daily lives of its characters. They are definitely entertaining, with teen angst, adult awkwardness and scheming, and families that aren't all the same. But the core is the two main characters growing and changing in different ways, at different rates, and their evolving relationship.
Georgia was just a teenager when Ginny was born, and flashback scenes serve as a frequent reminder that her life has not been sunshine and roses. She is a survivor with secrets that refuse to remain in the past.
As Ginny grows up she has to deal with uncomfortable truths about her mother. Her struggles as a biracial child continue to unfold as well. Some of her angst is self-inflicted, but a lot of it is a product of circumstance.
Ginny & Georgia continues to tackle hard situations. This season there's an especially keen focus on teen mental health and how it affects both kids and families. Once again, the showrunners have genuine affection for their young characters. Even at their most unlikable we root for them to overcome their demons.
Ginny & Georgia is not a realistic portrayal of mother/daughter or family dynamic. These are larger-than-life characters and some of their situations are definitely made for TV. But there's intention here. Loving flawed people is hard and it leaves scars. The showrunners aren't afraid to look at how the scars formed or examine how they might heal.
The cast remains outstanding. We see more of Zion this season and he's an excellent counterbalance to Georgia. Felix Mallard as Marcus gets a meatier role as well. Antonia Gentry continues to be the standout as Ginny, with Diesel La Toracca growing into his part as Austin.
Georgia remains an over-the-top, steely-hard woman and Brianne Howey does her proud. There are a few spots of uneven dialogue for her character this time, but nothing that diminishes her as a character.Ginny & Georgia Season 2 is another strong outing for this series. Apparently the creators are hoping for a four season run. It hasn't been renewed just yet for Season 3 but I really hope we get to see where they go from Season 2's strong ending.
Ginny & Georgia is streaming on Netflix.
Ginny & Georgia. (L to R) Antonia Gentry as Ginny, Brianne Howey as Georgia in episode 209 of Ginny & Georgia. Cr. Courtesy of Netflix © 2022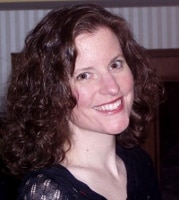 Sue reads a lot, writes a lot, edits a lot, and loves a good craft. She was deemed "too picky" to proofread her children's school papers and wears this as a badge of honor. She is also proud of her aggressively average knitting skills  She is the Editorial Manager at Silver Beacon Marketing and an aspiring Crazy Cat Lady.