Main Cast: Antonia Gentry, Brianne Howey
Creator: Sarah Lampert
I didn't go into watching Ginny & Georgia with super high expectations. I was sort of thinking it looked like a Gilmore Girls type mother/daughter relationship show. I wasn't entirely wrong, but there's a lot more here than witty banter and episodic angst.
Ginny & Georgia is the story of the Miller family—mom Georgia (Brianne Howey), teenage daughter Ginny (Antonia Gentry), and 11-year-old son Austin (Diesel La Toracca). The Millers are moving to Massachusetts after the death of Georgia's most recent husband. Georgia is hoping for a fresh start in the community of Wellsbury.
Wellsbury doesn't quite know what to make of the free-spirited Georgia with her southern accent and two children with different fathers. The town is accustomed to more…traditional families.
But Ginny soon finds herself making friends, something that has been elusive as she moved from town to town in the past. Her neighbor Max (Sara Waisglass) takes Ginny under her wing and gives her some room to begin to feel safe.
Georgia gets a job in which she is surprisingly invested and even makes a friend herself in Max's mom, Ellen (Jennifer Robinson, who is Jocelyn from Schitt's Creek). The past Georgia is running from is stubbornly sticky, and the whole family finds that a new location doesn't solve every problem.
This sounds pretty tame. It's not. The teenagers are open with each other about everything from parties to sex, and the adults have a lot of secrets. Sexuality, racism, self-harm, and abuse are just a few of the themes that arise throughout this first season of Ginny & Georgia. The complicated and tense relationship between Ginny and Georgia simmers along as a constant undercurrent.
Ginny & Georgia is a show about teenagers that, for once, does not actively hate teenagers. The young characters are well developed and complicated. There are few of the evil stereotypes that generally pervade the genre. Every one of the teens is a messy mix of good and bad, exaggerated for effect but not turned into cardboard cutouts.
The adults are even harder to pin down. Georgia and the people she meets in Wellsbury (as well as some who show up from her past) all have the baggage and damage that inevitably comes with adulthood. Again, it's exaggerated because Ginny & Georgia is a television show, but the relationships have a core of honesty that makes the characters feel more real.
The main cast is absolutely fantastic. Antonia Gentry as Ginny is so good she makes adults squirm as she makes mistakes we know will hurt her. Brianne Howey grows on you as Georgia. She isn't supposed to be entirely likeable, and she isn't. Georgia has an edge that comes into play over and over again and Howey doesn't flinch in her portrayal.
The dialogue is honest and sometimes it's painful. And it fits the personalities of the characters and the struggles they face as they try and interact with each other and the world. This is a series that has more depth than it seems at first blush.
I enjoyed the first season of Ginny & Georgia. There's a lot of room to explore these characters. Check out my review of Season 2. 
Ginny & Georgia is streaming on Netflix.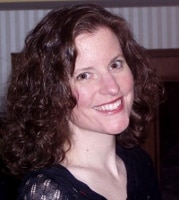 Sue reads a lot, writes a lot, edits a lot, and loves a good craft. She was deemed "too picky" to proofread her children's school papers and wears this as a badge of honor. She is also proud of her aggressively average knitting skills  She is the Editorial Manager at Silver Beacon Marketing and an aspiring Crazy Cat Lady.