Buckle up, it's gonna be a bumpy ride!
Main Cast: Kaley Cuoco, Zosia Mamet
Developed for Television by: Steve Yockey
Based on the Novel by: Chris Bohjalian
Cassie Bowden is back, flying the friendly skies in The Flight Attendant Season 2. When we met Cassie in Season 1, she was an alcoholic with significant self-destructive tendencies. She got herself into a major mess which only got bigger as she tried to dig her way out.
When we catch up with Cassie at the beginning of Season 2, we find a much more stable, grounded (yes, a pun) version of our favorite flight attendant. She has moved to L.A., has been sober for nearly a year with a lot of help from AA, and has a boyfriend who loves her.
She's still flying, but now she has a little secret side gig putting her investigative experience to work. It's sort of sketchy, but scratches her itch for excitement. Well, sort of. She still isn't great at following directions.
But Cassie has not vanquished all of her demons. She manages to find herself in another perplexing situation and her inner dialogue, as usual, is not helping.
The Flight Attendant takes us on another ride through intrigue and chaos in Season 2. Kaley Cuoco continues to prove that she's far more talented than her part on The Big Bang Theory let on. Cassie is fragile and strong and broken and always trying to do what's right. Her instincts are terrible, but her intentions are good.
Supporting cast members who return include Zosia Mamet as Cassie's friend Annie. She's a wonderful character, full of her own eccentricities. She brings boyfriend Max (Deniz Akdeniz) with her to visit L.A., and I was glad to see them both.
Rosie Perez also returns as Megan, now on the run. Her character makes everything more complicated and confusing. The tangled plotlines keep us on our toes as Cassie tries to solve the various puzzles posed throughout the season.
I really like The Flight Attendant. This second season gives Cuoco a chance to peel back more layers of Cassie and she gives it her all. The mystery is adequately twisty, the characters adequately quirky, and the balance of humor, bloodshed, and emotional damage remains solid. This is not an easy combination to pull off, and there is an occasional stumble. But for the most part the second season of The Flight Attendant is well written and the performances are terrific.
The Flight Attendant is streaming on HBO Max. You can also buy season 1 on Region 2 DVD on Amazon.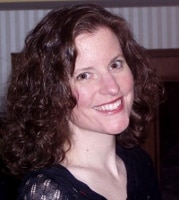 Sue reads a lot, writes a lot, edits a lot, and loves a good craft. She was deemed "too picky" to proofread her children's school papers and wears this as a badge of honor. She is also proud of her aggressively average knitting skills  She is the Editorial Manager at Silver Beacon Marketing and an aspiring Crazy Cat Lady.