WATER BABIES
Main Cast: Keira Knightly, James McAvoy
Director: Joe Wright
Normy and I have signed the contract with HGTV which will make our search for a new and improved domicile the most exciting piece of reality TV since the OJ Simpson trial. The camera crew arrives this week and will follow us as we meet with realtors, contractors, decorators and landscapers while we search for the perfect home and transform it into Chateau Maine II: The Second Coming. I just know the right piece of real estate is out there somewhere high in the Hollywood Hills. I might even consider Bel Air or Laurel Canyon but Malibu is simply too far away from all the studio action. My requirements are simple: large enough for me, Normy, my wardrobe, my staff and with studio space, a lovely view of the city, a look that will rate a major feature in Architectural Digest and a negotiable price tag. It shouldn't take more than a couple of weeks.
In the meantime, as Chateau Maine is somewhat uninhabitable, due to the back half of the house having fallen into the canyon, Normy and I have moved onto the yacht.   I haven't used the yacht much in recent seasons but I bought the Sou'lester some years back with my paycheck for my great MGM film, Meat Me in St. Louis, the musical version of Marty in which we switched genders and I played a lonely lady butcher who finds true love. So Normy and I loaded up the necessities and headed off to Marina del Rey where she has been at anchor under the careful ministrations of Captain Drew. We had some difficulties fitting into the allotted cabin space. I had only brought sixty-seven evening gowns, forty-three pairs of shoes and the small jewelry trunk but the closets were still soon overflowing. I also learned that salt water and marabou do not mix well after one of the garment bags was accidentally knocked overboard.
Once we were settled in, we ordered some Thai take out from the local delivery place and I made us a nice pitcher of blue curacao margaritas to celebrate our new nautical life.   Water being very much on my mind, I decided to find something appropriate on the Netflix to watch. Most of the boat films I found featured spectacular shipwrecks but I did not feel like indulging in such fare while living on the bounding main so I settled instead for a film chock full of water imagery, the 2007 nominee for best picture, Atonement with Keira Knightley and James McAvoy. Based on a celebrated novel by Ian McEwen first published in 2001, the film explores the need for humans to atone for their sins and what happens when this is not possible.
Atonement follows the aristocratic Tallis family who, when we first meet them, are living in full Brideshead Revisited splendor in mid 30s England. Our focus is on the youngest of the Tallis children, 13-year-old Briony (Saoirse Ronan), a budding author who tries to gain attention from her languid mother (Harriet Walter), glamorous older sister (Keira Knightley) and a passel of visiting red haired cousins led by the equally adolescent Lola (Juno Temple). The observant Briony notes her sister's growing attraction to the working class Robbie Turner (James McAvoy), son of one of the old household retainers (Brenda Blethyn). On the night of a glamorous dinner party (amongst the other guests is a young Benedict Cumberbatch), Briony overhears and sees things she is not meant to and draws erroneous conclusions about her sister Cecelia and Robbie. This leads her through spite and jealousy to tell a monstrous lie which ends up destroying Robbie's life plans and her sister's happiness. We then fast forward five years to the early part of World War II. It is 1940. Briony, now eighteen and played by Romola Garai, is studying to be a nurse. Now that she is grown and has an adult's understanding of the events of five years ago, she recognizes that she horrifically wronged Cecelia and Robbie and wants to atone. Unfortunately, Robbie is away fighting in France, ending up at Dunkirk awaiting evacuation and Cecilia, working in London, is not inclined to easily forgive and forget. We then fast forward to present day where Briony, now played by Vanessa Redgrave, is approaching the end of her life and, as a successful novelist, writes one final novel entitled Atonement in which she attempts to make sense of her sin, the fates of Cecelia and Robbie and whether or not the act of creation can make a happy ending.
There is much to like in Atonement. It has the prestige sheen of a BBC classic with sumptuous period settings and costumes. Keira Knightley's emerald green backless evening dress from the dinner party scene that is the culmination of the first act immediately enters the film costume hall of fame.   There are idyllic shots of the English countryside, gentle pools and the grounds of a stately manor home. This contrasts with the grittiness of wartime London and the starkness of the beach at Dunkirk. Director Joe Wright does a masterful job of boiling down the insanity of war in a series of masterful tracking shots that weave in and out amongst thousands of British soldiers stuck on the beach and uncertain if they are to survive or to be driven into the sea by the Nazis.
Water is a recurring theme throughout Atonement. Early on, Cecilia dives into a fountain to recuse a piece of a vase that has gone astray. Her emergence like a naiad becomes the moment that she and Robbie first feel their mutual passion. There are swimming scenes, rescues from drowning, and playing in the waves at a cottage by the sea that all become important as the plot unfolds. All of this focus on water eventually becomes clear in a final shattering revelation, an incident based in historical fact. While at times heavy handed, the imagery is well handled by Christopher Hampton's skillful screenplay.
The performances are lovely. Mr. McAvoy, one of the most charming actors of his generation, is heartbreaking as the doomed Robbie. Ms. Knightley, never my favorite, is beautiful and makes us care about her broken dreams. The three Brionys, child, early adult and elderly, are all top notch and mirror each other enough in terms of mannerism that the character remains believable through her transformations. However, it seems a little odd that she would never have changed her hairstyle over seventy some years of life.
Atonement is impeccably cast, lovingly designed, literate and faithful to the source material and I ended up enjoying it immensely.   It's romantic and bittersweet without the easy answers and stock resolutions of most Hollywood fare. It leaves the viewer thinking about the nature of truth, sin, atonement, and the psychological prisons we build for ourselves based on our mistakes in life.
Naughty word. Pink party dress. Broken vase. Gratuitous chocolate martinis. Hysterical mother. British tea room. Horse murder. Gratuitous Ferris wheel. Television studio. Subway sleeping.
To learn more about Mrs. Norman Maine, see our Movie Rewind introduction, visit her entire back catalog and follow her on Twitter at https://twitter.com/missvickilester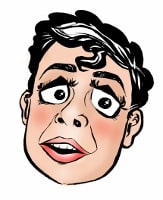 Originally from Seattle Washington, land of mist, coffee and flying salmon, Mrs. Norman Maine sprang to life, full grown like Athena, from Andy's head during a difficult period of life shortly after his relocation to Alabama.