"I'm so happy this Halloween is marked with the release of a new Paranormal Activity movie!"
Main Cast: Emily Bader, Roland Buck III
Director: William Eubank
I've said it before and I will, hopefully, have cause to say it again in another review at some point in the future, but there are two sure ways to rope me into watching your movie.
Make it found footage.
Make it ghosts.
And a found footage movie about ghosts, I'm there even faster.  So when I saw a trailer for a movie I didn't even know was being made, and it was called PARANORMAL ACTIVITY: Next of Kin, well I watched that trailer immediately.
I'm a huge fan of this franchise and reviewed all six previous movies years ago, so the chance to see another one had me very excited. Then I realized it not only existed, but would be streaming for FREE on Paramount+ … when? TOMORROW?!?!
I said to my wife, Kara, "We're watching it this weekend."
This weekend happened to be last night, and I have to say I was not let down.
Written and directed by Christopher Landon and William Eubank, come on.  Landon wrote, not only Paranormal Activity 2, 3, 4, plus the Marked Ones spin-off, but also HAPPY DEATH DAY, a movie I loved so much I watched it again immediately.  And Eubank, I've seen and absolutely loved all of his previous directorial efforts, LOVE, THE SIGNAL, and UNDERWATER.  In fact, I'm quite sure I have a review of LOVE floating around here somewhere, in fact.
You put these two together on a franchise I already love and it's not even a question.
PARANORMAL ACTIVITY: Next of Kin.  Watched it, loved it.
Loved it? Well. I don't LOVE any of the PA movies, but I do love the series as a whole, so that counts.
PARANORMAL ACTIVITY: Next of Kin centers on Margot (Emily Bader, "Charmed") who recently discovered the only living relatives she has are members of an Amish community.  She decides to document her first meeting with them, with the help of boyfriend Chris (Roland Buck III, Chicago Med) as cameraman, and Dale (Dan Lippert, Superstore) the sound guy.
Margot and company meet Samuel (Henry Ayres-Brown, The Blacklist), a member of the community on Rumspringa, the time when "Amish youth are no longer under total control of their parents on weekends", according to Google, and one of Margot's relatives, who agrees to bring them home for a few days so Margot can finally meet her family.
Born to a community-member named Sara, Margot was born out of wedlock and given up for adoption in that she was left outside a hospital almost immediately after being born.
Even though community leader Jacob (Tom Nowicki, Mr. Mercedes) at first sends them away, he finally agrees to let Margot stay a few days and even agrees to be interviewed regarding Margot's birth mother's background.
For the first day, Margot, Chris and Dale meet the other community members, learn the rules of the farm (don't come up to anyone and start talking until you get that person's permission to do so), and take a tour, getting a feel for life in an Amish community. Margot learns that her mother, Sara, Jacob's only daughter, was the "wild flower" of the bunch and never really took root in the community, always looking to the outside world. Margot's father is an "Englishman", meaning someone from outside the community, but Sara never said his name, and she was shunned, made to live, eat, and work apart from everyone else.
Rather than give her daughter to a couple within the community, standard practice, according to Jacob, because they don't allow babies out of wedlock, Sara chose to give her baby up to the outside world instead.
It doesn't take long for Margot to start to think Sara made the right choice.  There are the late-night footsteps overhead in the attic, the letters she finds stashed away, letters written by her mother before she was born.  There's the strange church they find in the middle of the woods, a church they're forbidden from entering.  But what really gets Margot's attention is the little Amish girl who tells her that her mother is, "still here.  She doesn't like you."
Having had several years of previous Paranormal Activity experience, I thought I knew what to expect from PARANORMAL ACTIVITY: Next of Kin, thought I had an idea, however vague, which direction it might be heading, but Landon and Eubank fooled me and took me to a few VERY creepy places I didn't see coming, a few of which had Kara and I saying out loud, "Nope!" several times to the screen.
After decades, plural, of found footage movies it's not often you see something new or innovative or even interesting in the genre.  Eubank found a few workarounds, things you can do with modern cameras that weren't possible when the first Blair Witch movie came out, all of which adds to the mood of the movie, if not necessarily the narrative.
The three main characters were all pretty likable, engaging actors and many, if not all, of their actions were believable. Personally, I'd have been out of there a few days before they ever tried to leave, even if it meant walking the however many miles back to town in winter, but that would have made for a much shorter and less interesting movie, so whatever.
There were a few really good gore scenes, and even some effective jump scares, plus an ending that promises more story to come.
Connections to the previous six movies?  I THINK I know what the connection is, and if it's what I'm thinking, that's a VERY thin connection and you don't have to have even HEARD of this franchise before PARANORMAL ACTIVITY: Next of Kin to enjoy it.
As for the ending … it fits, it's does what a horror movie ending is supposed to do, but it reminded me a little too much of the ending to another found footage horror sequel that I can't name because that would be a huge spoiler for the ending of this movie. Suffice it to say, this one could go so many places in a sequel that we may never see.
PARANORMAL ACTIVITY: Next of Kin is streaming on Paramount+ and it's hard to be a box office success when you premiere on a $5 a month streaming channel.  So I'm going to hold out hope that whatever metric they use to determine success or flop on these services works out in this movie's favor because I'm still and always a sucker for this franchise.  If the next one winds up on some other service I don't currently have, I would subscribe immediately just to watch the next installment.
If you already subscribe to Paramount+ and haven't seen this movie already, tonight, turn off the lights and hit Play and you'll be glad you did.
More Paranormal Activity
Paranormal Activity: The Ghost Dimension
Paranormal Activity: The Marked Ones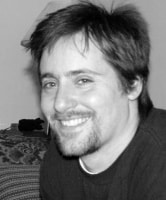 C. Dennis Moore is the author of over 60 published short stories and novellas in the speculative fiction genre. Most recent appearances are in the Dark Highlands 2, What Fears Become, Dead Bait 3 and Dark Highways anthologies. His novels are Revelations, and the Angel Hill stories, The Man in the Window, The Third Floor, and The Flip.