I'm really trying to be mature, but it's so hard!
Main Cast: Maitreyi Ramakrishnan, Poorna Jagannathan
Creators: Mindy Kaling, Lang Fisher
If you haven't seen the first season of Never Have I Ever, I urge you to rush over and watch it, then come back and read the rest of this review. It's fantastic, and everything here will make so much more sense.
When we left Devi Vishwakumar at the end of Never Have I Ever Season 1, it looked like her romantic drought might be coming to a swift end. Not one but TWO boys were interested in her, and that was a major development. Oh, and her mother had decided they were moving to India.
As we know, Devi is going through A Phase. You might call it A Series of Avoidable Mistakes, but since the death of her father she has been determined to make questionable choices whenever they present themselves.
So you already know that Devi isn't going to choose a boy and have a blissful few months before she sets off for India. There will be issues. The issues will largely be Devi's fault. Yet we will still love here.
Wait, that isn't quite true. After the first episode of season two of Never Have I Ever, I was annoyed at Devi. A lot has happened in this world since season one and it seemed my patience for her folly might have evaporated.
Thankfully, it only took that single episode to remind me why I fell in love with this show the first time. Yes, Devi is filled with misplaced anger and hot mess decisions, but she's also sweet and insecure and surrounded by people who love her anyway. They are also all very funny.
This cast of characters can make even the corniest teen situations into poignant little vignettes that humanize everyone involved. Illicit parties, new kids at school, fights with friends, and even school dances are given thoughtful scripts and are acted and directed with enough finesse to make them engaging, funny, and somehow relatable.
As in season one, the actors in Never Have I Ever are fantastic. Young Maitreyi Ramakrishnan balances all of Devi's annoying bad choices with terrifically vulnerable body language. Her best friends Eleanor (Ramona Young) and Fabiola (Lee Rodriguez) don't have as much to do, but both actors continue to bring out both funny and genuine elements of their quirky characters.
The adults that shine are Poorna Jagannathan as Devi's mom Nalini and Ranjita Chakravarty as her grandmother Nirmala. They do a fantastic job embracing stereotypes to the point of being very funny but not a bit further. They never feel like caricatures.
Special shout outs to John McEnroe, once again the most perfectly unlikely narrator on television, and Niecy Nash as Devi's long-suffering therapist. These aren't big roles but they're important and beautifully performed. After allowing myself to settle back into a normal TV world I loved this season of Never Have I Ever just as much as season one. Highly recommended for pretty much everyone.
Never Have I Ever – Season 2 is streaming on Netflix
image courtesy of Netflix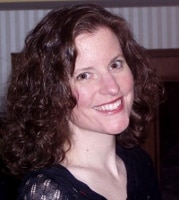 Sue reads a lot, writes a lot, edits a lot, and loves a good craft. She was deemed "too picky" to proofread her children's school papers and wears this as a badge of honor. She is also proud of her aggressively average knitting skills  She is the Editorial Manager at Silver Beacon Marketing and an aspiring Crazy Cat Lady.