Love the One You're With….
Main Cast: Inbar Lavi, Rob Heaps
Creators: Adam Brooks, Paul Adelstein
I was not really aware that the Bravo network offered scripted TV series, but they do! And if Imposters is any indication of their quality, I'll be looking for more. This dramedy series offers a great combination of mystery, dark comedy, and action.
Imposters is about one woman (Inbar Lavi) who marries for money. Literally. She "falls in love", gets married, and steals all of the money she can get from her spouse. As we enter her world she has just finished being Ava, married to Ezra (Rob Heaps). She has left him devastated and we soon learn he is not her first con.
To tell too much would spoil the twists and turns that arrive regularly as Ezra sets out to find his "wife" and reclaim his money and dignity and maybe find some closure to this painful episode. Meanwhile, Ava has moved on, become someone else, and begun her next job. This is not a joyous reunion waiting to happen.
There are a lot of things that make Imposters tick. The first is an excellent balance of genre elements. The comedic chemistry between some of the jilted spouses keeps the story from getting maudlin, the action and mystery keep the pace quick, and the drama adds an appropriate amount of weight to the consequences of a particularly cruel set of cons.
Inbar Lavi creates a real cipher as Ava (also known by many other names). She creates a character that is at turns ruthless and remorseful, trapped by her own choices in a miserable cycle of inflicting pain. Make no mistake, you will feel little pity for her, but when you do it sneaks up and is unexpectedly poignant.
Rob Heaps is fantastic as Ezra. He is the most complicated character, adding to every element of the show, from emotional despair to comedy to action. It's almost impossible to dislike Ezra, even when he does something you know will only hurt him later.
Supporting players include Parker Young and Marianne Rendon as other spurned spouses and Stephen Bishop as an enigmatic new man who may or may not become the next mark. Young and Rendon join forces with Heaps to carry the comic relief and the trio is quite delightful once we get to know them.
A couple fun bonus performances include Uma Thurman as an enforcer and creator Paul Adelstein as her ex-husband. They are ruthless in a way that's both lighthearted and absolutely chilling.
The cons and heists in Imposters are not all heartbreaking. If you enjoy the complexities and absurdities of a good heist movie there is plenty to sink your teeth into in Imposters, particularly in season 2.
Overall I thoroughly enjoyed both seasons of Imposters. It was cancelled after the second, but stands alone as is just fine. A Bravo original, you can stream both seasons on Netflix.
More Great TV
WandaVision ~ Ginny & Georgia ~ The Sinner Season 3 ~ Locke & Key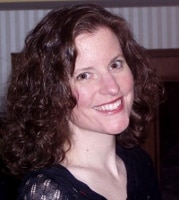 Sue reads a lot, writes a lot, edits a lot, and loves a good craft. She was deemed "too picky" to proofread her children's school papers and wears this as a badge of honor. She is also proud of her aggressively average knitting skills  She is the Editorial Manager at Silver Beacon Marketing and an aspiring Crazy Cat Lady.