Toss a Coin to Your Witcher
Main Cast: Henry Cavill, Anya Chilotra
Created for TV by: Lauren Schmidt Hissrich
Are you pining for some medieval, magical fantasy now that Game of Thrones is over? I know I was, and The Witcher really hit the spot. It isn't outrageously genre changing like GoT, but it has a lot going for it. The first season (it has already been renewed) is based on two books by Andrzej Sapkowski that together form the beginning of his Witcher Saga. Those books are short stories, which goes some ways toward explaining one of the more perplexing aspects of the series.
The basic premise of The Witcher is a little slippery here in this first season. We have three main characters – Geralt of Rivia (Henry Cavill), who is the witcher (someone who hunts beast and monsters for money); Yennefer, who is an abused young girl with some interesting magical abilities; and Cirilla the princess, who is forced to flee her kingdom. We hop back and forth between these three characters, getting to know them and this world, called The Continent. What we do not know (but should, so I'm going to tell you) is that these stories are not happening simultaneously. Only Cirilla is in the "present", the other two characters are in backstory – we're watching their lives lead up to the point where they coincide. Essentially, this entire season is setting the stage for what's to come.
That sounds lame, I know. And I suspect that's why the series runners decided to keep audiences in the dark about the disparate timelines, falsely equating confusion with intrigue. But they needn't have worried – we figured out what was happening early on (and anyone who has read the books, or the graphic novels, or played the video games, already knows) and it didn't detract at all from how much we enjoyed the series.
Anyway. The Witcher is about a monster hunter, a witch, and a princess who must each find their destiny – a concept that is revered on The Continent. In this season, we come to know the nature of both witcher and witch, and scratch the surface of the princess (she doesn't know much about herself, being quite young). The actors are all quite good. Henry Cavill grunts his way through his role as the witcher, and honestly, it's delightful. There is just enough tongue in cheek to his performance to let the audience enjoy the fantasy without being dragged down by nitpicky details. Anya Chilotra has a tough job as Yennefer – the character swings between sympathetic and dreadful several times. But Chilotra really helps us hang in there with her as she grows and learns and changes. Young Freya Allan doesn't have too terribly much to do as Ciri, but even she is able to let her character grow through the eight episodes. Shout-out also to Joey Batey as Jaskier, a bard who travels with Geralt and is tasked with endearing us to this grunting monster hunter.
The production values are good. Pre-GoT they would have been extraordinary, and some aspects still are. The fight scenes are magnificent, as is the world building in the cities and forests of The Continent. Other things, like the make-up of certain beasts that feels a little Star Trek-ish, and some of the countryside (which looks an awful lot like the American Southwest, despite being filmed in Central and Eastern Europe) that feels very bare and without any hint of the world being built, feel unfinished or rushed. Hopefully season 2 will come along with a slightly larger budget and pull in those loose ends.
Overall I really enjoyed season 1 of The Witcher. I knew absolutely nothing about the books or video games or any of the other adaptations of the stories and was impressed by the characters and the fantasy world filled with monsters and monstrous humans. I'm very much looking forward to seeing Mr. Cavill grunt his way through season 2 and beyond. Season 1 is streaming on Netflix.
~~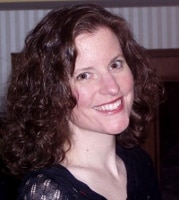 Sue reads a lot, writes a lot, edits a lot, and loves a good craft. She was deemed "too picky" to proofread her children's school papers and wears this as a badge of honor. She is also proud of her aggressively average knitting skills  She is the Editorial Manager at Silver Beacon Marketing and an aspiring Crazy Cat Lady.