Takin' what they're givin' 'cause they're workin' for a livin'
Main Cast: Catherine Reitman, Dani Kind, Juno Rinaldi, Jessalyn Wanlim
Creators: Catherine Reitman, Philip Sternberg
We all know that being a parent is hard. Even if you don't have kids, you were one at one point and undoubtedly remember your less than stellar moments. There's something especially torturous about being a working mom, though. Maybe it's the guilt that most western women feel about their decision – whether it's to go back to work after your baby is born, or to stay home with them, nothing you do is safe from the criticism of the masses. The only way to get through it all is to remember that a lot of the things we do, as parents, as kids, as employees, as spouses, as just people, are really funny. If you don't laugh you'll cry, so you might as well laugh, right? That's the entire premise behind Catherine Reitman's brilliant Workin' Moms.
Workin' Moms is a Canadian sitcom starring Reitman as Kate, new mom to Charlie. She attends a baby/mom class with Anne (Dani Kind), Frankie (Juno Rinaldi), and Jenny (Jessalyn Wanlim). All four women are headed back to work at the beginning of season one, and they have definite feelings about that. The first season covers the adjustment from maternity leave to work and each woman has her own set of challenges to face. There's not much else to it, in terms of premise, but this show is absolutely fearless in its execution.
First, let's just say that if you're offended by bad language, you should skip this show entirely. It isn't riddled with f-bombs or anything, but these moms do occasionally drop some colorful verbiage. Workin' Moms also isn't afraid to tackle the less glamourous aspects of motherhood – things like pumping breast milk, saggy breasts, rocky parent/child relationships, sex after childbirth and a whole lot more. Other topics that arise include postpartum depression, unplanned pregnancy, porn preferences, and of course the delicate balance of family and career.
Among the many things that make me love this show are the talented women who play the moms. Catherine Reitman is hilarious in scene after scene as the character most prone to saying the wrong thing at exactly the wrong time. Dani Kind's Anne will make every parent feel better about any anger issues they may have confronted in their tenure raising kids. Juno Rinaldi (who I think is plays my favorite character) is both hilarious and heartbreaking, often in the same scene. Jessalyn Wanlim doesn't play a particularly sympathetic character, but she plays the hell out of her nonetheless.
It's hard to sell me on a sitcom – I usually get bored after a couple of episodes. But I powered through this season in short order, even breaking my own rule about not watching more than one episode of a sitcom per day. It's right up there with Schitt's Creek on my list of current favorite comedies, and that's really high praise. It isn't laugh out loud hilarious every second, sometimes it's sad or super cringe-y (I love those parts). But it feels so good to laugh along with people just trying to be the best parents they can be while actually continuing to exist as people. Reitman and her fellow writers hit so many true notes that the exaggerations that make it comical feel perfectly at home. I like these women, even though they aren't really particularly representative of most working women in the world (they're pretty well off financially as a group – it's kind of like the apartment on Friends, you just have to let it go). I want to see what they get up to in seasons two and three (which already exist, but have not yet arrived on Netflix). I could easily have passed over Workin' Moms because the premise seems a little tired. I am so glad I didn't. Five stars, check it out.
More Workin' Moms!
Check out my review of Seasons 2 and 3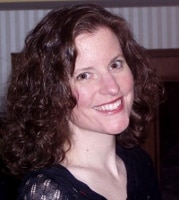 Sue reads a lot, writes a lot, edits a lot, and loves a good craft. She was deemed "too picky" to proofread her children's school papers and wears this as a badge of honor. She is also proud of her aggressively average knitting skills  She is the Editorial Manager at Silver Beacon Marketing and an aspiring Crazy Cat Lady.