Is that a fox?
Main Cast: Phoebe Waller-Bridge, Sian Clifford
Created By: Phoebe Waller-Bridge
There are few things as delightful in my world as coming across a complete, wonderful TV program that flew under my radar when it was first aired. Getting to watch the whole thing, at my own pace, with no waiting between seasons, is kind of heavenly. So it was with much pleasure indeed that I watched all 12 episodes of the heartbreakingly funny Fleabag. The first season of the program aired in 2016, followed up by the second and final one this year.
Just to get it out of the way, Fleabag has lots of sex and swearing. If those are not your cup of tea, you won't get past the first 10 minutes. For everyone else? Buckle up and enjoy the kind of show that validates the invention of the television.
Fleabag is the story of a woman (Phoebe Waller-Bridge, who developed Killing Eve for television) living in London, running a small café, and dealing with her life after some losses. She has a sister (Sian Clifford) who is her polar opposite in almost every way, a father who is dating her godmother, a robust sex life, and enough pent up grief, guilt, hurt, and heartache to fill the English Channel.
I know this doesn't sound at all new or interesting. The very broad premise could be executed in a million different ways (and certainly has been). What makes Fleabag so very, very special is that Waller-Bridge's conception of both her characters and situations feels breathtakingly personal. The series was adapted from her one woman play and maintains a very particular connection with the audience. Fleabag (we have no other name for her, as she is never referred to by name by anyone) is a fourth wall breaker of the highest order. Always a risky choice unless you're Ryan Reynolds and your character is Deadpool, Waller-Bridge as Fleabag uses the device to bring her audience right into her life. We become privy to her innermost thoughts as she navigates a quite tragic, but also hilarious, period in her life.
Fleabag herself is our main character, but the show would be lost without the supporting cast. Sian Clifford as her sister Claire provides the perfect foil for Fleabag's quirky humor and topsy-turvy life. Claire is very stable, very uptight, and married to a complete asshole in Martin (played with delicious, horrible glee by Brett Gelman). Bill Paterson is the girls' father, their mother having passed away at some point in the relatively recent past. His rather benign passivity is ably complemented by Olivia Colman as his jealous, spiteful girlfriend (and godmother to his daughters). The entire family indulges in casual cruelty towards Fleabag and she shares with us the indignities of being a part of this dismissive group, tossing us glances as they take their digs. As she bridges the gap between character and audience we feel each successive put down more acutely than the last.
I can't adequately express how successfully Fleabag blends comedy and tragedy. The combination of brilliant writing, exquisite comedic timing, and the aching complexity of the main character come together so richly and satisfyingly that I cried at the end of the series. And I know I'm not the only one. These are 12 of the most satisfying episodes of television I've ever had the pleasure of viewing. There are so many high quality programs to choose from right now that it's an embarrassment of riches. Congratulations to Phoebe Waller-Bridge for being at the helm of two of the best of them. Five stars for Fleabag and the highest of recommendations. Both seasons are currently streaming on Amazon Prime Video and are available on Blu-Ray.
photo by MTV International on YouTube (CC 3.0)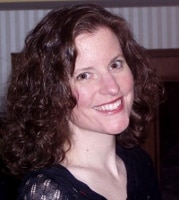 Sue reads a lot, writes a lot, edits a lot, and loves a good craft. She was deemed "too picky" to proofread her children's school papers and wears this as a badge of honor. She is also proud of her aggressively average knitting skills  She is the Editorial Manager at Silver Beacon Marketing and an aspiring Crazy Cat Lady.