BY A NOSE
Main Cast: Thomas Soliveres, Olivier Gourmet
Director: Alexis Michalik
I've decided to have my estate sale in the west wing of Casa Maine. My crew has been laying out all sorts of amazing little tidbits for the general public to peruse. There's the Sony Walkman given to me by Claudine Longet on our ski trip to Aspen back sometime in the last millennium, a set of crystal champagne flutes I picked up in an airport duty free shop as they were on final sale, and a number of lovely silk scarves that were props in the Bollywood scene from my oriental fantasy about Indo-Chinese relations Himalayan Holiday that featured my tapping over the rooftops of Srinagar in what could only be called a Sari Wong number. As this corvid crisis continues, although I'm not too sure what crows have to do with it, we have to be sure people maintain proper social distancing and masking at all times while examining the merchandise. Kim Dee and Mary Gee, my intrepid seamstresses, have been running up MNM souvenir masks to be handed out as the throngs enter. We had plenty of cloth left over from the VickiWear line of Fiddler on the Roof inspired aprons and house dress schmatta collection that didn't sell as well as we had hoped. We're having them cut on the bias for that perfect drape and fit.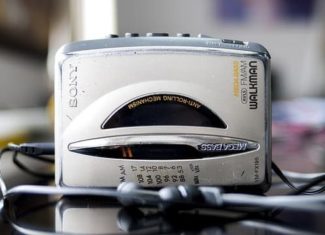 In the meantime, I made a quick run over to Condo Maine to check out repairs and installations. I was joined by Pastor Fred, a perfectly charming clergyperson whom had been recommended to me by Dial-a-priest, who brought a bundle of fresh sage from Whole Foods so we performed a charming little smudging ceremony to get any bad juju out before they came in to repair the sheet rock and start painting. Mr. Mike brought his camera crew in for this and I finished it up by doing a little tap routine on the main stair using a bundle of smoking sage as a flaming baton. The crew, both film and repair, stopped what they were doing to watch and were obviously too taken with my performance to do anything after I finished but just stand there looking at each other. I am so pleased when I can leave an audience stunned and speechless with my talents.
I was a bit tuckered out by the time I returned home, so I decided to make myself a large Tom Collins at the bar and then I repaired to the home theater where I flicked through some of the more obscure film channels. In doing so, I happened across the French film Cyrano, My Love from 2018. Being a fan of La Belle Epoque I decided to give it a whirl even though my French is a little rusty and I had to rely on the sous titres a little more than I would have liked. If there is a dubbed version available, I am unawares. I have always preferred my foreign films in their original language. One loses some of the flavor of the performance with imperfect dub jobs. If you doubt me, watch a Hollywood film you know well dubbed into a foreign language and see how it plays…
Cyrano, My Love is a French film from writer director Alexis Michalik looking at the creation of the famous verse play, Cyrano de Bergerac. It owes a great deal to Shakespeare in Love, almost enough for me to look for at least an acknowledgement to Tom Stoppard and John Madden in the credits. The time is 1897, the place is Paris. The young poet and playwright Edmond Rostand (Thomas Soliveres) is failing, despite his friendship with the legendary Sarah Bernhardt (Clementine Celarie). He languishes in obscurity while his rival Georges Feydeau (Michalik himself) is the toast of the town with his hotel farces and boulevard comedies. The management of the Comedie Francaise has a dispute with the actor/producer Constant Coquelin (Olivier Gourmet) and, in order to save his reputation and finances, he needs to come up with a huge hit for the holidays, which are fast approaching. Rostand, meanwhile, is escaping his unhappy homelife with his pal Volny (Tom Leeb) who, while charming and good looking, doesn't have a particular way with words and so depends on Rostand to help him woo the charming wardrobe assistant Jeanne (Lucie Boujenah) with Rostand whispering words to Volny as he attempts to win Jeanne's attention on the fire escape above him. (Sound familiar?) Romantic complications ensue. A production is stitched together as Rostand encompasses the events and personalities around him into the characters of Cyrano, Roxanne, and Christian. Will the play be a success? Will their fortunes be made? As Cyrano de Bergerac is perhaps the most famous play in French theatrical history, we know how it's all going to end. The fun is in seeing how we're going to get there.
Michalik takes any number of historical liberties with his characters for comic effect (including a huge The Wild Duck moment involving not a gun on the wall, but a stage trap) but the tone is so good natured and the script has such affection for everyone involved in the always improbable story of creating a stage masterpiece that you really don't care. The comedy veers from slapstick to screwball to zany but never overpowers the characters or their motivations and there is some real heart underneath. There are also some true love letter moments to the people of theater and the creation of theater that come across as more poignant than ever in this time of social distancing. The visual look of late 19th century France is spot on. The art direction (Gilles Iscan and Franck Schwartz) and costumes (Thierry Delettre) are sumptuous in their detail but never veer out of a slightly heightened reality into the cartoon of Moulin Rouge which has a similar setting.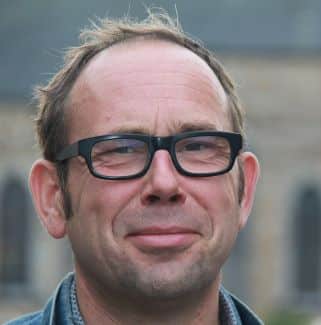 The performances are top notch, especially Olivier's Coquelin who is big and booming and larger than life and allows us to see where Rostand was truly inspired in his creation of his Cyrano. However, Coquelin is not without faults such as his adoration of his doofus of a son (Igor Gotesman) initially horribly miscast as Christian. (How Rostand deals with that problem is a stroke of genius). Thomas Soliveres' Rostand is diminutive, neurotic, torn between ideas that he has trouble shaping into words and the dull mundane existence he has as husband and father with a long-suffering wife (Alice de Lenquesaing) whom he both loves and by whom he feels trapped. My favorite, however, is the diva Maria (Mathilde Seigner), coaxed out of retirement to play Roxanne (despite being a generation too old) whose imperiousness veritably drips from her lips with every word. The actress was obviously having a blast with the role.
If Cyrano, My Love has flaws, they are relatively minor. There is an occasional forced joke or scene taken just a little too far for comedic effect when a more subtle approach might have made for a stronger film. There are some obvious clichés in some of the supporting parts where actors aren't given enough screen time to really develop their roles. There's also an odd choice, late in the film when Cyrano de Bergerac is finally performed for an audience for the first time. During the last act convent scene, director Michalik briefly transports us from the theater to the grounds of a real convent. I think he's trying to comment on how great art can lift us into a different reality but in the literal world of film, it just doesn't work. Still, these are relatively minor quibbles.
Cyrano, My Love might be a difficult film to track down, but if you find it on one of your streaming channels, it's definitely worth a look, especially if you enjoyed Shakespeare in Love or Topsy Turvy or other film love letters to the theater.
Fall from fire escape. Queeny costumier. Gratuitous Anton Chekov. Hotel farceur caught in hotel farce. Trap door tumbles. Filles de joie. Black café owner. Corsican brothers.
To learn more about Mrs. Norman Maine, see our Movie Rewind introduction, visit her entire back catalog and follow her on Twitter at https://twitter.com/missvickilester
image by Ddardenne (C.C. 3.0)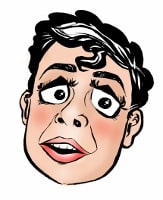 Originally from Seattle Washington, land of mist, coffee and flying salmon, Mrs. Norman Maine sprang to life, full grown like Athena, from Andy's head during a difficult period of life shortly after his relocation to Alabama.