"Without the library, you have no civilization."*
Main Cast: Emilio Estevez, Alec Baldwin
Director: Emilio Estevez
When's the last time you thought about Emilio Estevez? Probably the last time you watched The Breakfast Club, if you're anything like me. But ignore no more! For he has written, directed, and starred in the best indie I've seen in quite some time.
The Public is about the Cincinnati Public Library. Public libraries have become about a lot more than borrowing books over the years and have turned into community spaces with programs, resources, and meeting spaces being just a few of their many offerings. One of the important roles of this particular library branch is sheltering a rather large group of homeless men from the bitter Ohio winter cold. We enter the story as they get washed up for the day in the library bathroom. They are an eclectic group, but tightly knit and protective of one another.
Into this picture walks librarian Stuart Goodson (Estevez). He clearly knows the men and shares their concern about the weather – people are dying from exposure on the streets. When the homeless patrons decide they do not want to leave for the night and risk freezing to death, the police and politicians move in and turn a small act of defiance into a potentially lethal situation.
I very much enjoyed The Public. It is an unpretentious film with a clear message about compassion and morality in a world with precious little of either. Estevez plays Stuart not as a white savior of homeless people of color, but as a conflicted man with a job that is nearly universally misunderstood and underappreciated. The best parts of the film are the interactions between the library staff and the patrons. Some are funny, some are strange, all are very human. There is a give and take between these groups of people that would normally be swept aside in favor of another action scene or preachy monologue. Estevez does a great job letting his characters' actions speak.
The Public boasts an impressive ensemble cast including Jena Malone as a fellow librarian, Alec Baldwin as a hostage negotiator with his own personal problems, Christian Slater as a hungry prosecutor and wannabe politician, Michael K. Williams as the de facto leader of the homeless library patrons, Taylor Schilling as Stuart's neighbor, and Jeffrey Wright as Stuart's boss. Despite some scenery chewing from Slater these actors bring a quiet, authoritative presence to their mostly small roles. It's the kind of movie that people do, not for a paycheck, but instead because it's something to feel good about being a part of at the end of the day. They're all very, very good. The roles are well written and substantial without being flashy, leaving the movie to its message.
My one quibble with The Public is the poorly written character of the reporter assigned to the story from the local TV station. She is shallow and unethical, caring only about her own career advancement. In a movie that does so many characters so well, this stereotyping is jarring, and it's especially unfortunate that this character is played by one of the few women in the film. Gabrielle Union does as well as could be expected with the role, but she was two strikes down before she ever set foot on set.
Despite that one cringe-y character, I admire what The Public is looking to do. It's a strong statement about the treatment of marginalized communities and a failing social safety net that would sooner see people freeze to death than open an emergency shelter. It also gives proper respect to the expanding role of public libraries in all sorts of communities, and the challenges that come with those new obligations. Four solid stars and an earnest request that next time Estevez makes a movie he gives a little more thought to his female characters. The last movie he wrote and directed was The Way, back in 2010. I hope we don't have to wait nine years for another.
*Ray Bradbury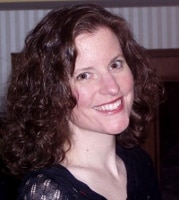 Sue reads a lot, writes a lot, edits a lot, and loves a good craft. She was deemed "too picky" to proofread her children's school papers and wears this as a badge of honor. She is also proud of her aggressively average knitting skills  She is the Editorial Manager at Silver Beacon Marketing and an aspiring Crazy Cat Lady.