Show me the money
Main Cast: Jason Bateman, Laura Linney
Creators:  Bill Dubuque, Mark Williams
Martin Byrde and his family look to the outside world like model citizens.  He's a crack financial advisor, his wife is a former political campaign manager turned stay at home mom to their two children.  But Ozark would be a lousy TV show if outward appearances meant anything.  And Ozark is many things, but lousy is most definitely not one of them.
So it turns out that Marty (Jason Bateman) is a little distracted by the extracurricular activities of his wife Wendy (Laura Linney) and missed some workplace shenanigans perpetrated by his business partner (Josh Randall).  Said shenanigans land the pair in hot water with their client, who just so happens to be a drug cartel for whom the business launders huge sums of money.  Yes indeed, appearances can be so deceiving.
To get himself and his family out of trouble, Marty moves them all from Chicago to Missouri, where he has promised he can launder the dickens out of that cartel money.  That he has no idea what he's doing doesn't matter, it's their only chance.
Ozark could have gone in a lot of different directions with this basic premise.  With Jason Bateman as lead, one expects the show to be light, with him as the affable straight man.  After all, that's the character he's been playing in nearly every role his entire adult life (and I love that character).  But Bateman, who also serves as both executive producer and frequent director, chose a different path for Marty.  A dark, violent, intense path reminiscent of truly great television like Breaking Bad.  Yep, I said it.  I made the comparison.  Ozark has the potential for greatness, and this first season sows the seeds with finesse.
The first surprising thing about Ozark is Bateman's facility with the ridiculously complicated character of Marty Byrde.  Marty isn't a naïve businessman led astray, he's a badass criminal with skills.  His morality is fluid, his priorities at once skewed and admirable, his facility at saving his own skin impressive.  The first time I got a good look at Bateman playing outside his usual comfort zone was in The Gift.  It surprised me and honestly, I loved it.  To see him twist his usual mostly sane good guy into something far less savory was a joy to watch then and it's even more so in Ozark.  He manages to maintain enough of his conventional persona to provide the dark comic subtleties so absolutely necessary to story lines this intense.  It's a masterful performance.
Not to be outshone, Laura Linney's Wendy is just as nuanced, though we have to wait a little longer to see it.  She may actually have the harder role, as she has some rehabilitation to do throughout this first season.  The kids, played by Sofia Hublitz and Skylar Gaertner, are more annoying than enjoyable, but they're mostly pawns now, with the potential to become more fully realized in future seasons.
Also of note is Julie Garner, who plays young Ruth Langmore.  Langmore is a Missouri local – smart, unethical, and damaged by a family filled with violence and abuse.  She becomes a player in the Byrde family drama as the season progresses and Garner is terrific in the role.  The rest of the cast is solid as a rock, with honorable mentions to Harris Yulin as the Byrde's Missouri landlord and Lisa Emery as one of their more colorful enemies.
The series is smartly written, intensely paced, and shot with an incredible eye for the menace hiding in the natural beauty of the Ozarks.  The characters are multi-layered and though this first season is ridiculously satisfying on its own, there is a lot of room for them to grow.  Ozark is an absolute winner from Netflix, I hope they pick it up for additional seasons.
Ozark Binge Watching Tips
I have none on this one – just go for it.  There are only 10 episodes and you aren't going to burn out if you watch more than one at a time (though I personally wouldn't do more than 3 of any series – it's just too exhausting and my butt starts to imprint on the couch).  It's put together so you really want to see what happens next at the end of every episode, so much so that my binge-averse husband watched 3 episodes straight with me.  It's just that good.  If you liked Breaking Bad (or even if you didn't), give Ozark it a serious shot.
More Ozark: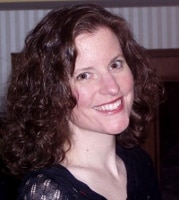 Sue reads a lot, writes a lot, edits a lot, and loves a good craft. She was deemed "too picky" to proofread her children's school papers and wears this as a badge of honor. She is also proud of her aggressively average knitting skills  She is the Editorial Manager at Silver Beacon Marketing and an aspiring Crazy Cat Lady.