Merry Binge Watching!
'Tis the season, my friends. Time to see what Netflix has up its sleeve for instant gratification in the form of instant streaming holiday movies! As usual, I suspect it will mostly be crap, but you never really know. And when we're in the mood for a Christmas rom/com binge, we all know we're not picky. Same goes for holiday fare to entertain the kids as the weather gets lousy. Let's face it, we all watch 24 hours of A Christmas Story every year – we love a good holiday TV gorge fest! So let's see what we have this year, shall we? Let's start with checking for some classics. And remember – they're all Available on Instant Streaming! I will bold the ones that I like and I will update the list (I'm always hoping for A Christmas Vacation to go to streaming – and sometimes it does!) If you come across something I missed, leave a comment and I'll add it! Now we can get on with it.

Classics
Yeah, I know, this is a very subjective category. But you'll notice that so are all the others, so there you go. Side note – many of these movies will fit into more than one category (usually their main category and Christmas Crap, but we're okay with that).
White Christmas (1954, Bing Crosby, Danny Kaye) – Is it really Christmas without Bing in there somewhere? I think not.
The Nightmare Before Christmas (1994, Danny Elfman, Catherine O'Hara) – Unbelievably, I have never seen this Tim Burton classic. That will change this year. Cross categorize with Family.
The Muppet Christmas Carol (1992, Michael Caine, Kermit the Frog) – I put this on My List just for my muppet-loving son. But we'll all watch it.
Bad Santa (2003, Billy Bob Thornton, Bernie Mac) – Quibble if you like over my classification of this as a classic, but it makes me laugh – hard – every time I watch it. Which can now be any time I want! Go Netflix!
Bush Christmas (1947, Chips Rafferty, John Fernside) – I never heard of it either, but it was made in 1947 in Australia so it must be a classic! Could probably be cross categorized with both Family and Christmas Crap.
The Christmas That Almost Wasn't (1966, Paul Tripp, Lydia Brazzi) – Again, never heard of it. But it's old, so it's going here.
Santa Claus Conquers the Martians (1964, Nicholas Webster, John Call) – I have no doubt that there are valid arguments for putting this in Christmas Crap, but come on! Look at the title! And it features Pia Zadora. That's classic.
Has Potential
This is a new category (meaning I just made it up). Once in a while I stumble across something that has a good cast or a decent sounding plot line. I believe that every time one of these turns out to be really, truly, actually good, an angel gets its wings.
Happy Christmas (2014, Anna Kendrick, Melanie Lynskey) – Good cast and dark comedy plot line make this one a contender this year. A self-destructive woman breaks up with her BF and moves in with her brother before Christmas. This has significant potential, enough so that I actually put it in My List.
The Fitzgerald Family Christmas (2012, Kerry Bishé, Connie Britton) – Dad shows up for Christmas – 20 years after leaving his family. Good cast, including Edward Burns, and non-sappy plot potential put this one on My List.
Blackadder's A Christmas Carol (1988, Rowan Atkinson, Tony Robinson) – I've enjoyed my limited exposure to Blackadder. This one could be worth a shot.
Kids and Family
This category includes anything that mainly stars a kid, is animated, or looks like something that contains Nothing Offensive.
One Magic Christmas (1985, Mary Steenburgen, Gary Basaraba) – Great cast for this story of a disillusioned Christmas mom, including Harry Dean Stanton and Elias Koteas.
Casper's Haunted Christmas (2000, Brendon Ryan Barrett, Kathleen Barr) – Animated. I will always have a soft spot for Casper.
Mickey's Magical Christmas: Snowed In (2000, Wayne Allwine, Tony Anselmo) – Animated. The kiddies should like this one.
Mickey's Once Upon a Christmas (1999, Wayne Allwine, Tony Anselmo) – Another animated Disney-fest sure to please the little ones.
Mickey's Twice Upon a Christmas (2004) – More Mickey!
How the Toys Saved Christmas (1996, Mary Tyler Moore, Tony Randall) – This animated story of a Santa's helper looks cute for the kids.
Yes, Virginia (2009, Neil Patrick Harris, Beatrice Miller) – Animated version of the classic story of a little girl and a newspaper editor.
Christmas Angel (2012, Izabela Vidovic, Teri Polo) – This might belong in Christmas Crap – it's hard to tell. I think the person who believes her wishes are being granted by a woman she's convinced is an angel is a kid, but I'm not sure. It's also running over 3 stars on Netflix, so you never know. But hey, if you hate it you can just switch to something else, right? Because there's SO MUCH.
Christmas Town (2008, Nicole de Boer, Patrick Muldoon) – Mom and son get caught up in a town that love, love, loves Christmas. I think I watched this one year, so I'm not judging anyone. Ever.
Ernest Saves Christmas (1988, Jim Varney, Douglas Seale) – Oh Ernest, you crazy knucklehead!
The Heart of Christmas (2011, Candace Cameron Bure, Jeanne Neilson) – This looks sad – about a little boy diagnosed with cancer and his family's attempt to give him a great last Christmas.
Coming Home for Christmas (2013, George Canyon, Amy Jo Johnson) – Estranged sisters join forces to bring their parents together for Christmas.
A Country Christmas (2013, Joey Lauren Adams, William Shockley) – Two country tykes join forces to save Santa from a disgruntled politician.
The Swan Princess Christmas (2012, Elle Deets, Yuri Lowenthal) – Animated. This is apparently one of several installments based on Swan Lake characters.
Mumfie's White Christmas (1996, Patrick Breen) – Animated. If you're desperate…or love Mumfie, I suppose.
Journey to the Christmas Star (2012, Vilde Zeiner, Anders Baasmo Christiansen) – A little sci-fi to add to the mix. Saving a kingdom from a curse by finding the Christmas Star.
12 Christmas Wishes For My Dog (2012, Elisa Donovan, Gabrielle Carteris) – Dogs do get a lot of love at Christmas.
All I Want for Christmas (1991, Harley Jane Kozak, Jamey Sheridan) – This parental reconciliation comedy is hampered by my inability to see Jamie Sheridan as anyone other than Randall Flagg in The Stand.
Curious George: A Very Monkey Christmas (2009, Frank Welker, Jeff Bennett) – I just sort of dig that this exists.
Dreamworks Holiday Classics (2011, Ben Stiller, David Schwimmer) – Four animated holiday features (probably 30 min each – just a guess) featuring characters from Shrek and Madagascar.
Saving Santa (2013, Martin Freeman, Ashley Tisdale) – Animated. Little elf. Big dreams.
Small Town Santa (2013, Dean Cain, Christine Lakin) – Is that burglar really Santa?!?
Romantic Comedy / Romance
What is a holiday season without meet-cutes and cliches? Welcome to the holiday romantic comedy. I won't admit to watching most of the things that I watch in this category.
Love, Actually (2003, Hugh Grant, Emma Thompson) – People sometimes forget this is a Christmas (or at least Christmas-time) movie. Some people like to forget it exists. I, however, liked it.
Holiday Engagement (2011, Bonnie Somerville, Shelley Long) – Fake boyfriend for Christmas? What could possibly go wrong? Chances are high that I will watch this after everyone else goes to bed and lie about it in the morning.
Christmas Bounty (2013, Francia Raisa, Mike 'The Miz' Mizanin) – Only the best rom/coms feature bounty hunters, actors with nicknames in quotes and Christmas.
Dear Santa (2011, Amy Acker, David Haydn-Jones) – All the kid wants for Christmas is a wife for her dad. Is that really so much to ask??
Christmas Cupid (2010, Chad Michael Murray, Ashley Benson) – This ABC Family pseudo Christmas Carol rom/com definitely needs to be cross categorized with Christmas Crap. But when you need a holiday rom/com fix, we all understand that you do what you have to do.
A Christmas Kiss (2011, Elisabeth Rohm, Laura Breckenridge) – Kissing the boss's boyfriend during a near death experience? Holiday gold.
A Christmas Wedding (2013, Vivica A. Fox, Miguel A. Núñez Jr.) – Christmas rom/coms are like the new Love Boat or Hollywood Squares.
Holiday in Handcuffs (2007, Melissa Joan Hart, Mario Lopez) – A little more ABC Family! And a Saved By the Bell alum! Sigh.
12 Dates of Christmas (2011, Amy Smart, Mark-Paul Gosselaar) – A Christmas blind date Groundhog Day rip-off with another kid from Saved By the Bell. Definitely cross categorize with Christmas Crap.
Holiday High School Reunion (2012, Rachel Boston, Jonathan Bennett) – The cover art for this one says Christmas Crush. Either way, it's sure to be loads of post-high hijinks!
All I Want for Christmas (2007, Gail O'Grady, Greg Germann) – This one has been around for a while now – I think I might have watched it. Stop judging me.
Holidaze (2013, Jennie Garth, Cameron Mathison) – Christmas rom/com in an alternate universe. I'm totally not kidding! I am most definitely watching this. And then denying it.
Christmas Crap
Sometimes crappy movies are fun. Sometimes they're just crap. I leave it to you to decide.
Chasing Christmas (2005, Tom Arnold, Andrea Roth) – Tom Arnold remakes A Christmas Carol. My imagination soars with the crap potential.
Christmas With the Kranks (2004, Tim Allen, Jamie Lee Curtis) – Yes, this is based on a John Grisham book, which sucked, as does this movie about a grumpy man and his pushy neighbors.
12 Dogs of Christmas: Great Puppy Rescue (2102, Sean Patrick Flanery, Danielle Chuchran) – Dear God, it looks like this is a sequel. Oh, the holiday humanity.
The 12 Dogs of Christmas (2005, John Billingsley, Bonita Friedericy) – And here's the original. Nothing says Christmas like the Depression with dogs.
The Trailer Park Boys Live at the North Pole (2014, John Paul Tremblay, Robb Wells) – This is a Netflix original. Way to go, Netflix.
All American Christmas Carol (2013, Taryn Manning, Lin Shaye) – Some sort of white trash spoof. We already have Honey Boo-Boo, we just don't need more. Not that I'd judge you if you watched it, though.
Bratz Babyz Save Christmas (2013, Britt McKillip, Britt Irvin) – I can't believe this exists. But it does, and you can watch it RIGHT NOW!
Santa Baby 2: Christmas Maybe (2009, Jenny McCarthy, Kelly Stables) – You're killing me, ABC Family.
Lady Gaga & The Muppets Holiday Spectacular (2013, Lady Gaga, Elton John) – I have no words. None. No wait – Joseph Gordon-Levitt is in it and that has to be worth a tiny something. Or not.
Misc.
The Radio City Christmas Spectacular (2007) – I created a whole category just for this. Where else could it possibly go?
Scrooge photo by Robert Doucette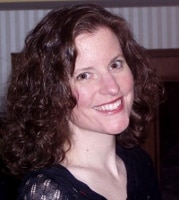 Sue reads a lot, writes a lot, edits a lot, and loves a good craft. She was deemed "too picky" to proofread her children's school papers and wears this as a badge of honor. She is also proud of her aggressively average knitting skills  She is the Editorial Manager at Silver Beacon Marketing and an aspiring Crazy Cat Lady.