It's Summertime and the Netflix Delays are Crazy
Color me bitter.  Over the last few installments of New on Netflix (as well as continuous updates at Everything Netflix) I was seeing what I thought was an awesome trend – fewer studio delays of new DVD releases!  But no, they were waiting to twist the knife just as the weather gets hot and we want some good DVDs to rent while we fan ourselves with old VHS boxes and sip cold beverages.  Will this get me down?  Yes!  But no.  Because even if I don't want to see even one of these titles (and I sort of don't) I still the whole Netflix Instant Streaming catalogue at my fingertips.  And that, my friends, is nothing to sneeze at.  If you haven't browsed there in a while, go take a look – so much good stuff!
June 14th
The Rite (horror, Colin O'Donoghue, Anthony Hopkins) – I know it's probably crappy, but I may watch.  It's Hannibal!
The Concert (foreign comedy, Aleksey Guskov, Mélanie Laurent)
Wartorn 1861-2010 (documentary, James Gandolfini)
Kill the Irishman (action, Ray Stevenson, Vincent D'Onofrio) – Love Vincent D'Onofrio!
Jackass 3.5: The Unrated Movie (comedy, Jason Acuna, Ryan Dunn) – For the love of God, will they ever stop?  Stop!
Mooz-Lum (drama, Danny Glover, Nia Long)
Vanishing of the Bees (documentary, Ellen Page, Simon Buxton) – Yes, I'm a nerd, but this could be good.  It's probably a little dated, though – it came out in 2009 and they know more about Colony Collapse now.
A Cold Day in Hell (western, Michael Madsen, Ronald Baumgardner) – What an awesome title for a western.
The Dogfather (comedy, Chris Parnell, William Cuddy) – Instant Streaming available, though certainly not advisable.
Stripperland (B-horror, Daniel Baldwin, Ben Sheppard, Maren McGuire) – Don't you almost have to see something this lamely titled?  I think you do.
Alabama Moon (family adventure, John Goodman, Jimmy Bennett)
Monogamy (drama, Chris Messina, Meital Dohan)
Adrift (foreign drama, Vincent Cassel, Camilla Belle) – Vincent Cassel was amazing in Black Swan – this might be worth a watch, it looks like he plays slimy again here.
June 21st
Public Speaking (documentary, James Baldwin, William F. Buckley)
HappyThankYouMorePlease (comedy, Josh Radnor, Malin Ackerman) – Ridiculous title.  Also, the description mentions learning life lessons.  That can't be good.
Ceremony (comedy, Uma Thurman, Lee Pace) – Uma Thurman + Comedy = Disaster
Harvest (drama, Robert Loggia, Jack Carpenter) – Sniff…sniff…I smell a dysfunctional family!
The Unloved (drama, Robert Carlyle, Molly Windsor) – Robert Carlyle is the guy from The Full Monty – haven't seen him in a looooong time.
Johnny (drama, Lee Majors, Musetta Vander) – Should be a major tearjerker, but I think I would be too distracted by the $6 Million Man.
Elektra Luxx (comedy, Carla Gugino, Joseph Gordon-Levitt) – This is a sequel to 2009's Women in Trouble, which is available via Instant Streaming
Delays this week include Unknown with Liam Neeson, The Adjustment Bureau with Matt Damon, Cedar Rapids with Ed Helms and The Eagle with Channing Tatum.  I Hate You, 28 Day Delay. To make myself feel less bitter I'm going to Amazon and go shopping.  Today I'm buying sunscreen, so I can be protected while I sit at my mailbox and wait for The Adjustment Bureau.  It could be awhile – I'm getting SPF 50.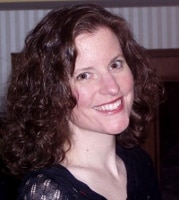 Sue reads a lot, writes a lot, edits a lot, and loves a good craft. She was deemed "too picky" to proofread her children's school papers and wears this as a badge of honor. She is also proud of her aggressively average knitting skills  She is the Editorial Manager at Silver Beacon Marketing and an aspiring Crazy Cat Lady.