And Twitter!  We love our social media!
It was inevitable – Movie Rewind now has its very own Facebook page!  There's always something going on in the world of movies – far more than we can post on every day.  So where, oh where, to put those tidbits?  On Facebook of course!  Join us and give your opinion on the latest news from the world of big and small screen entertainment.  As usual I'll be on hand with some news, links to cool stuff here in Movie Rewind and probably some snark.  I can't help it.
But it isn't all about gossip and movies and blog posts.  Facebook is going to be the home of CONTESTS!  That's right, go to the Movie Rewind Facebook page, click Like and become eligible for our upcoming contests, drawings and giveaways.
You're also going to find polls and quizzes there soon.  After all, we need to figure out who should play Mitch Rapp now that the movie is going to be a prequel.  We need to know what you think of the Hunger Games movies, the Emmys and Oscars and a whole host of other things.  What better place to play with us than Facebook?
Once enough of you Like us we'll start polling and quizzing and contesting like mad.  So head on over, click Like and tell us what you think about, well, what we think.  You can also follow us on Twitter.  You never know what George might have to say on any given day.
You can do all of these things from here, or from any page on Movie Rewind where we now have awesome, heart shaped social media icons allowing you to keep up with us anywhere and any way.  In fact, if you look to the right of this very post you'll see those very icons.  How cute are they?  Super cute, I say.
So don't wait – follow us on Facebook and Twitter today so we can get this party started!  Once we get 100 Likes on Facebook I promise we'll do our first contest.  I'm thinking it's going to involve movie trivia and have an actual Gift Card prize.  Want in?  Of course you do!  After you like us, tell your friends, family, acquaintances and random strangers to do the same.  Let's roll!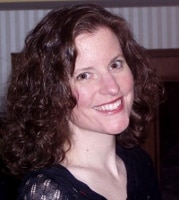 Sue reads a lot, writes a lot, edits a lot, and loves a good craft. She was deemed "too picky" to proofread her children's school papers and wears this as a badge of honor. She is also proud of her aggressively average knitting skills  She is the Editorial Manager at Silver Beacon Marketing and an aspiring Crazy Cat Lady.