July snapshots of beautiful people
Based on the book by David Nicholls, One Day follows the lives of Dex (Jim Sturgess) and Em (Anne Hathaway).  After meeting on the day of their college graduation we will see their lives in single day snapshots – each on the same day of the year – over the next 20 years.
Sound familiar?
The premise sounds a lot like 1978's Same Time, Next Year with Alan Alda and Ellen Burstyn sharing a romantic weekend once each year over the course of decades. Those brief interludes provide us with miniature portraits of their lives, loves, successes and failures throughout the years.
Really, they're just friends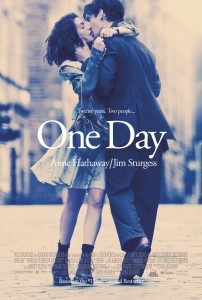 Adapted by Nicholls for the screen, One Day takes a similar premise and focuses in not on an established romance but a friendship that attempts to weather the pitfalls of time. From very young people on the verge of their adult lives and through 20 years of ups and downs, we'll watch the pair search for love and happiness and all those good things.
The film is classified as a Romantic Drama. I'm sure we'll be rooting for the couple to actually become "a couple" from word one. The poster tells us that this friendship isn't really platonic. But who knows? Twenty years is a long time. The film begins in 1988 so I'm hoping we'll be treated to some horrible 1980s fashions to lighten the mood and set the period.
Opposites Attract
The characters, naturally, come from different backgrounds and have different ambitions. Em is a girl from a working-class background with visions of saving the world. Dex is a child of privilege who sees his future in terms of how the world might be able to amuse him.
Directed by Lone Sherfig, who was responsible for the excellent (and Academy Award nominated) An Education, One Day also features Patricia Clarkson (love her), Ken Stott, Romola Garai (who was terrific in Glorious 39) and Rafe Spall.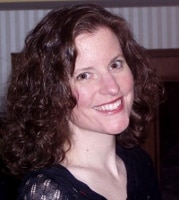 Sue reads a lot, writes a lot, edits a lot, and loves a good craft. She was deemed "too picky" to proofread her children's school papers and wears this as a badge of honor. She is also proud of her aggressively average knitting skills  She is the Editorial Manager at Silver Beacon Marketing and an aspiring Crazy Cat Lady.