Pre-Game warm-up
No Oscars are complete without some sort of pre-show fawning. Usually it's a D-List television personality in a horrible outfit telling everyone that they look wonderful (even if – actually especially if – it's a lie). We're supposed to be "getting to know" the stars by hearing them give canned mini-interviews and being sort of charming. You know, pretending to be real people. I don't watch those shows, since nausea is so easy to come by in this life.
But just in case you're missing it, I'll give my own little pre-show rundown. This evening for our Oscar event, I am wearing Red Flannel Pajamas by Land's End. I am indeed delighted to be here and yes, just being nominated is thrilling! My stylist (mininocket, age 12) did my hair and make-up, recognizing that tousled and minimal is totally in this year. Watch for her, she'll be a player in this business someday.
Please gather your treats of choice (2 giant cookies here in the House of Nocket), and settle in for eighteen hours of good, clean Oscar fun!
The Broadcast Event (aka: A Gala Evening Of Stars!)
First of all, I will be copying GG from Sonic Clash – I love his live post format. Thanks GG!
7:30 pm – Why are the big nominees all out there like it's a cattle auction?
7:32 – Neil Patrick Harris was great in Dr. Horrible's Sing-Along Blog but this is sort of painful.
7:44 – Steve Martin and Alec Baldwin (has his fathead decreased? I think so!) have good chemistry, but are given some lame jokes. George Clooney does funny, funny stink-eye with Baldwin and Sandra Bullock looks adorable.
7:51 – Oh, for the love of God. Now I want to see The Blind Side. I am such a sucker. And Ryan Reynolds does not do serious well.
7:59 – Up wins animated film. Shocker. I wrote this before it was announced.
8:00 – Miley Cyrus and Amanda Seyfried usher in the first two hideous dresses of the evening. Their nannies should have put them in something more becoming. Are we not going to get to hear a wretched rendition of each song this year? Boooooo. I look forward to those.
8:12 – Robert Downey Junior appears. It's the first RDJ sighting of the evening. I have no idea what award he's presenting but he's my hero in blues shades and bow tie. I am jealous of Tina Fey.
8:15 – WooHoo! The Hurt Locker – Best Original Screenplay. Totally deserved. Some of the best real-world dialogue I've heard in a long time.
8:17 – Molly Ringwald = Deer in the Headlights
8:28 – Zoe Saldana looks to be carrying a load of muppets in the train of her dress. Nice intro to the short films category that usually gets very overlooked.
8:38 – Ben Stiller makes me LOL. That in itself is noteworthy. He's also making fun of James Cameron. Totally worth the time in the make-up chair.
8:59 – Supporting Actress goes to Mo'Nique – no one else even had a chance.
9:09 – Sarah Jessica Parker has a hair issue. Smoothing serum emergency!
9:18 – Baldwin and Martin bed sketch will be played on YouTube 8 zillion times. Minimum. Ditto the Snuggie shot.
9:22 – Zac Ephron really should go back to the Disney Channel. What is he, 5 years old? I scoff at him and his be-banged baby visage. And by the way, honey, your name is spelled with a "k" or an "h". Someone had to tell him.
9:25 – First time Hurt Locker goes head to head with Avatar. Hurt Locker wins Sound Editing and Sound Mixing. Whee! Go HL!
9:37 – Oh my. The In Memorium always makes me cry a little. Throw James Taylor in there and I'm blubbering.
9:45 – Is Jennifer Lopez wearing bubble wrap?
9:54 – I choke as I admit that Avatar probably deserves the award for Visual Effects. I can still be filled with contempt for James Cameron, though.
10:15 – I did not take unscheduled naps during either Documentaries or Foreign Films. There's a first time for everything. I might even seek out and watch The Cove. No guarantee I won't have a nap while watching, though.
10:32 – Ah, Jeff Bridges. I knew you would win Best Actor for Crazy Heart, but it still does my heart good to see The Dude with that statue in his hand. Wiping a little tear right now. Cool speech, man.
10:45 – Carey Mulligan gets the award for most superfluous close-up audience shots. She's cute, but we've seen her about 25 times. Also, please shut up, Oprah.
10:50 – Go Sandra! Go Sandra! Go Sandra! When did she kiss Meryl Streep?
10:53 – Barbra Streisand seems to be sporting a doily around her neck. Way to go, style icon!
10:55 – Yay!!!! First woman ever to win Best Director. First ex-wife of James Cameron to kick his smug ass in front of the whole world. Katherine Bigelow rocks!
10:58 – Awesome. The Hurt Locker gets Best Picture without pulling a single punch in showing an ugly war in an ugly way with an incredible cast and unflinching honesty. Nice work, Academy.
Post-game wrap up
Not a bad broadcast. Nothing extraordinary or shocking, but some well deserved wins and a relatively tight format that did not include Rob Lowe singing. No, we will never forget that. My biggest complaint is that there was not nearly enough Robert Downey, Junior. Sleep tight, movie watchers!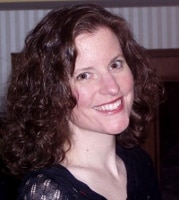 Sue reads a lot, writes a lot, edits a lot, and loves a good craft. She was deemed "too picky" to proofread her children's school papers and wears this as a badge of honor. She is also proud of her aggressively average knitting skills  She is the Editorial Manager at Silver Beacon Marketing and an aspiring Crazy Cat Lady.